There are many reasons to capture and share your screen. So, there are many free screencast video recorders. Let's look at some of the best free screencast software in our list of different video recorders.
How to record a screencast with desktop screencast video recorders
Some of the best screencast software comes in the form of desktop video recorders. You can download and install these apps to your device and then use them as and when needed for recording and screencasting.
Pros:
Free download and easy installation
Simple to use whenever you need
Often come with extra features for added versatility
Cons:
Download and installation will be required for each screencast program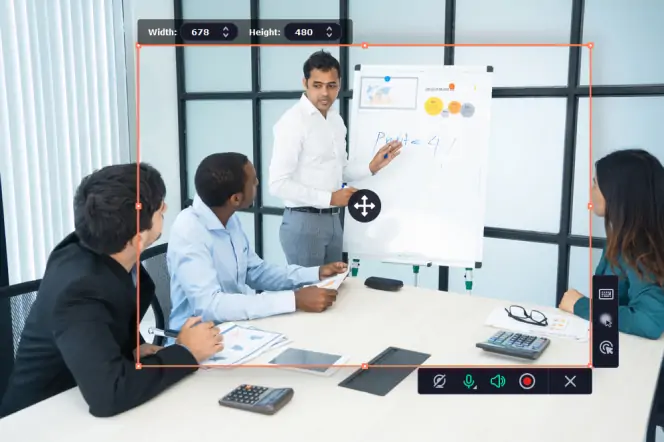 Best for: Simple, seamless screencasting
G2 rating: 4.5/5, 44 reviews
Movavi Screen Recorder is a screen recording app you can download to Windows or Mac devices, offering both a free and paid version. It's used for capturing webinars, online calls, video instructions, tutorials, guides, and more, and can be used in conjunction with other programs and editors to create new video files.
It allows you to schedule recordings in advance, choosing the dates and times you want the capture to begin, as well as offering options like drawing on the video to add annotations and explanations, capturing the webcam if desired, recording sounds from either the computer or microphone and showing keystrokes and mouse clicks, too.
Features:
Offers basic video-editing tools
Easy sharing on social media
High-quality output video
Pros:
Works on both Windows and Mac
Can record the whole screen or just parts of the screen
Tracks mouse clicks and keystrokes
Works with system audio, mic audio, and webcam
Drawing feature allows for annotations and more
Cons:
Watermark in the corner of videos when using the free version
Check out the steps below to learn how to record a screen using Movavi Screen Recorder:
To begin, first download and install Movavi's desktop recorder.
When you're ready to start recording, press the Screen recording button and select the area you want to capture – you can adjust the frame to capture small segments of the screen or the whole screen, as desired.
Press the REC button to begin the recording process once you've chosen a capture area.
When you're ready to stop recording, press the Stop button – you may also pause recordings if you plan on resuming them later.
Use the editing features to cut any unnecessary sections, if needed, and then save your video to a location on your device.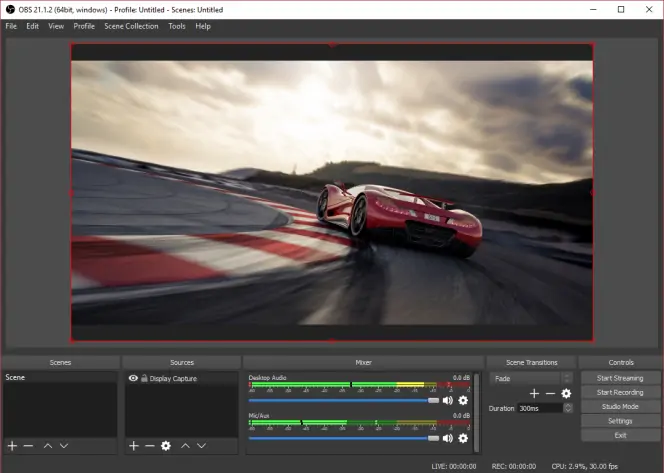 Best for: Professional-level video quality
G2 rating: 4.5/5, 45 user reviews
OBS Studio is a high-end free screencasting tool with a lot of professional-level features that advanced and intermediate users will strongly appreciate. It's a good option for people who want to create crisp, high-quality content and put a lot of focus on customization and versatility.
OBS features a very powerful and feature-rich API that users can customize to their liking, and it has countless settings, effects, and features, allowing you to compose scenes with clips of different formats, edit the sound of your screencasting with advanced audio mixing, transition effects, and more.
Features:
Tweakable recording settings: capture windows, desktops, images, webcams, etc.
Supports layouts
Can be used for streaming
Pros:
Perfect for pro-grade quality and results
Many different editing features
High-level audio mixing
Plenty of customization potential
Cons:
Not the best option for beginners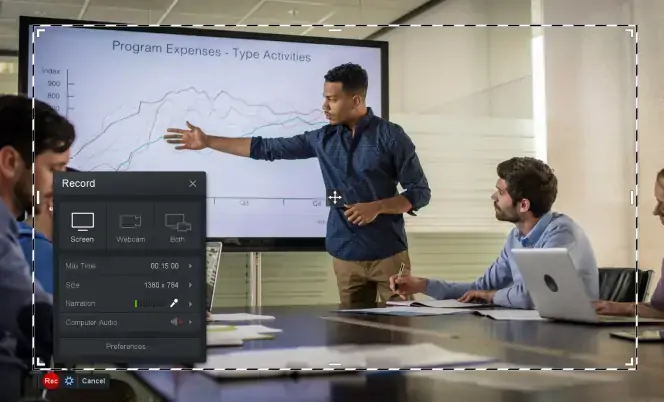 Best for: Professional use
G2 rating: 4.1/5, 41 user reviews
With millions of users across the globe, Screencast-o-Matic is a popular and widely-trusted screencasting desktop app that also doubles up as a video editor, so not only can you record your screen with this tool, but you can also use a wide range of features and functions to edit the videos you create.
It allows you to add text, customize your clips, take screenshots, edit images, and more, and if you're willing to pay for the more premium levels of service with Screencast-o-Matic, you can get unlimited ad-free cloud hosting too. Plus, it comes with a good level of compatibility with major sharing and collaboration platforms, perfect for business users.
Features:
Well-suited for business users
Perfect for presentations
User-friendly interface
Pros:
Ready-to-use media library
Narration tool
Auto-captions
Plenty of sharing and collaborative features
Cons:
Many features are only available in the paid version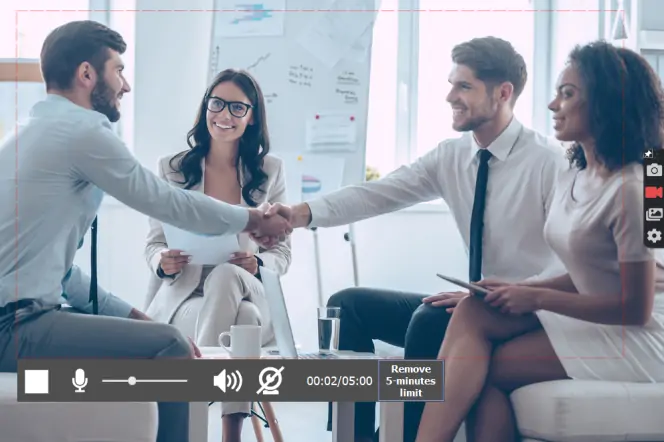 Best for: Making informational videos
Trustpilot rating: 4.1/5, 47 user reviews
Working across all major platforms - Windows, Mac, and Linux too - ScreenRec is another highly-rated free screencasting tool you can download and start using today. Suitable for personal and professional use, it's very helpful for making tutorials and informative videos, as well as taking screenshots.
ScreenRec doesn't have any watermarks or recording limits, so there are no real downsides to using this fully-free screencasting tool, and it lets you capture images and videos at the touch of a key, with free secure cloud storage included for users who create an account.
Features:
Versatile annotation tools
Easy sharing via Cloud service
Online gallery to store your content
Pros:
Start recording with a single hotkey
Useful for screenshots and screencasting
Easy to share with others
Cons:
You have to make an account to get all the features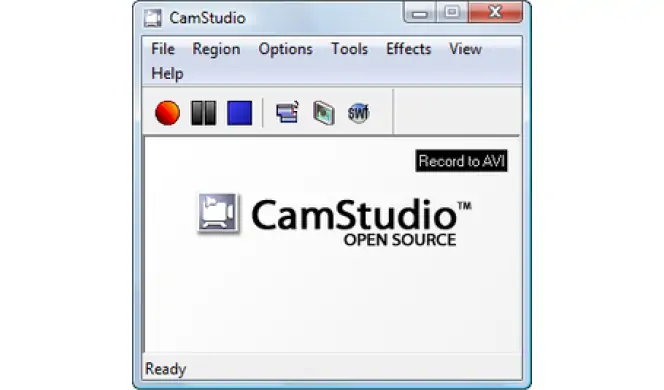 Best for: Beginners
TechRadar rating: 4.5/5
If you're a total beginner looking for a simple screencasting application to download to your device and use without any extensive technical knowledge or expertise necessary, CamStudio is a great choice for you.
This fully free, open-source desktop recorder software is well-known and highly popular for its simplicity, with a really easy-to-understand UI. You can start, stop, and pause recordings with ease, choosing between recording the whole screen, individual windows, or segments of your choosing, and the tool makes AVI files and can then convert them to SWF videos if desired.
Features:
Completely free and open source
Ideal for tutorials
Large choice of output formats
Pros:
No size or length limitations
Regularly updated with new improvements and fixes
Very simple and easy to follow UI
One button recording for total beginners
Cons:
Lacks any kind of editing or advanced features
Only makes AVI files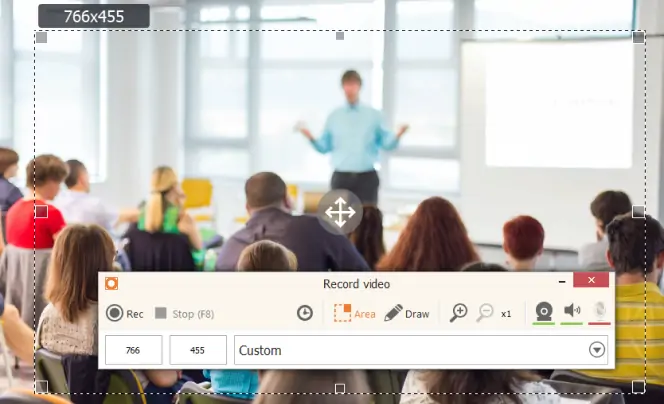 Best for: Gamers and content creators
G2 rating: 4.1/5, 21 user reviews
An easy-to-use and feature-packed screen recorder app, Icecream Screen Recorder is well-suited for people who consider themselves to be gamers or content creators. It produces high-quality video files and is highly customizable, so you can record footage of your favorite games without any hassle.
Icecream Screen Recorder also comes with a lot of other great features like mouse effects, scheduling, speed alterations, trimming, conversion, and many different recording settings, but you will have to pay a premium price to unlock all the extras, and the free trial version only allows clips of up to five minutes.
Features:
Very appealing for gamers and content creators
Around-the-cursor recording
Easy sharing on social media
Pros:
Customizable texts
Lots of editing and features
Easy to use UI with simple buttons for starting and stopping recordings
Customize clips with your own branding and logos
Cons:
The free version is limited to just 5-minute recordings
How to use online screencast tools
You may also make use of simple online apps for screencasting. These apps have the advantage of not requiring any kinds of downloads or installation, but they usually come with limits in terms of file sizes and durations, so you might only be able to use them for relatively small and short videos.
Pros:
No downloads or installations needed
Available across platforms and devices
Very convenient
Cons:
File size limits
Only useful for short clips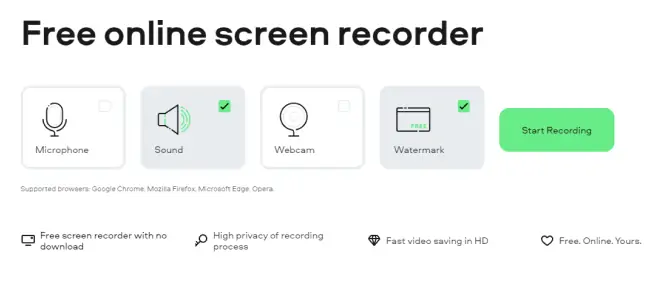 Screencapture.com is one of the top online screen recorders you can use without any downloads or installations. Users simply head to the Screencapture.com site and then start recording in a matter of seconds, so this is useful if you're using a device with limited space or system resources.
Screencapture.com is available in a range of languages to cater to users around the world, and it has a strong focus on privacy and security to ensure that all recorded files can only be seen and downloaded by the creator. It offers integration with webcam and microphone recording too, and allows you to save your files in a wide range of popular video formats.
Features:
Completely secure
Records desktop, webcam, system sound, and microphone
Takes seconds to set the recording parameters
Pros:
Very quick and easy to use
Perfect for low-end devices or systems with limited space
Works across platforms and with all popular browsers
High-quality videos
Strong focus on user privacy
Cons:
Small watermark when using the free version
Not a wide choice of output formats
Here's how to use Screencapture.com:
When you're ready to start screencasting, visit the official site:
Go to Screencapture.com
Configure the settings if you want to use your microphone or webcam in the recording and then click Start Recording to begin the process.
A new window will open and your browser will ask you for permission to record your screen; you'll need to click on the Allow button to grant this permission.
When you're finished recording, press the Stop button.
Apowersoft Free Online Screen Recorder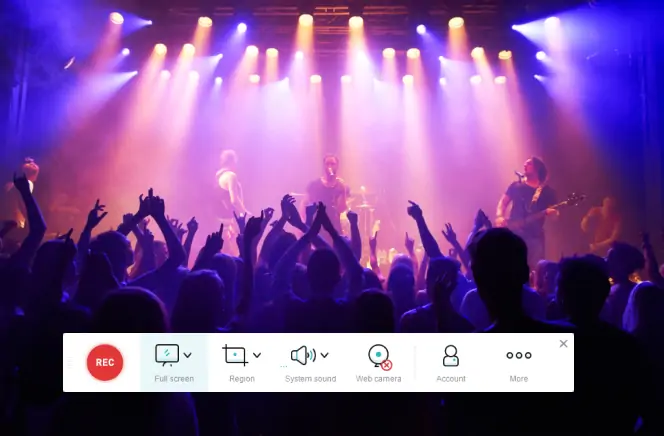 Best for: Editing while recording
TechRadar rating: 4.5/5
Apowersoft Free Online Screen Recorder is another web tool you can use to screencast across many different devices, letting you record streaming videos, games, software, and more, and one of the unique features of this tool is that it lets you edit recordings as you make them. The only downside is that you need to download and install a launcher to use this tool.
It comes with a wide range of editing tools like adding colors, shapes, notes, annotations, and other icons to customize each clip you make. It also offers easy uploads to major services like YouTube, Vimeo, Dropbox, and Google Drive, as well as letting you choose between many different output formats like MP4, WMV, AVI, FLV, MPEG, VOB, ASF, and GIF.
Features:
Real-time editing
Offers Cloud storage for your content
No time limitations
Pros:
Lots of different file formats
Great editing tools to make additions and changes while recording
Easy uploads to sites and services, like YouTube and Vimeo
Cons:
Have to install a launcher to use
Acethinker Free Online Screen Recorder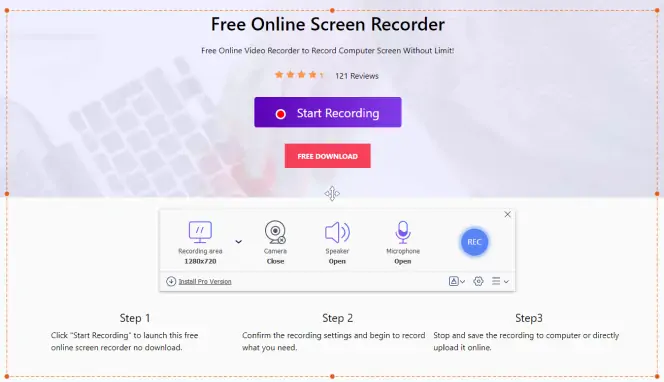 Best for: Screencasting in many formats
AceThinker rating: 4/5, 121 user reviews
Acethinker Free Online Screen Recorder allows users to record whatever is on their computer screens without the need for downloads or installations. It offers a wide range of file formats for the resulting videos, including MP4, AVI, and WMV, and it allows you to record on-screen audio and webcam audio too.
Well-suited for tutorial videos, game videos, conferences, and more, Acethinker Free Online Screen Recorder offers both full-screen recording and selective screencasting, where you can choose exactly which part of the screen to capture. You can easily upload files to Google Drive and Dropbox or publish them straight to YouTube too.
Features:
Works well on low-end devices
High-quality output video
Efficient annotation tools
Pros:
Many file formats
Easy upload to cloud storage and video sharing sites
Full or partial screencasting
Cons:
Requires a launcher download
The best screencast apps for browsers
Another option you can consider when looking for screencast software is a simple browser extension. The advantage of using extensions is that they work across all the major browsers on any platform, so you don't need to worry about differentiating between screencast software for Mac and screencast software for Windows. However, they often have file size limits and cannot record system sounds outside of the browser.
Pros:
Easy to use
Cross-platform compatibility
Good for small clips and simple videos
Cons:
Won't record system sounds
May have strict file size limits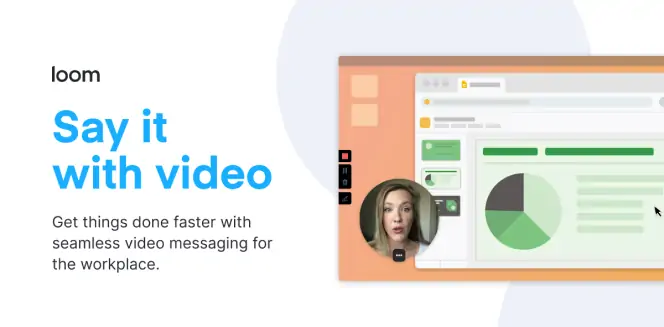 Best for: Chrome users
Chrome web store rating: 4.7/5, 10,069 user ratings
Loom is a Chrome browser extension you can install in mere seconds. It takes up just 6MB of size and has millions of users around the world, being helpful for recording screens, voices, and webcam feeds to create shareable videos with ease.
Thanks to its ease of use and simplicity, Loom is a good choice for creating training and tutorial videos, as well as reviews and troubleshooting clips. It lets you record anything on the screen, even windows outside of the Chrome browser, and comes with editing to trim down your saved clips or add CTAs.
Features:
Lots of annotation tools
Quick sharing
Supports reaction and comments for your videos
Offers your own Loom library
Pros:
Easy to set up
Lightweight extension that doesn't take up space or resources
Comes with simple editing features
Easy to integrate with other tools and services like Slack and Gmail
Works with webcams and mic audio too
Cons:
Only 5 minute long videos available on the Starter plan
Only compatible with Google Chrome
Here's how to use Loom:
Before using the Loom for Chrome extension, you'll need to first download and install it.
Once the extension has been set up, you can start recording by clicking the purple Record icon.
Loom will then open up a menu and offer you several recording options like screen and camera, the screen only, or camera only.
Select the type of recording you need and configure any of the settings you want to change, then click Start Recording to begin the process.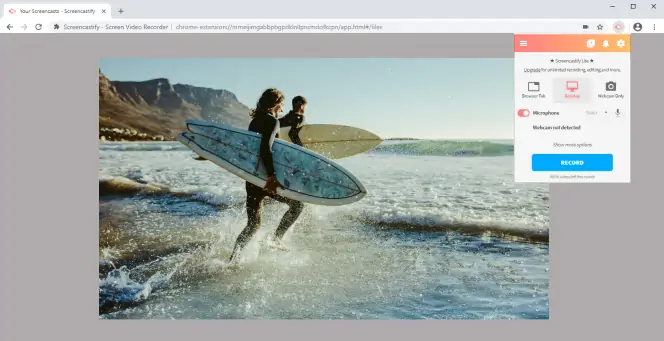 Best for: Drawing on videos
Chrome web store rating: 4/5, 11,568 user ratings
Screencastify is a simple and efficient screencasting browser extension you can set up on Chrome in seconds. It has millions of users and is well-liked by content creators and people who make instructional or educational clips because it offers the ability to add voice commentary with your microphone, include a feed from your webcam, and lets you draw on the videos as you record them in real-time.
This drawing feature can be very helpful for making things like troubleshooting clips or video guides, or just for having fun. When you've finished recording, you can automatically save your videos to Google Drive and quickly upload them to YouTube or export them in MP4, GIF, and MP3 formats.
Features:
Annotation tools, stickers, mouse effects
Good for tutorials and guides
Direct upload to YouTube
Pros:
No registration required
Simple to use
Rich editing functionality
Cons:
Won't let you customize the capture area
Nimbus Screenshot & Screen Recorder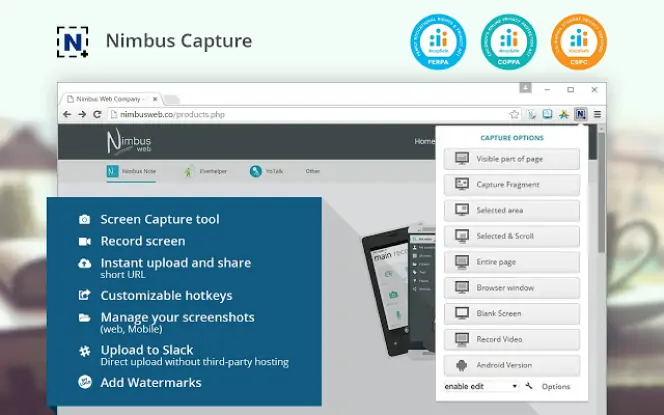 Best for: Making screenshots
Chrome web store rating: 4.6/5, 14,424 user ratings
Nimbus Screenshot & Screen Video Recorder is a multifunctional tool you can set up on your browser and use to take snapshots of either your entire screen or small parts of it. Screenshots can be edited on the fly with the help of the app, as well as annotated, and videos can also be trimmed and cropped.
Nimbus Screenshot & Screen Video Recorder creates videos in WebM format and allows conversion into MP4 format, as well as offering GIF creation of short clips too, but you'll have to pay extra to unlock conversion and other premium features like your own custom watermarks, cropping, trimming, and publishing to YouTube.
Features:
Good for screenshots
Integration with Slack, Google Classroom, and more
Multiple sharing options
Pros:
Useful for making small and simple videos
Offers basic editing and conversion
Shapes and other explanatory tools
Cons:
Many features locked behind a paywall
How to choose the best screencast software
As you can see, there are many different options out there for you when you want to record your screen and make some videos. You can choose between desktop apps, online tools, and browser extensions as well, and each option has its pros and cons. When trying to pick the best screencast app for you, it's recommended to think about your precise needs.
Platform. If you only want to make little video files and carry out quick screencasting, an online tool or browser extension may be all you need. If you want to make bigger videos, like software tutorials, a desktop application might be better.
Compatibility. It's also important to look at the compatibility options of each form of video capture software and make sure you find an app or tool that works with the system or browser you're working with, as well as considering the extra features like webcam and mic integration, editing, and file formats too.
Annotation tools. Large choice of annotation tools is a must for screencast-making. Make sure the software offers customizable texts, shapes, arrows, and other explanatory tools for a perfect screencast.
Output formats. The supported video and audio formats can be important. There are screen recorders that only support one output format, and some programs offer a variety of formats.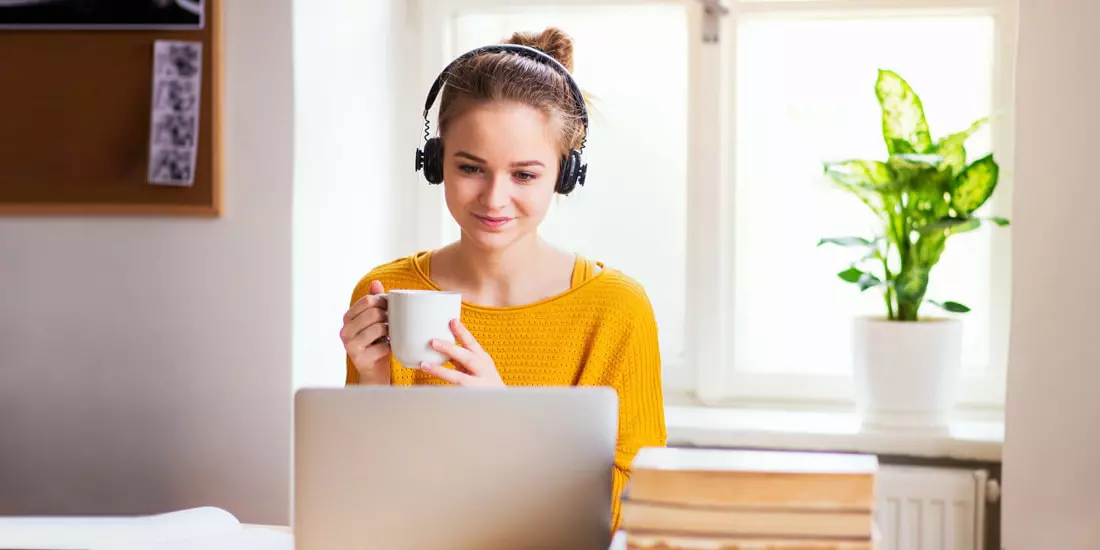 Movavi Screen Recorder
The perfect way to record anything from your screen
Frequently asked questions
What is the best free screencast software?
There is a lot of different screencast software out there. Some of the best options are as follows:
Movavi Screen Recorder
OBS Studio
Screencast-o-Matic
ScreenRec
CamStudio
Icecream Screen Recorder
How do I screencast for free?
A great variety of free screencast software is currently available on the market. You can choose from desktop apps, online platforms, or browser extensions. Here are our top picks for each category:
Movavi Screen Recorder for desktop
Loom for browser
Screen Capture for online screencasting
How do I use screencast software?
Here is how you can use Movavi Screen Recorder:
Download and install the program.

Download and install the program.
Adjust your parameters, alter your mic and webcam settings as needed.
Click the REC button to start recording.
Click Stop to finish.
Sign up for news and special offers