In this guide, we're exploring how to record Google Hangout sessions on your device using different methods such as an online screen recorder, a desktop program, a built-in feature, etc.
How to record Google Hangout with an online recorder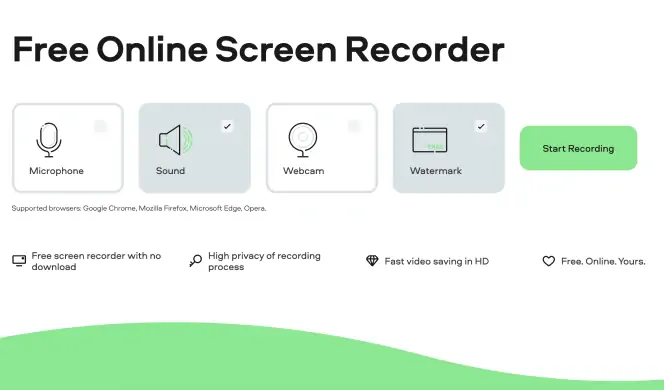 Can you record Google Hangout without installing any software? Use Screen Capture within your browser! This means you can do everything online.
Best for: quick and simple online recordings
Trustpilot rating: 4.7/5 stars, 405 reviews
OS: online
Screen Capture allows you to make a recording just by visiting the website and setting up your parameters. There's no need to make any downloads or install software, so this can save space on your hard drive.
Pros:
No need for any downloads.
Custom capture parameters, including audio and video sources.
Free software.
Cons:
No inbuilt editing features.
Step 1. Open Screen Capture
Open Screen Capture in your browser. You don't need to download anything.
Step 2. Choose your capture parameters
Decide what you want to record – screen, audio, microphone, or the whole meeting with all sounds and video playback. Enable or disable the appropriate icons.
Press the Start Recording button to start recording Google Hangouts. Allow access to your microphone and webcam. This lets you record Hangouts call audio and facecam activities.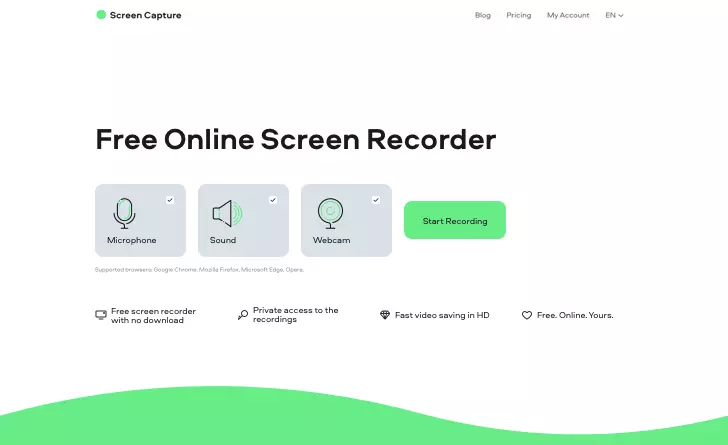 Step 3. Record your Google session and save the file
Choose the tab you want to record first. You can freely switch between tabs and windows – the recorder won't stop capturing until you press the Stop button.
After you finished recording, save the video to your computer.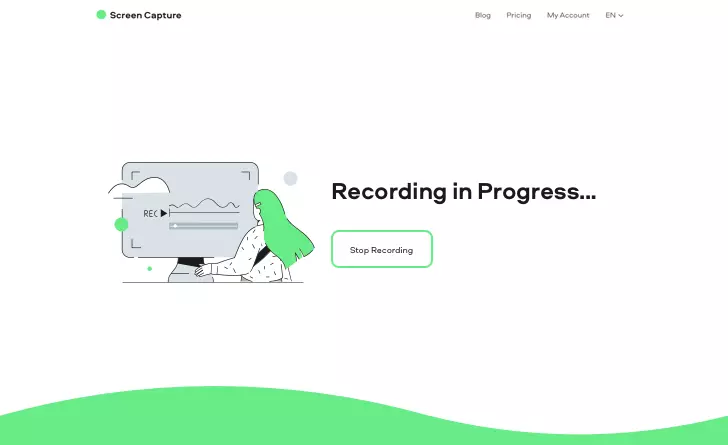 There are other options for recording straight out of your browser without installing add-ons or software. Both Apowersoft and Acethinker offer an alternative method for recording Google Hangout sessions free of charge. However, you may end up with watermarked videos and limitations on the use of the service.
Recording Google Hangout with installable software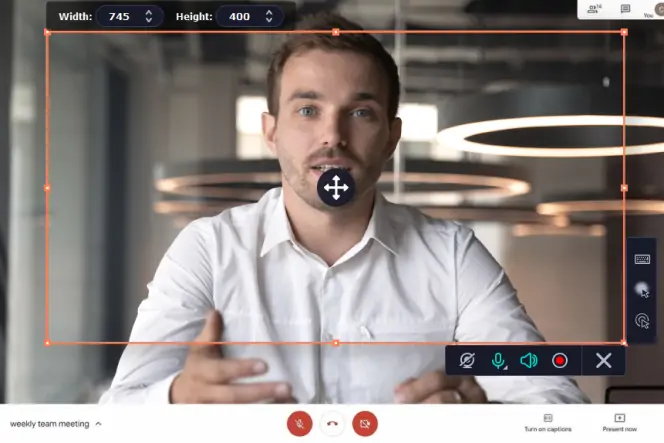 If you are happy to install some software on your computer, you can end up with a more powerful way to record video and audio from your Google Hangout session.
Best for: editing video on your computer after capture
G2 rating: 4.5/5 stars, 49 reviews
OS: Windows, macOS
Movavi Screen Recorder is installable on both Windows and Mac. It allows you much more power and editing features than a lot of the other software out there and certainly more functionality than browser-based Google Hangout recorders. As well as working on multiple operating systems, it gives you a huge choice of file formats.
Pros:
Creates Full HD videos.
Allows you to edit the file, add titles, and more.
Creates a vast number of file types.
Simple to use.
Cons:
Step 1. Get the Movavi software
Install the Movavi software for Mac or Windows.
Step 2. Adjust the recording parameters
Set up the recording parameters. Choose the capture area and adjust the recording settings.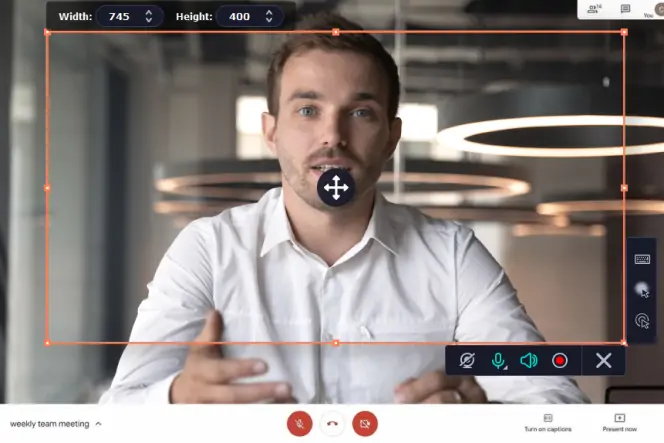 Hit the REC button and start recording your desktop. Click Stop to finish recording.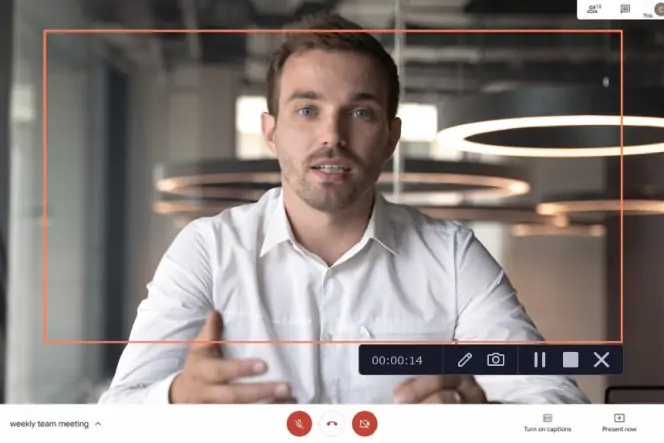 Step 4. Save the recording
Edit the record and save the file in any convenient format.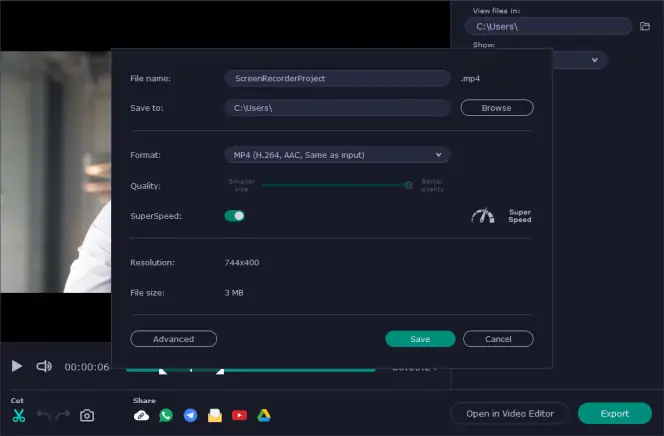 There is a great variety of recording programs on the Internet. However, many operating systems already come with pre-installed software: macOS has QuickTime and Windows 10 includes GameBar. You can try them out and see if they suit your needs.
How to record Google Hangout with video and audio via the built-in tool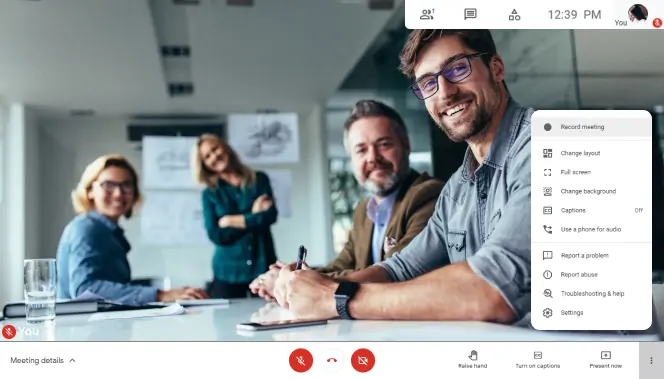 Are you asking yourself, "can I record Google Hangouts without having to download any additional software"? Luckily, Google Hangout has a built-in tool to record video and audio. You can use this if you want to avoid installing anything separately to capture the video.
Best for: making a one-off recording rather than something you do regularly
OS: Windows, macOS, and Linux (web-browser), Android and iOS (app)
Pros:
No need to install anything extra.
Automatic save to the cloud, so it doesn't take up storage space.
Cons:
You can't record a snippet of the meeting once it has started.
Step 1. Open Meet and start or join a meeting.
Step 2. Click More and then Record meeting. The activities will then be recorded.
Step 3. When you're done, click More and then Stop recording. Click Stop recording again to verify.
Step 4. The file will be generated and saved to the My Drive of the meeting organizer.
How to record a Google Hangout video call with a browser extension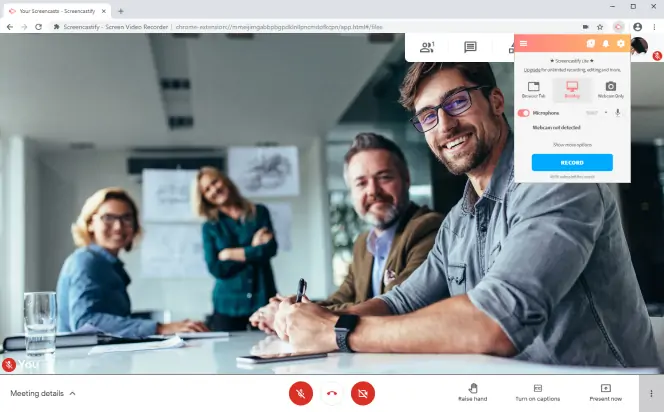 There are browser extensions that you can add to Chrome or other browsers to act as a recorder or allow you to screen share. Screencastify is a great example.
Best for: quick and simple videos (up to 5 minutes long)
Capterra rating: 4.5/5 stars, 124 reviews
OS: Chrome browser extension
Pros:
Free for short videos.
Allows you to edit in your browser.
Simple controls.
Cons:
Paid plan needed for more than one active project or videos over five minutes.
Can slow down your browser.
Step 1. Install the browser extension from Screencastify on Chrome.
Screencastify on Chrome Web Store
Step 2. Choose if you want to record your whole desktop, a specific area, or one tab.
Step 3. Click the blue Record button. You'll see and hear a countdown if you have one enabled, and then your recording will begin.
Step 4. When the screen recorder ends, you will automatically be taken to the recording's private Video Page, where you can edit, save and share your recording.
This browser extension method is becoming relatively popular. Other examples include Loom and CloudApp, which allow you to install an add-on to record your screen and share short videos or Looms with others.
How to record a Google Hangout call on a smartphone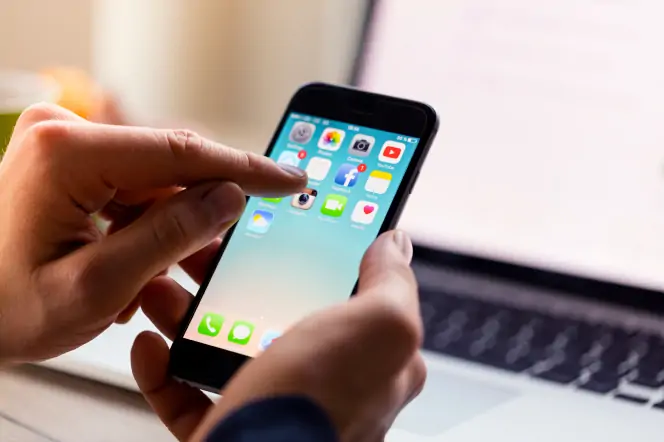 Best for: recording a Hangout meeting on iPhone
OS: iOS
Pros:
No install required.
Simple to use.
Cons:
Editing required to crop out the start of the video.
May record in awkward dimensions (based on the size of your screen).
iOS has a built-in screen recorder that allows you to quickly and easily capture both video and audio of whatever is on the screen on your Apple device. This includes recording Google Hangout calls!
There are some alternatives for those who wish to use a dedicated app. Record it! and Go Record both do a similar job on your Apple device.
Step 1. Make sure you have the screen recorder within your Control Center. You can add it via Settings and Control Center options if you need to.
Step 2. Open Control Center and hold the gray Record button.
Step 3. Tap Start Recording; it will then count down for three seconds.
Step 4. Navigate to the Hangouts app, and it will record. Hit the red status bar at the top and then press Stop when you're done. The file is saved to Photos.
If you want to use an alternative iPhone app, Record it! and Go Record are suitable alternatives with some editing functionality.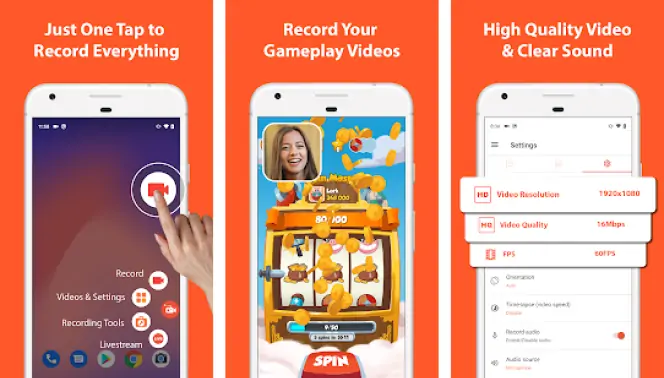 Best for: recording Google Hangout meetings on Android
Google Play rating: 4.5/5 stars, 1.5+ million reviews, 50+ million installs
OS: Android
Pros:
Includes some editing functionality.
Allows screenshots and screen sharing.
Cons:
Adds an overlay you might not want on your device.
Phones running versions of Android below 10 don't have a standardized native screen recording app, but AZ Screen Recorder does a great job.
Step 1. Install AZ Screen Recorder and launch it.
Step 2. Once it has launched, you will see a Record option among options for streaming and screen sharing. Select Record and confirm to start.
Step 3. Once you're finished, swipe down on the screen and tap Stop.
Step 4. Open the video file you've created within the app and use simple editing functions.
There is an option to use Mobizen, which allows screen mirroring, editing functions, and recording a Google Hangout.
We hope this article has helped you choose the right software to record Google Hangouts. If you're struggling with your choice, here is a list of things you should pay attention to when picking a recording tool:
OS: it's important to choose a recorder that is compatible with your platform – Windows, macOS, Android, or iOS.
Features: before you buy or download a program, make sure to check out its functionality. You should look for software suitable for your needs, whether you're a beginner or a professional.
Support: try to find a service with accessible customer support. It will help you out in case you come across any trouble.
Reviews: consider browsing through reviews of the product you choose. It helps you understand how well the program runs and what problems it has.
Frequently asked questions
Where are Google Hangouts recordings stored?
When you use Movavi Screen Recorder for Windows, the files are stored in the C:\Users\%your_username%\Videos\Movavi Screen Recorder\ folder. On Mac, it stores them to /users/%your_username%/Movies/Movavi Screen Recorder/.
Movavi gives you several options. You can go to Preferences and change the destination folder if you need to.
Using Google Meet, the rebranded Google Hangouts option, lets you record audio and video. They automatically store to My Drive in your Google account.
Can I record a Google Hangout session?
Yes, you can grab Google Hangouts for free. You don't need to install any software – just use the online screen recorder and save your Google meeting in high resolution.
Is Google Hangouts the same as Google Meet?
No. Google Hangouts is free to use, supports up to 25 participants, and has simplified settings. Google Meet is a paid service that supports large groups of people and has a wide variety of call settings.
Google Meet is more appropriate for business calls and large conferences, while Google Hangouts is appropriate for simple daily needs.
How do I record audio and video on Google Hangouts for free?
Step 1. Open the online screen recorder.
Step 2. Set the recording parameters – screen, microphone, webcam, and system sound.
Step 3. Record the Google session and save the file to your desktop.