In this article, we'll discuss how to record Skype calls. If you're wondering what are the best ways to do it, here are two methods you can try out: an online free screen recorder and a built-in Skype tool.
| Comparison parameter | Screen Capture | Built-in Skype call recorder |
| --- | --- | --- |
| Platform | Online | Windows, macOS, Linux, Android, iOS |
| Availability | Free version or subscription | Free |
| Installation | No | No |
| | | |
| --- | --- | --- |
| Mobile devices support | No | Yes |
| Separate webcam recording | Yes | No |
| Recording options | Customizable video and audio recording options | Can't record video and audio separately |
How to record a Skype video call with the built-in Skype tool
Best for:
Skype is a great tool that allows you to make cheap calls around the world. However, there are fees associated with each individual call. This can become quite costly if you make a lot of calls. Thankfully, you can record a Skype call for free.
To record your online call for free, you first need to download the Skype application. Once you have downloaded the software, you will need to register an account. The process is actually quite simple. You simply log in to the Skype website, create your user account, and then follow the instructions to complete the process. You will be asked to enter your identification information, such as your name and address. This is simply to ensure that you are the person who registered the account.
Once you have registered and created an account, you will be able to start recording calls.
You cannot record audio or video separately from each other. The program will capture the whole window. It's also important to note that all other participants will know that you are recording the conversation.
Advantages of the Skype screen recorder:
No need to install a recording app
Fast online sharing with other callers
Can be used on mobile devices
Disadvantages of the built-in tool:
Everyone knows that you're recording the call
No option to separate screen and audio recording
The recordings are stored online for 30 days only
Here's a detailed guide to how to record Skype calls with the default Skype recorder.
Step 1. Start your Skype call
You can launch a Skype session either on your computer or your mobile device. Download the Skype app from your app store, sign in to your account and start the conversation.
Before you start recording, check that your microphone and webcam are working correctly. Make sure that the other participants see your face and hear your voice clearly.
Now you're ready to record the call. You can start recording at any time during the call. But we recommend you start the capturing process at the beginning so it won't distract you from your conversation.
If you're making a Skype call from your desktop, click the More button at the bottom right of your screen. From the menu, select the Start recording option.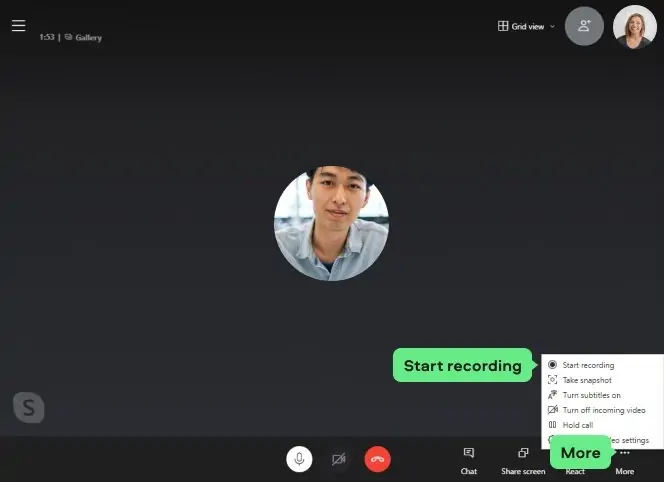 When using your mobile device during a Skype call, look for the Start recording option on your screen. You should see it at the bottom of the screen. Tap on it to start the recording.
Note that other callers will be notified that you have started recording the call.
When the call has ended, you can click on Stop recording. You can also simply end the call, and the recording will automatically stop as well.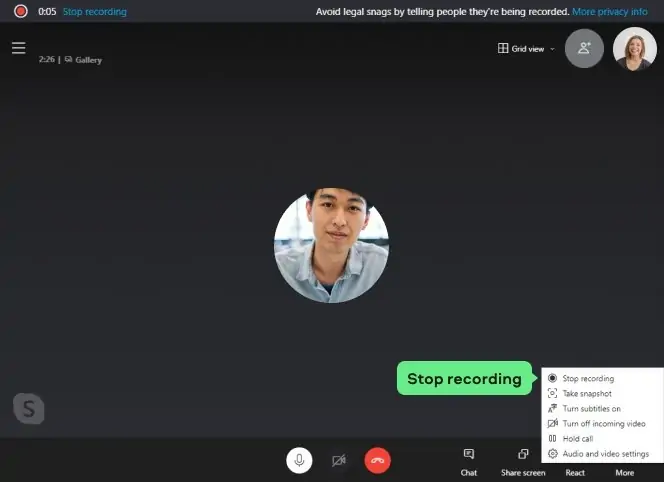 Step 4. Save and share the call for 30 days
The recording will be posted to your chat, where it will be stored for 30 days. You can also share it with any of your contacts during this period.
Everyone else on the call can also save the recording for later viewing and sharing within the 30-day period.
To share a recording from your computer, select the Forward tab from the More Options button. The Forward tab gives you a list of suggested contacts you can share your call recording with.
When sharing a recording from your mobile device, tap and hold the call. Tap Forward from the options available. When you see Forward Message, select the contacts you wish to share the recording with and click Send at the top of your screen.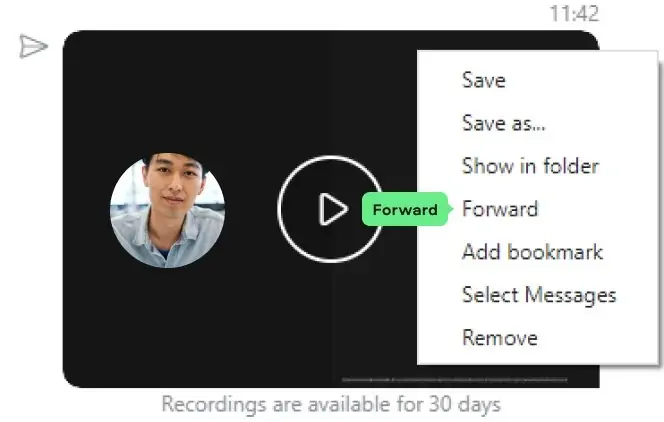 Step 5. Save to downloads folder
You can also save your Skype video call recording by downloading it. This can be done on your desktop, laptop, or your mobile device.
To save a call recording on your computer, go to your chat. Click on the More Options tab. Select the Save to Downloads option. The recording will be saved in your Downloads folder.
You can also save the recording to a different folder on your computer. Simply click Save As and pick the folder you wish to save the recording in. Your recording will be saved in MP4 format.
To save a call recording made on your mobile device, navigate to chat. Tap on the recorded call and hold. A menu will be displayed, and you can tap on Save. Your recording will download and automatically be saved as an MP4 file in your gallery.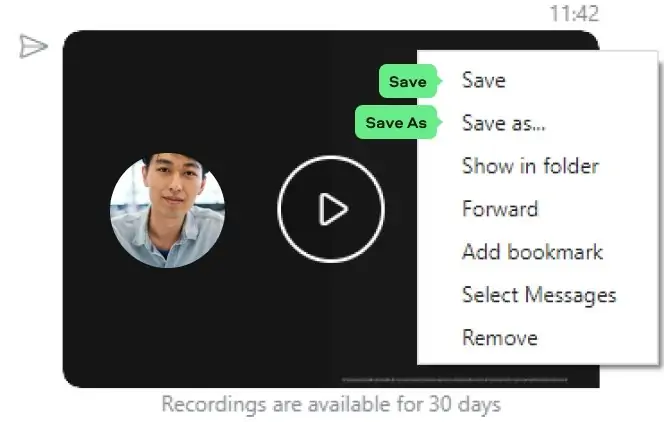 How to record a Skype covnersation online and for free
Best for:
On-the-go recordings
Quick online screen capture
Browser: Chrome, Firefox, Edge, Opera
Price: a free version with the paid versions of $9.95/month and $39.95/year
Rating: 4.7/5 stars, 441 reviews
Using an online recorder is one of the most convenient ways to grab a call on a PC. It has all necessary settings, including screen, voice, and webcam recording. And at the same time, there are no extraneous parameters to confuse you.
Screen Capture guarantees that nobody can see your recordings until you share them yourself. Another advantage is that the app works in Incognito mode, protecting your browser data from scanning and theft.
It's fast and simple to use. That's why users who don't need advanced recording settings prefer this online service over desktop recorders.
Note that, to make a Skype call recording, you'll have to open the Screen Capture web page in your browser. But you can do this before the call starts, so it won't cause any disturbance.
Advantages of Screen Capture:
Simple and clear settings
Private recording process
No installation required
Can be used in Incognito mode
Allows screen and audio to be recorded separately
Disadvantages of the online recording app:
Watermark on videos in the free version
Doesn't work on mobile phones
Now we'll show you how to use our Skype call recorder, and you'll be surprised at how easy it is.
Step 1. Open Screen Capture
Step 2. Choose your settings
Before you start to record the Skype conversation, decide what you need to capture. For instance, if you need to record Skype audio without the video, enable Microphone and Sound and disable Webcam.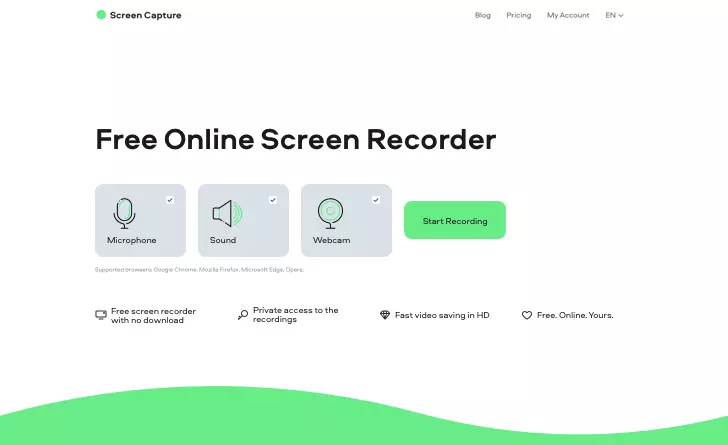 Click the Start Recording button. Allow access to your webcam and microphone.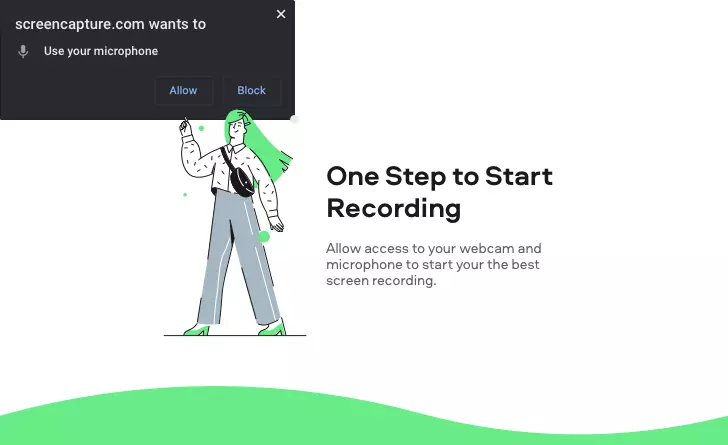 Step 3. Record your Skype call
Now open your Skype window. But don't close the browser, because Screen Capture is activated there!
Start the Skype conversation.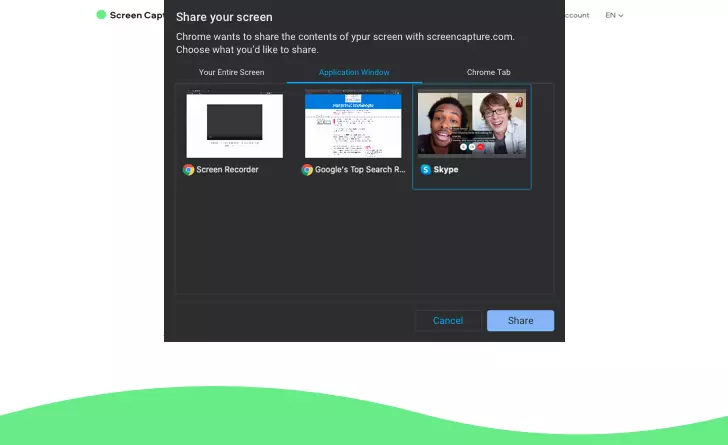 Step 4. Save the recording
Save the video to your computer and watch it anytime. The recording will be available for your personal use forever.
With our online screen recorder, it's easy to record Skype calls on Windows, Mac, Linux, and other operating systems.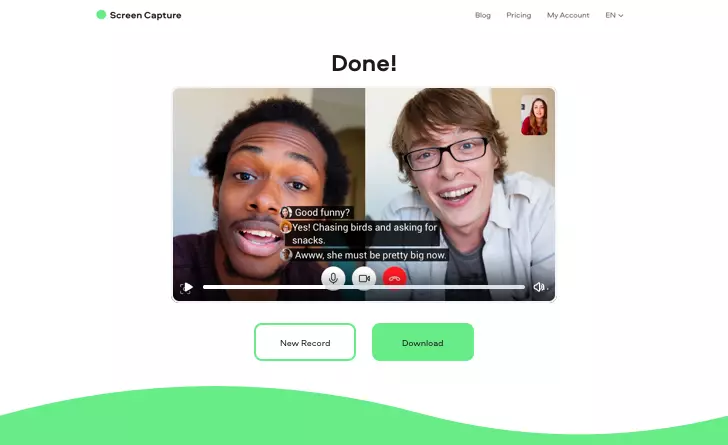 We hope this article has helped you choose a screen recorder. Sometimes, it may be difficult to choose a recording software, so here's a list of things you should pay attention to:
Versatility: if you need to record only Skype conversations, the built-in tool will work for you just fine. However, for more broad usage like recording video lessons or entertaining content, you should look for more versatile software.
Features: for simple recording tasks, almost any screen capture app will be enough. However, for editing options, you'll have to search for software that includes these specific functions.
Reviews: you should check if people are content with the built-in tool. Maybe they miss some useful features and can recommend alternatives.
Support: pick a service with accessible customer support that will help you out in case of trouble.
Frequently asked questions
How can I record my Skype calls for free?
Step 1: Open the online recorder.
Step 2: Choose your capture settings.
Step 3: Record the call and save it to your computer.
You can also try the desktop version of our screen recorder. It has many more recording settings that you'll find handy if you need to capture Skype calls on a regular basis.
Can you record Skype calls without other people knowing?
Yes, it's possible. When you start recording, the other person cannot see the recorder is working. But be aware that doing this may not be legal in your country.
Does Skype record calls?
Yes, Skype does record calls. When you start recording, the other person will be notified about it.
Where is the Skype recording saved?
Check the Downloads folder on your computer. Usually, all recordings are automatically saved to this folder.
If you don't see your recording there, open the Start menu and type the name of the recording in the search bar. You may have chosen another folder for your recordings in a previous Skype session, and the program used the new location.
You can also make a new Skype recording and save it. In the save window, you will see a field with the path to the location of the file.