In this article, we'll see how to download videos from a website with different methods such as an online free screen recorder, desktop programs, browser extensions, iOS/Mac apps, and Android services.
Special peak: Movavi Screen Recorder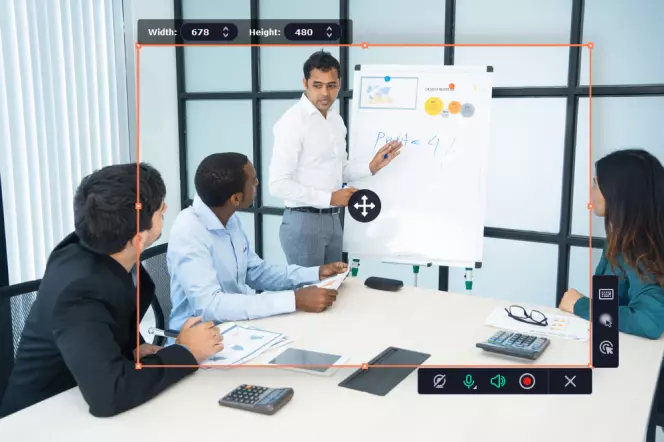 Need an online video ripper? Here's Movavi Screen Recorder. Using it, you can capture videos from websites and save them to your computer in MP4 and other popular video formats. You can even convert them to high-quality GIFs to send to your friends as memes. Additionally, you can take informative screenshots, record tutorials, and film with your webcam. Download it for free and give it a try!
How to rip videos from a website online
If you want to know how to rip a video from a website, but you don't really want to download any specific software, you've got some online options. This is very convenient, since you don't have to install any software. Just try out the websites below.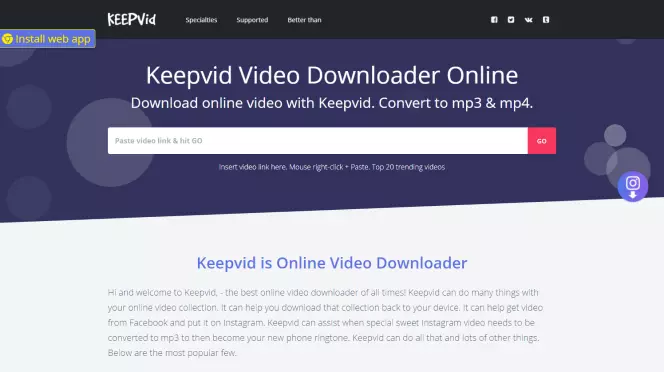 Best for: easy downloads
Keepvid is a simple and effective option for ripping a video from a website. Simply enter the link of the page where the video is located, and Keepvid will scan for a video file. YouTube videos are incredibly easy to download, but you can put in a link from any site. The tool will work out if there is a video file and give you some download options. Keepvid also has options for downloading from Facebook, Twitter, and other social networks, which isn't always possible with other video downloaders. With this online service, you don't have to worry about how to download a video from a website.
Features:
Downloading videos to MP4
Saving audio from videos
No videos-per-day limits
Pros:
Allows you to choose between multiple qualities and formats.
Allows you to just download audio if you wish.
Rip from any website online for free.
Cons:
Features some very spammy ads, so it is definitely a good idea to install an ad blocker before using the app.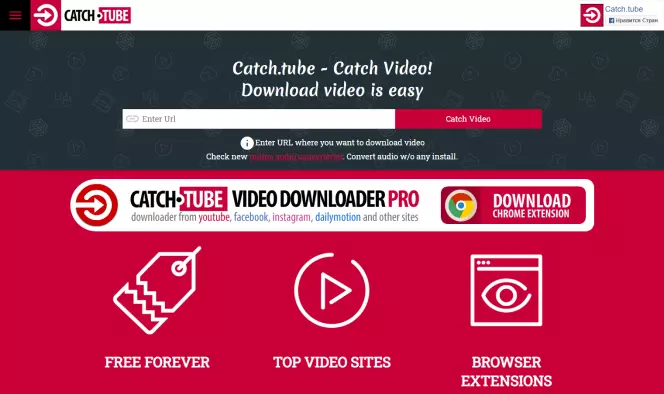 Best for: multiple video formats
Catch Tube is a fantastic method for those who want to copy videos from websites. It's especially good at downloading high-quality videos, it keeps the high-definition versions of videos when you copy a link from YouTube or other video websites. Though it does have a browser extension, this is a way to pull a video from a website without the need to download or install anything. You simply copy and paste the link and hit "Catch Video". It will automatically convert it into different qualities of video for you to download.
Features:
Extracts videos from URLs
Totally free
Has a browser extension
Pros:
Great for HD videos.
Allows you to choose between a number of formats.
No need to download anything.
Cons:
Some full-page popup ads can be annoying.
Best for: screen capturing via browser
Rating: 4.7/5 stars, 435 reviews
Screen Capture is an amazing way to grab free videos online, and it can use a variety of different methods and sources for the video. Simply start your recording and allow the video to play, you will capture it in HD and be able to download the end result.
There are a lot of video links that won't work on some of the other sites. For instance, if the video is behind a login section, but with Screen Capture, it's easy to get these videos. You can also navigate easily to the specific part of a video you want in order to download the clip you need and grab a video from a website.
Features:
Recording videos from your desktop
Saving videos from websites other tools don't support
HD video quality
Pros:
Easy to download video from any source via a screen recording.
Record within your browser and download in HD.
Pull videos from websites without loads of spam adverts.
Cons:
You need to let the video play on your screen to record it, so you can't just extract the video from a website link.
Grab videos from websites on desktop
A desktop method to pull videos from websites is great if you regularly find yourself needing to download videos. It's worth having a small piece of software on your desktop to allow you to simply press a button and start to screen record or download any video that is in your browser. There are multiple methods to do this, either by recording the whole screen or individually selecting videos to rip online. You can install these on both PC and Mac.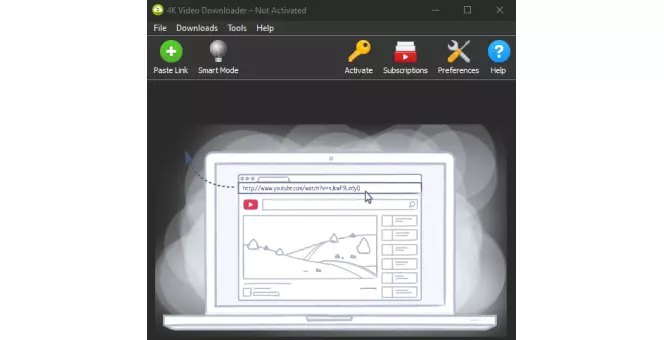 Best for: high-definition videos
Rating: 4.6/5 stars, 478 reviews
OS: macOS, Windows
When you get a desktop downloader, you want something that can quickly and easily grab videos with the simplicity of copy and paste functionality, and with 4K Video Downloader, that is exactly what you get.
As well as being able to easily get videos from websites, it has some brilliant YouTube functionality and allows you to set the program up to download full playlists. Of course, being able to download a video in the highest quality possible is a bonus, especially if you plan to edit the video.
Some functions and features are hidden behind a paywall, so you might have to pay for a license, but a lot of the basic functionality can be used without paying.
Features:
In-bulk video downloads
Extracting YouTube subtitles
Output video quality up to 8K
Pros:
A simple method to download videos in HD to your desktop.
Can rip videos up to 8K definition.
Easily set up the program to rip videos from a playlist.
Cons:
Some features require paying for a subscription.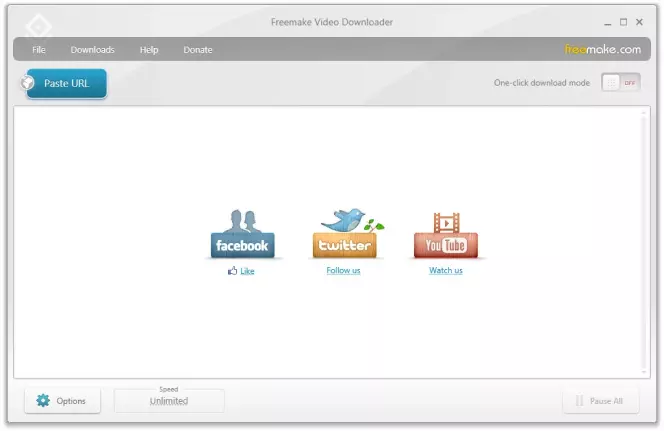 Best for: Linux (as well as Mac and Windows)
OS: macOS, Windows, Linux
Download Freemake Video Downloader
There aren't many video downloaders that are genuinely free and don't ask for a payment, but Freemake's Video Downloader is exactly that. They do sell some premium products to allow you to download extra effects or templates, but the video downloader itself is freeware. It can grab any video from up to 10,000 different websites, so whether you need a YouTube downloader or you want to grab something from a social network or other sites, then the Freemake Video Downloader can help.
Features:
Re-uploading videos to Dropbox and Google Drive
Limiting download speed
Using parental control
Pros:
No mandatory payment to use.
Relatively simple setup.
Cons:
Not as quick as some other alternatives.
Not as much support as paid software.
Best for: HD screen recording
Rating: 4.5/5 stars, 49 reviews
OS: macOS, Windows
Movavi Screen Recorder, a desktop recorder, allows you to grab any video from any site, as it records exactly what you see on your screen. You have the option to set both audio and video inputs, and you can even use some of the added features, such as being able to schedule your video recording.
Once you've recorded, you get the option to do some basic editing, even if you just "top and tail" the video to get the start and end trimmed out. It helps to have this functionality without needing any other software. This screen recording software also works for live events, as you don't need to provide the URL or a full video to download.
Features:
Saving videos from any website
Built-in saving to GIF
Recording reaction videos with webcam, comments, and highlights
Pros:
Capture live events and videos from your browser.
Use this for other types of video capture, including Zoom calls.
Cons:
The video you are capturing needs to play through, so you can't have it converting and downloading in the background.
Extract videos from websites with a browser extension
If you have a browser extension, then you can usually just click a button while you're watching a video or a stream in order to allow you to capture it. There are a few different ways this can work: some grab the videos as a screen recording or capture, while other methods rip the video from websites in a variety of different formats. A lot of people who are looking to work out how to rip a video from websites use this method, but it has its pros and cons when compared to some of the other techniques.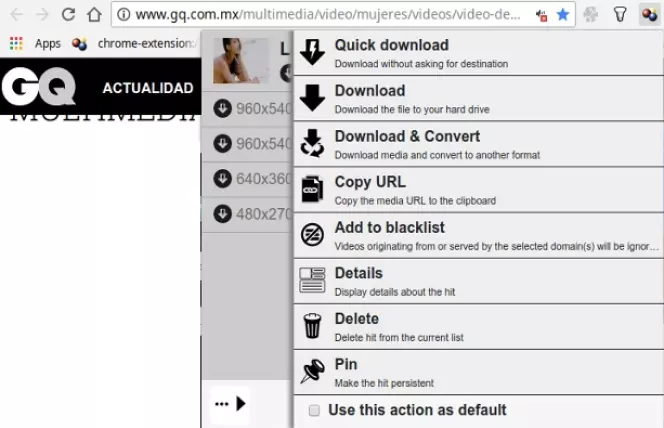 Best for: non-YouTube recordings
Rating: 4.3/5 stars, over 14 000 reviews, 2M users
Browser: Chrome, Firefox
Surpassing 2 million users is not easy for any browser extension. Video DownloadHelper is used by millions of Chrome and Firefox users to grab videos from YouTube or from other sources.
Because it is a browser extension rather than standalone software, it works just as well on Mac, PC, and Linux. The extension gives you a button control near the web address bar in your browser, so you can simply and easily grab videos straight to your computer. With some extra software, you can also get streaming videos.
Features:
Works on Windows, Mac, and Linux
Customizable interface
Versions for Firefox. Edge, and Google Chrome
Pros:
Smart naming of all video files.
You can blacklist domains so that ads are hidden from the videos.
Convert the video to a variety of different file types.
Cons:
The Chrome version doesn't work with YouTube, which is where lots of people want to download their videos from.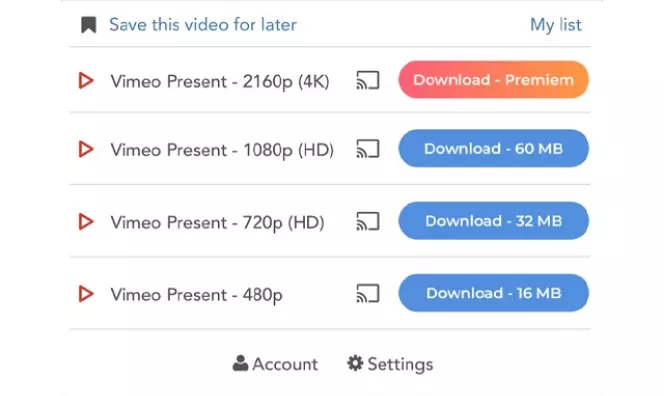 Best for: Vimeo conversion
Rating: 4.5/5 stars, 14 360 reviews, over 800 000 users
Browser: Chrome
This is a specific Chrome video downloader. It offers quick and reliable downloading for Chrome users but needs you to have a certain set of criteria. For example, this is another browser extension that doesn't let you get videos from YouTube. This can be very frustrating for some users who want to download from the most popular video site in the world.
It's easy to use on websites that have videos, and you can click a button to choose between different formats and video quality. The highest quality videos require a subscription, but you can download videos in up to 1080p without having to pay anything at all.
The Video Downloader Plus extension doesn't take much space on your computer and operates very quickly, so you can grab videos in virtually no time.
Features:
Supports a wide range of video formats
Video quality up to 4K
Use Chromecast on any video
Pros:
Quick to install and quick to download videos.
Choose the format and quality you want.
Cons:
Doesn't work with YouTube videos.
Cannot be used to download the highest quality video unless you pay for a subscription.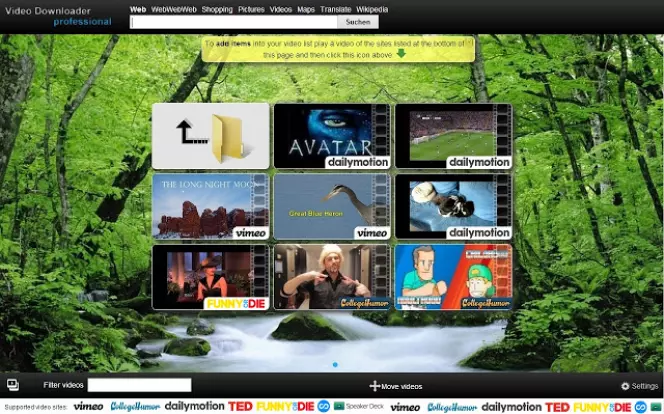 Best for: ease of use
Rating: 4.5/5 stars, over 207 000 reviews, over 3M users
Browser: Chrome, Firefox
Video Downloader Professional claims to allow you to download any video from any website. It isn't as restrictive as some of the other video downloader browser extensions. It is quick and simple to install and gives you a one-button option to download videos from a variety of sites. You can also use it to grab full playlists from video hosting platforms. One of the only real downsides is the fact that it doesn't always recognize the videos on a webpage, especially on large sites like Facebook that have a lot of content to sift through.
Features:
Video resolution selection
Playing videos on a TV via Google Chromecast
Adding videos to a favorites list
Pros:
Easy to grab videos from websites, including video-specific sites and other websites.
Free browser extension.
Cons:
Doesn't always recognize the videos on a website or work from a video link.
Copy videos from websites on iOS and Mac devices
If you are running an iOS or Mac device, you can download apps that allow you to keep videos that you have found online. You can often do this by clicking on the app and copying and pasting the link to the video in question, but some also work as screen recording apps for live recordings. The option to grab videos from websites using apps means you can use devices like iPads as well as a Macbook or iMac.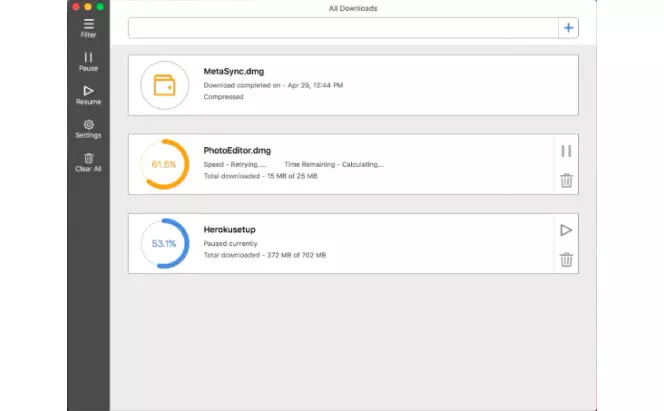 Best for: simple interface
Rating: 4.4/5 stars, 351 reviews
OS: iOS, macOS
iDownloader makes some big claims. It states that it is the fastest software on the App Store for downloading videos on iOS and Mac devices. It can detect links from your browser and even supports drag-and-drop links, so you can literally drag in the video that you want to download. If you're looking for a simple design that fits in with the iMac aesthetic, this could be ideal.
The iDownloader breaks the task into segments in order to use all of the bandwidth and make the download quicker. If the process cuts out, it will simply resume when your connection is restored.
Features:
No download limitations
Pausing and resuming the download
Simple drag-and-drop interface
Pros:
Free to download with unlimited downloads.
Extremely fast downloads.
Cons:
Some features and high-quality video downloads are behind a paywall (in-app purchases).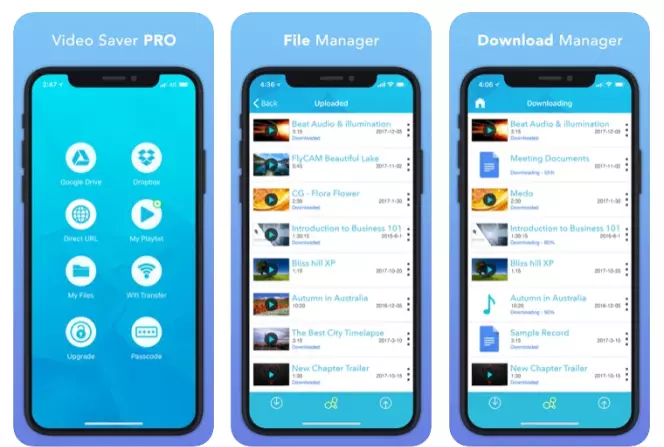 Best for: cloud storage
Rating: 4.5/5 stars, over 36 000 reviews
OS: iOS, macOS
Video Saver Pro has some very impressive features and functions for those looking for a high-tech solution to save videos on Mac or on Apple devices.
It's a universal app, so it can be used on any Apple device, and it has support for both Google Drive and Dropbox. This means you can quickly and easily store videos on the cloud rather than taking up a lot of valuable space.
It's easy to download from direct links or even media players and playlists, so there are very few restrictions on the types of video or the sources you can use. The layout is simple and intuitive, so it is easy to use.
Features:
Google Drive and Dropbox integration
Built-in video player
Can both download and upload videos
Pros:
Incredibly simple to use.
Easy support for cloud storage.
Cons:
The number of downloads per day is limited unless you pay for a pro subscription.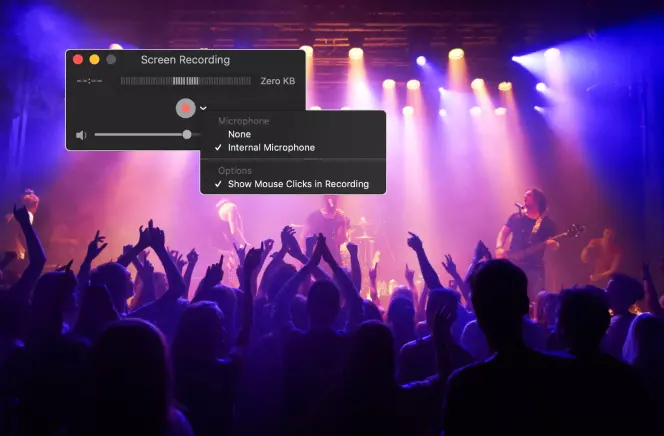 Best for: no-install screen recording
OS: iOS, macOS
iMacs, MacBooks, and other Apple devices come with QuickTime already installed. This means that you have an inbuilt screen recorder to use whenever you want to grab a video from a website. Because QuickTime is a media player with a screen recording option, it means that you need to watch the video to make a screen recording.
Features:
For Apple devices only
Completely free and pre-installed
Recording the video on the playback
Pros:
No extra install required, it's already on a Mac.
No need to pay for any extra downloads or "Freemium" additions.
Cons:
No option to download videos without watching them.
Copy videos from websites on Android devices
Android users can also benefit from a number of applications that can be used to grab videos, either using the URL or pulling videos from websites in real-time as you're watching a stream, for example. There are some badly-reviewed apps on Android, so you need to be cautious about which you opt for, but the options below all do a good job.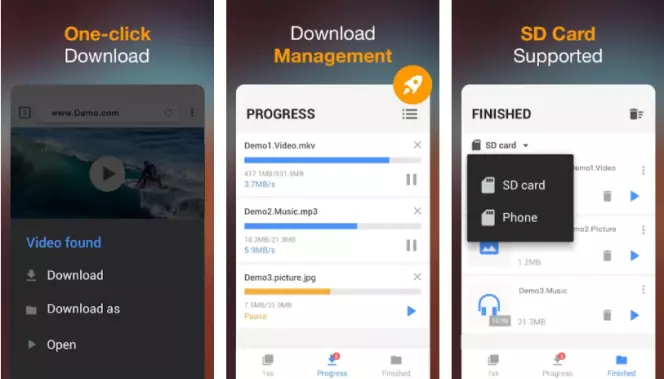 Best for: inbuilt video browsing
Rating: 4.7/5 stars, over 1.1M reviews, 50M users
OS: Android
Video Downloader supports all formats and doesn't charge you for making basic downloads. You can make multiple file downloads at the same time and easily manage these through the Download Manager section. Pause and resume the downloads, or queue up others.
You can download in a variety of different formats. Besides videos, you can also grab audio files with just one click using this app. It has a clever built-in browser for finding the videos that you wish to download. Instead of having to find the link from YouTube, you can just grab it in their browser. You can also download directly to a Micro SD card on your device.
Features:
Pausing, resuming, and removing downloads
Saving videos to the SD card
Comprehensive progress bar
Pros:
Easily downloaded in a variety of different formats.
Free app with good compatibility with virtually all Android devices.
Download to an SD card if you want to save space.
Cons:
Some users have reported issues with ads being recorded as well as the video they want to rip.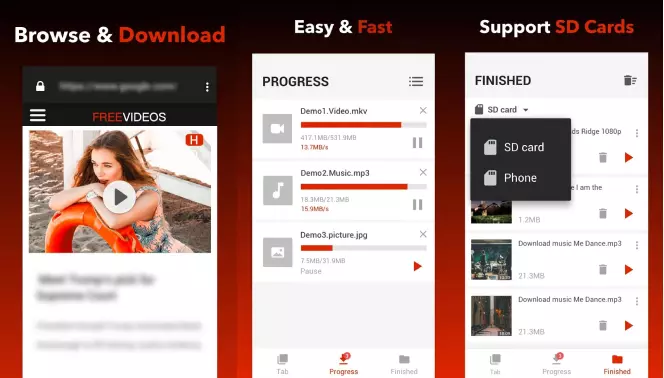 Best for: totally free Android conversion
Rating: 4.5/5 stars, 518 000 reviews
OS: Android
Download Free Video Downloader
Free Video Downloader is another app for Android that lets you download a number of different videos and audio in loads of different formats. There are some great added extras, such as the option to PIN protect videos, an inbuilt browser, and even the option to download to an SD card. One criticism that can't be ignored is the number of ads that are within this app. Some are to be expected as it is not a free app, but the number is very high. Numerous reviews have criticized the ads.
Features:
Downloading several files simultaneously
Creating password-protected folders
Resuming failed downloads
Pros:
Download to an SD card to save space.
Inbuilt download manager, which is simple and easy to use.
Cons:
There are a lot of ads, which can get very annoying.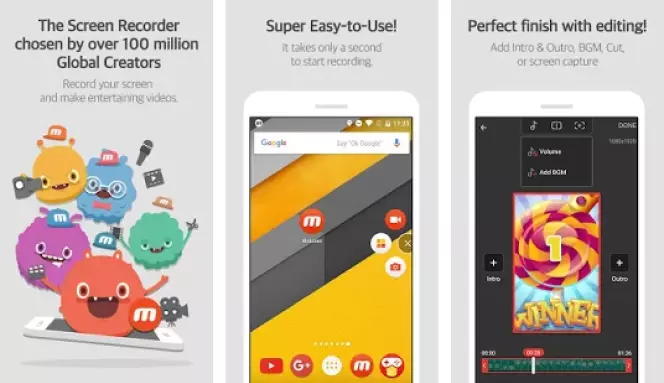 Best for: HD screen captures on Android devices
Rating: 4.0/5 stars, over 3M reviews, 100M installs
OS: Android
Download Mobizen Screen Recorder
Mobizen is an incredibly popular screen recorder. You can begin your recordings with a click of a button and record whatever is happening on your screen, whether that means live recording from a stream or a call or even just a video from a website. A lot of Android users also use this to record gameplay from apps, too.
Knowing how to rip a video from a website is super simple with this app, as it is intuitive to use and even has the option to record up to 60fps and save to an external SD card.
Features:
Creating GIFs from captured videos
Adding watermarks to the captures videos
Drawing on videos while recording
Pros:
Record in HD at up to 60fps.
Also allows screen recordings of gameplay and other Android apps, including video calls.
Cons:
You need to be watching the video for the screen recording to go through to the end.
Use your browser to download a video
Did you know that there is a little-known browser trick that you might be able to use? If you are exploring how to rip a video from websites but you don't necessarily want to download anything, most browsers allow you to check the code of the site to see where the media is located. You can then use this to save the video directly from the site like you would grab an image file.
Step 1: Load the web page with the video you want to download.
Step 2: Right-click and then choose Inspect Element next to the video player on the app.
Step 3: Check if there is a link directly to the media file. This will be a URL with a file type at the end, for instance, /mycatvideo.mp4.
Step 4: Right-click on this file and then select Save As. You will have the choice to download this to your hard drive.
The code that comes up when you click on Inspect Element can be a bit intimidating. If you aren't confident with code, then you might be wondering what any of it means, but all you need to do is find the video link within.
If you want to approach this in another way, you can click anywhere on the page and right-click before selecting View Page Source in your browser. This will show the hard code of the website, and you can then use this to find the link to any video that has been embedded.
How to download videos from streaming services
A lot of people who want to know how to grab a video from a website are doing so because they want to revisit the video or watch it at a later date. For example, if you are going on a plane and you won't have internet access. Streaming sites like Hulu and Netflix give you the chance to download to your device and then revisit when you want.
As well as a Play button along with a video, there will be a Download button on selected content that means it will be available even when you are offline. Click Download and wait for it to save to your device.
How to choose a video downloader
We hope this article has helped you choose a video downloader. Sometimes, it may be difficult to stick to just one app among many, so here is a list of points you should pay attention to when looking for video downloading software:
OS: make sure to check that the program works on your system.
Features: look for a video downloader that includes all the features needed for your result. Any downloader will probably meet basic needs. Meanwhile, for anything more complicated, you might want to look for more advanced solutions.
Support: try to find a program with accessible customer support. It will help you out in case of trouble.
Reviews: check out user reviews before trying software yourself – other people may have shared their experiences or problems.
How to grab video from website with Movavi Screen Recorder
One of the best ways to record a website video is to use Movavi Screen Recorder. It's a desktop app designed with both beginners and advanced users in mind. You can use it to record all kinds of content, including games, streams, lectures, webinars, video calls, and more.
Step 1. Download and install Movavi Screen Recorder
Download the program. Once the file is downloaded, you can open and install it, following the on-screen instructions to guide you through the process. Open the program after the installation is finished.
Step 2. Configure the settings
Before you start recording, it's important to get everything set up correctly to get the best results for your recording. First, press the Screen recording button, shaped like a movie camera, to access the settings. You'll first need to click on the video you want to record or click and drag a frame to cover the space you want to record. Make sure the System Audio icon is active and click the REC button to start recording your screen.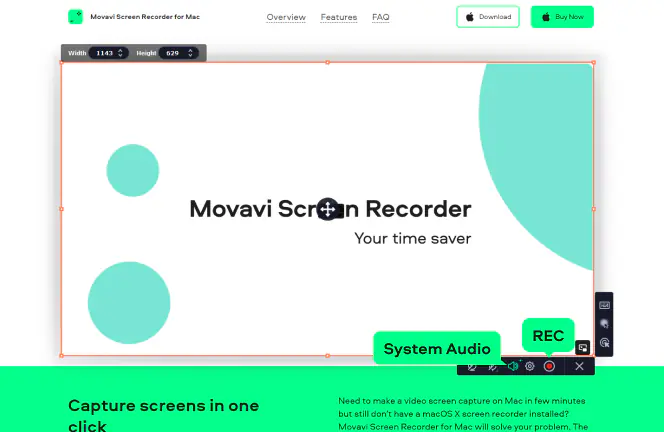 Step 3. Record your screen
Finish recording with the Stop button, and then you can make some simple edits to your recording, if needed, and save it by clicking Export and then Save.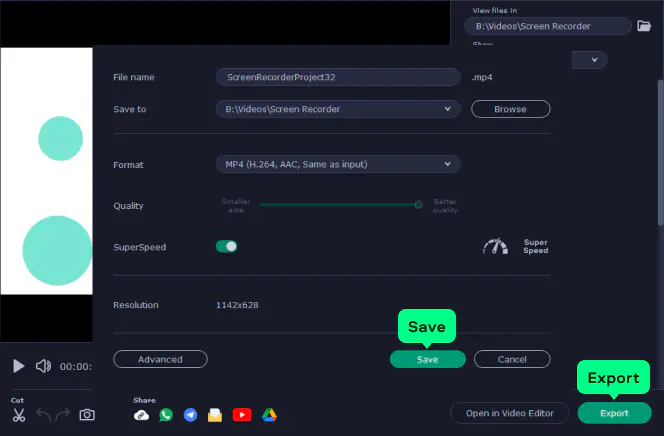 Now you know everything about finding a perfect video downloader. Which one suits you best? Check the options above and find out!
Frequently asked questions
What is the best video downloader?
There are many different choices for those who want to download video from a website, and the option to grab video from a website may vary for everyone depending on what device you're using.
Keepvid – Best for easy downloads
Catch.Tube – Best for saving in multiple video formats
Screen Capture – Best for screen capturing via browser
4K Video Downloader – Best for high-definition videos
Freemake Video Downloader – Best for Linux users
Movavi Screen Recorder – Best for HD screen recording
Video DownloadHelper – Best for non-YouTube recordings
Video Downloader Plus – Best for Vimeo conversion
Video Downloader Professional – Best for ease of use
How to download any video from any website?
A lot of people want the option to download any video from any site. Video restrictions such as not being able to download from YouTube can be so frustrating. Keepvid is a very good choice for those who want flexibility. Follow these steps to download any video:
Load the Keepvid website.
Find the URL that contains the video you wish to save, for instance, a YouTube link.
Copy and paste the link into the URL bar on Keepvid and then hit Go.
Wait for the options to load (you may have to close an ad page).
Choose the dimensions and quality of video you want, as well as file size, and hit Download.
The file should go to your standard "Downloads" folder within your browser and computer.
Which is the best site for video download?
Fortunately, there are some options for you to download videos online using a dedicated website rather than having to download any tools.
Keepvid – Best for easy downloads
Catch.Tube – Best for multiple video formats
Screen Capture – Best for screen capturing via browser
How can I download videos from a website without paying?
You can use both specialized software and screen recorders to download video from a page of a website. You can use programs such as Keepvid, Catch.Tube, Freemake Video Downloader or any other program mentioned in the article. However, we recommend using Movavi Screen Recorder, since its functionality isn't restricted to video downloading.
How do I download a video from a website in Chrome?
You can use a wide variety of programs to download videos from a webpage. Chrome extensions, such as Video DownloadHelper are easy to install and use. Online recorders such as Screen Capture offer more functions and better recording quality. Finally, there are desktop recorders such as Movavi Screen Recorder that have the largest number of functions.
Sign up for news and special offers