Want to learn how to record sound on a Mac? Here, we feature different options, including a free screen recorder that can be used online, desktop recorders that you can download from the internet, and built-in tools. Explore how to record audio on a Mac.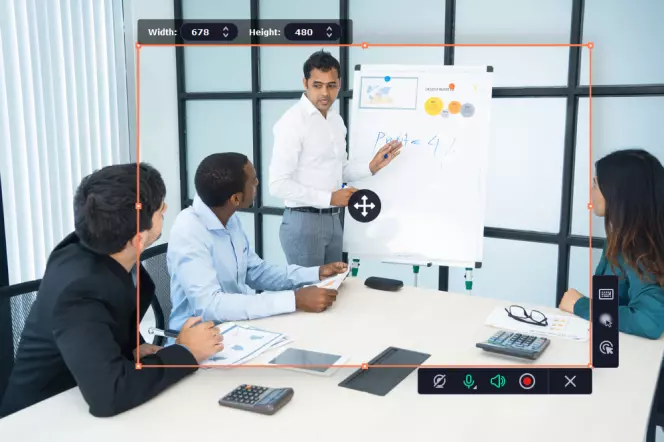 Movavi Screen Recorder is a great program for recording audio and video on a Mac. This intuitive program has a wide range of features, including the ability to record system audio, microphone audio, or both. It also has a built-in editor that lets you cut and trim your recordings.
The program has a simple interface anyone can use with some extra functions that enhance the recording process. If you're recording video, you can also draw on the screen to make notes or show your keyboard to viewers when hosting. It's an all-in-one audio and video capture toolkit, and it comes with a free trial.
How to use the Voice Memos voice recorder on a Mac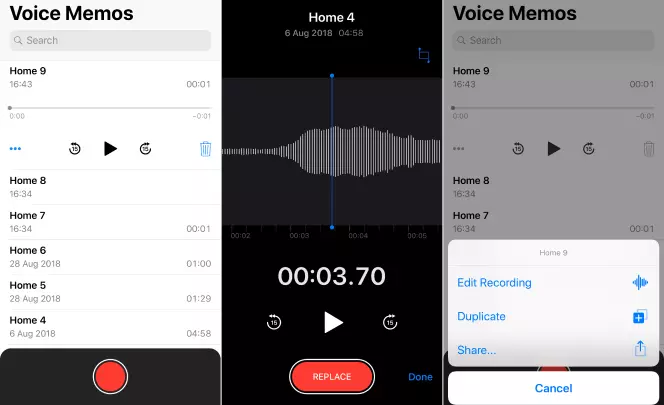 Best for: Simple voice recordings synced across all iOS devices
This is a built-in voice recorder on Mac computers. It is free and very user-friendly. It's recommended for recording meetings, conversations, and ideas/memos. In a nutshell, click Record, click Stop, and then click Save. Nothing could be simpler. You can do some basic editing with the app's integrated tools if you need to. Then save the audio file to the iCloud or your Mac, so you can access it from your other Apple devices. Perfect for beginners or tech novices, it is easy to use, and recording time is unlimited.
We would highly recommend this tool as one of the best ways to record audio on a Mac.
Here's how to record voice on a Mac using Voice Memos:
Open the Voice Memos app.
Press the red button or use the functions on your Touch Bar (if you have a recent MacBook Pro.)
If needed, pause your recording and click Resume to continue.
Click Done to finish your recording.
Access your recording in Preferences to playback or edit.
Sync across your Apple devices to listen to (or even edit) your recording via iCloud.
How to record voice on a Mac with Movavi Screen Recorder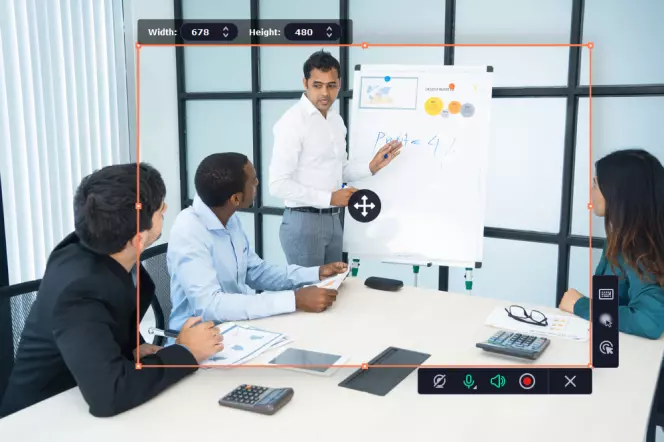 Best for: Recording screens with sound – audio and computer system sounds
G2 rating: 4.5 out of 5 stars, 49 reviews
This software has a user-friendly, intuitive interface and makes it easy to record internal playback. A good fit for beginners or professionals, you can record your screen video with internal audio or from multiple internal/external sources. Quickly switch between video and audio recordings with no problem and be confident that both outputs are high-quality. An excellent option for recording live audio streaming, podcasts, meetings, and even online tutorials. You can easily configure sound input options, and the sound quality is crisp and clear. Edit your voice recording or audio recording with the integrated editing tools. If you are working on professional projects, you might want to consider upgrading to the well-priced paid version for additional features and to remove the watermark.
If you have Mac OS X, record audio with Movavi Screen Recorder.
Download and install Movavi Screen Recorder.
Open the software and select the recording option. Choose either Microphone or System Audio, depending on your project. If you don't want to record video, deactivate the Webcam.
To start recording, click REC and make sure your computer audio is on.
Use the editing tools to trim excess audio.
Click on Export > MP3 to save the audio track, then click Save.
How to use the QuickTime Player audio recorder on a Mac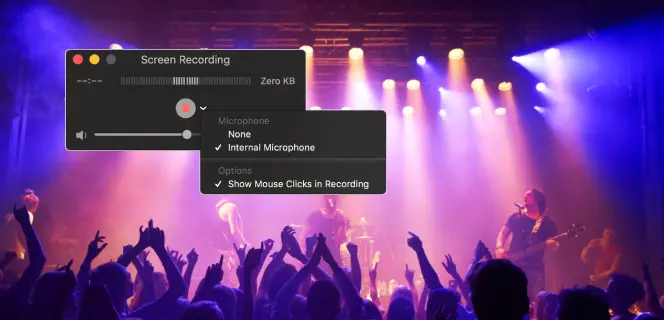 Best for: Easy audio recordings
This built-in Mac software tool can be used for audio recording and/or video recording. It is often more well-known for its video playing and streaming functionalities, but QuickTime Player actually offers more than that. In reality, this software is also a Mac audio recorder. The interface is user-friendly, and overall, it is easy to use. The one drawback is that it lacks the built-in capacity to record internal system audio. You will need to download another software such as Soundflower in order to do this. To record your audio, either use the built-in microphone or add an external microphone for better quality sound in your recordings.
Follow the steps below to learn how to record computer audio on your Mac with QuickTime Player.
Open the QuickTime Player app, click File > New Audio Recording.
In the Options pop-up, select the microphone and recording quality level. Use the volume slider to control the volume.
Click the Record button or use the functions on your Touch Bar (if you have a recent MacBook Pro.)
To pause Option-click Record and click it again to continue.
Click Stop to finish.
Click Edit > Trim to trim your audio clip.
Name and save your file, then choose where you want to save it.
How to record audio on a Mac online with Screencapture.com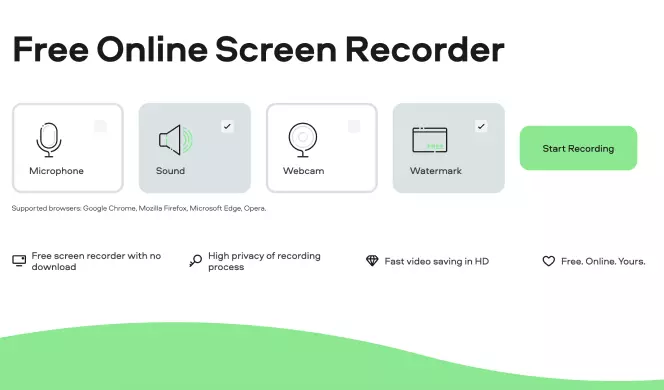 Best for: Recording screens with sound - voice and computer system sounds
Trustpilot rating: 4.7 out of 5 stars, 441 reviews
If you are wondering how to record your voice on a Mac, Screen Capture is the way to go. This user-friendly screen recording software can be used to record audio on a Mac via a microphone or the computer sound function. Available online, this free app can record voice, system audio, activity in your web browser, or music that you are playing or streaming on your computer. All this can be done in a few clicks, and the recording is guaranteed to be HD and secure. Smoothly record your podcasts and virtual meetings or calls, then save and share. You will need to upgrade to the Premium version if you don't want your file to feature a watermark. The paid version is very reasonably priced and worth doing if you want a professional finish.
Here's how to record audio from your computer on a Mac online:
Visit the Screencapture.com website.

Select sound output options: microphone (voice) or computer sound (internal computer sounds) depending on the audio you want to capture.
Click Start Recording, click Stop Recording when you have finished.
Save your file to your computer, upload it to a website, or share it online.
How to record computer audio on a Mac with GarageBand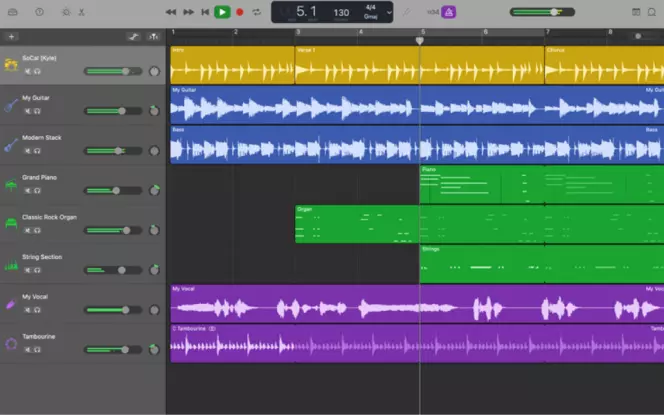 Best for: Audio recordings for music production
This feature-rich audio recording and editing software is a free, built-in Mac app. Sometimes referred to as a digital audio workstation due to its many options, it is recommended for any voice recording or audio recording done on a Mac computer. This tool offers high-quality results for beginners or professionals to record podcasts, soundtracks, audio files, and voiceovers for videos. While the interface is relatively intuitive, there is an initial learning curve when getting started. For more ambitious projects, you might want to try out the numerous features for mixing tracks and adding loops and synths in post-production. This software is popular with musicians and aspiring artists who appreciate this free audio recording software that helps them create studio-quality recordings.
Here's how to record the sound from your computer with this Mac recorder.
Open the GarageBand app.
Choose Audio as the track type.
In System Preferences > Sound, select Input, then choose your microphone (built-in or external).
In the GarageBand app, click Create New Music Project.
Name your file in Save As, then click Create.
Click the track header to select the first track and then Track > Delete Track, followed by Track > New Track.
In the pop-up select Real Instrument Track then click Create.
In the Track Info panel, select Vocals > No effects.
Double-check your audio input in the Input Source pop-up.
Click Record, then Play to stop the recording.
Use the playback tools to check/edit your recording.
Save your file File > Save to GarageBand or export it Share > Send Song to iTunes.
How to do voice recording with Audacity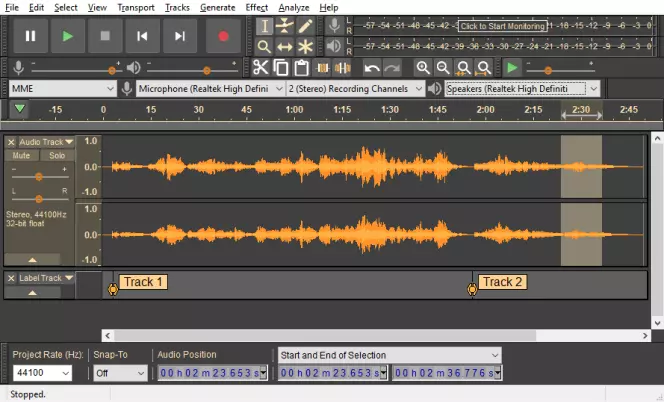 Best for: Voice recordings and editing options of professional quality
G2 rating: 4.5 out of 5 stars, 381 reviews
This software is packed with features and works on Macs, PCs, and Linux computers. It allows you to record your voice and then edit it with its integrated audio editing tools. The interface is less intuitive than some of the other software available, but once you know how it works, you will reap the benefits. It's recommended for recording and editing voice/audio recordings for podcasts, songs, external audio for a video, or voiceovers. Once you have recorded your file, edit the audio with the editing tools and take advantage of the available effects such as noise removal, voice generation, and track-based management. Numerous plug-ins are also available to enhance your recording. In fact, you can't actually record internal audio without installing another software like Soundflower. Easily save your file to different file formats and then export it.
Here's how to record audio on your Mac using Audacity:
Download and install Audacity.
Open the software, check your microphone under Primary Sound Capture.
In the top dropdown, select Tracks > Add New > Stereo Track.
To record, click the red circle on the top left-hand side of the screen.
To pause, click the pause icon and to stop, click on the yellow button, playback is the play button.
Edit the audio file in Effects.
Click File > Export and choose the file type (e.g., MP3 or WAV format), then File > Export > Export Audio.
How to choose a Mac audio recorder
Now you know different ways to record audio on your Mac. If you're not sure which app to choose, here are some factors to consider.
Features: Think about whether you want to record audio only or would like to have the screen-recording function as well. You might also pay attention to editing tools and export formats.
Ease of use: Check out the program's interface and make sure it's easy for you to navigate the app.
Support: See if the program offers technical support in case you have some issues.
Reviews: Read user reviews to learn about the pros and cons of the app.
Keeping in mind the factors listed above you can easily find the audio recorder that's best for your needs. Our personal recommendation is Movavi Screen Recorder due to its versatility and ease of use.
Frequently asked questions
Is there an audio recorder on a Mac?
The Voice Memos app is a free Mac built-in. It is easy-to-use and practical if you have other iOS devices, as recordings are saved in the iCloud and can be accessed from your other Apple devices. A fantastic option to record your voice memos, meetings, conversations, podcasts, or your ideas for your new book! Use the built-in microphone, a supported external headset, or an external stereo microphone (for a higher quality result). Editing and trimming is easily done from your MacBook Pro, Macbook Air, iPhone, or iPad. The simplicity of it makes it appealing to beginners and professionals alike.
How do I record internal audio on a Mac?
Screencapture.com is an excellent option for recording internal audio on a Mac. Not all audio recorder Mac software has this functionality, and out of those that do, this is definitely the most user-friendly. This free online screen recording software is perfect for recording live streaming audio, online calls, meetings, activity in your web browser, or audio playing on your desktop. There are just 3 easy steps to successfully record your Mac computer's internal audio. Follow these steps to easily complete your recording:
Select the computer sound output option, deactivate the microphone.
Click Start Recording, click Stop Recording when you have finished.
Save your internal audio recording to your computer or share it online.
What is the best audio recording software for Mac?
Voice Memos
QuickTime Player
Screencapture.com
Movavi Screen Recorder
GarageBand
Audacity
Sign up for news and special offers