Wondering how to record a screen on Mac with sound? Many MacBook and Mac users have encountered this issue. You can try our online screen recorder right away or explore other options below.
Software

Best for

Platform

Download

Screen Capture
Online recordings with no software download
Browser-based
QuickTime
Recording and playing video files with a built-in software
Mac
Movavi Screen Recorder
Easy desktop recordings with extra tools, like editing
Windows, Mac
We've got three different methods for people who want to know how to record screen and audio at the same time on Mac, including an online Mac screen recorder with audio, some built-in software, and a desktop program to make screen capture with audio on Mac. We'll show you that it's easy to record video and audio from a screen on Mac.
Read further our article on how to record a screen with sound on Mac and discover some simple step-by-step guides to capture whatever you need.
How to screen record with sound on Mac online
If you want a simple and convenient method to record video and audio on Mac OSX or any computer, Screen Capture is the tool you need. Screen Capture is a free online screen recorder tool. It runs directly in your browser, and it's compatible with all of the four major internet browsers: Google Chrome, Mozilla Firefox, Microsoft Edge, and Opera too, so it doesn't matter what sort of browser you like to use, you shouldn't have any problems getting this online tool up and running on your Mac device.
Screen Capture is available to use as a free tool for all or as a premium product for those who are willing to pay a monthly fee. Both the free and premium versions work the same way, but the free version will have a little watermark in the corner of your recordings, while the premium version has no watermark to worry about. It's up to you to choose the version that suits you best, but both versions make it very simple to record your Mac screen with audio.
All of the screen recordings you make with Screen Capture are private and secure, available only to the creator, and ready to download directly to your device once you've finished recording. The recordings are made in HD quality, so you can see every detail, and you can configure the settings to record your webcam in addition to the screen itself, as well as recording sounds via your microphone if desired.
Let's explore how to record screen and audio on Mac with Screen Capture.
Step 1. Open Screen Capture
The first step of using Screen Capture to record your Mac screen with sound is to visit the official Screen Capture page. Since this is an online tool, you can simply load it up in a browser of your choice, like Chrome, Firefox, or Opera. You don't need to do any downloading or installing of any apps or software to get started.
Step 2. Configure the settings
The next step is to configure the settings of Screen Capture to suit your needs for recording your Mac screen and audio. This is a really simple free online screen recorder, so it doesn't have too many options, and new or inexperienced users shouldn't have anything to worry about. You simply need to tick the various boxes to decide whether you want to include or exclude your microphone or webcam from the recording. By default, if you're using the free version, a watermark will also appear on your recordings, but you can remove this if you pay for the premium version of Screen Capture.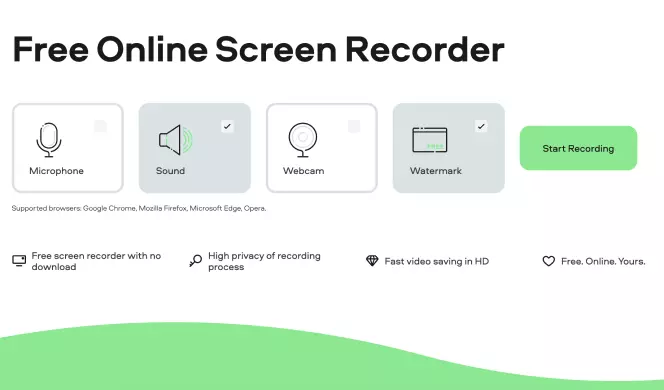 Once you've got the settings of Screen Capture figured out, you can click on the big, green button that says Start Recording. This will take you to a new page, where your browser will ask you for permission to access your microphone or webcam if you want them included in the recording, as well as asking for permission to record your screen and letting you choose which window you want to start recording. You'll need to click on the Allow button to grant permission to the browser to start recording. Otherwise, it won't be able to record anything at all.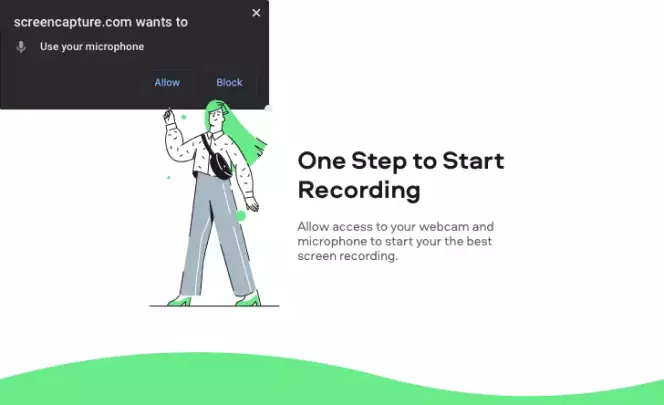 Step 4. Record your screen
The next step to using Screen Capture, once you've granted permission, is to simply allow the recording process to continue. This online tool can allow you to record your screen however you like, switching between apps and windows and recording all of the necessary information for your videos. Everything is private and secure, and all recordings are saved in HD and on secure servers with private access just for you.
Step 5. Stop and save when you're finished
When you're finished recording your Mac screen with audio via Screen Capture, you can simply press the button to stop the process and then save the recording to your Mac.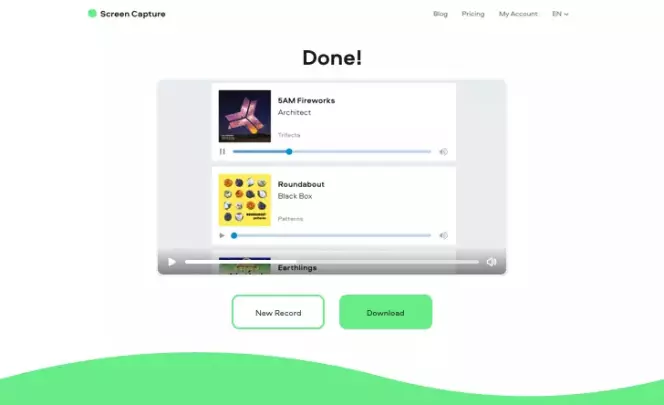 How to record screen and audio at the same time on Mac with QuickTime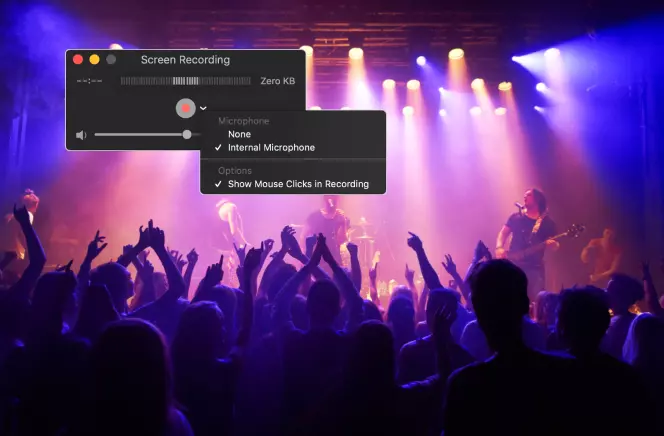 Best for recording with a built-in software
QuickTime is Apple's very own media player, built right in with every Mac device as part of the system software. It's totally free to use, and you don't need to download it, although you may need to download software updates if you haven't used QuickTime for a while. It's a really useful app for playing media, such as watching videos or listening to music, and many users are surprised to learn that QuickTime is also capable of recording your screen too.
However, there is a catch. One of the issues with using QuickTime Player to record the screen of your Mac or other device is that it doesn't actually support the capture of system audio. It can be used to record audio from your microphone, but it won't work with the usual system sounds. This means that it can be hard to use QuickTime to record things like streams or online videos. Many users have tried to do this, only to discover that their recordings have no audio at the end.
This issue has led to a lot of disappointment among Mac users, and many people have gone to help sites and forums to ask how to use QuickTime to record a Mac screen with audio. Fortunately, there is a workaround for this problem, and it involves downloading and installing an extra piece of software called Soundflower. Soundflower is an open-source extension for Mac devices that basically works to give QuickTime access to system sounds and allows it to be used for capturing a screen with audio. Read on through the step-by-step guide to see how it works.
Step 1. Download and install Soundflower
One of the benefits of using QuickTime to record the screen of your Mac with audio is that the software itself is built right into your device by default. So you won't need to download QuickTime, but you do need to download and set up the Soundflower extension in order to be able to record audio with your screen. Make sure to download it from a reputable site. It should come in the form of a zip file that can be extracted and run on your system. You may need to grant permission for the installation by going to the System Preferences menu, then clicking on Security and Privacy, and clicking the Allow button for the software. You may also need to restart your Mac to finish the installation process.
Step 2. Configure the audio devices
Soundflower is an extension that reroutes your system audio, but you need to set it up correctly in order to get the right results when using QuickTime to capture your screen. To do this, head back to the System Preferences section of your Mac and then enter the Sound settings menu. Click on Output. This should show a list of available output devices for your Mac's audio. Soundflower should appear as an entry in the list. There should be two Soundflower items: Soundflower (2ch) and Soundflower (64ch). Beginner users should select the Soundflower (2ch) option, and this is the simplest.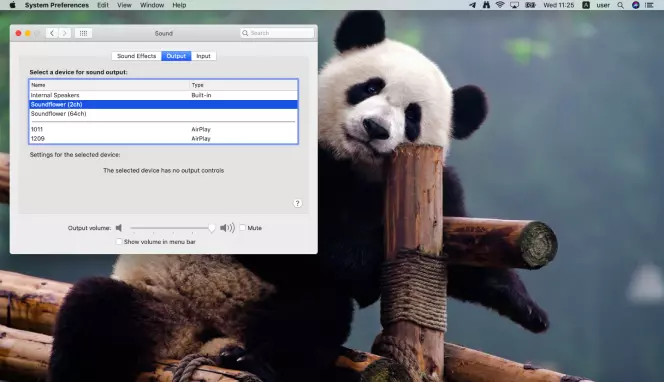 Step 3. Open QuickTime and configure the settings
After setting up Soundflower, you're ready to load up QuickTime and get ready to start recording. But first, you need to make sure that the QuickTime settings are correctly configured to get the results you want. To do this, open QuickTime and click on File. Then click on New Screen Recording. A window should appear with a Record button, ready to let you capture your screen. Before clicking Record, click on the Options button to the right side of the window. Ensure that your Microphone is set as Soundflower (2ch). This is what will allow QuickTime to record system audio rather than audio from your mic. You can also use the Options menu to adjust the quality of your recording and choose whether to show or hide mouse clicks.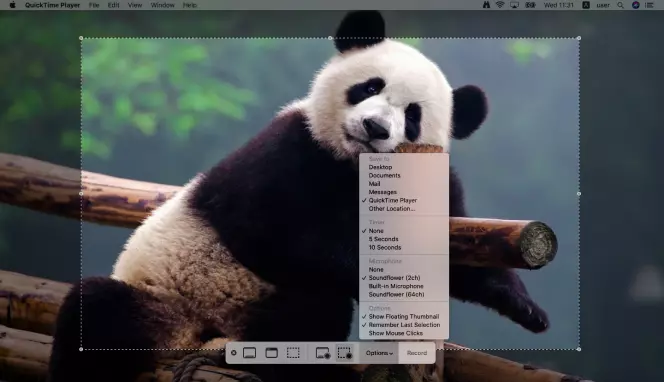 Step 4. Start your recording
After setting up all of the settings and the Soundflower extension, you can go ahead and click on the Record button to start capturing your screen. At this point, a box might appear asking you for permission to start recording, so you might need to click to allow this and then click the Record button again if the process hasn't started automatically. QuickTime will also offer you the choice between full-screen recording or partial screen recording. If you choose full screen, there's no need to do anything else. If you choose a partial screen, you'll need to click and drag a box around the area of the screen you want to capture. Once you do this, the recording process will start.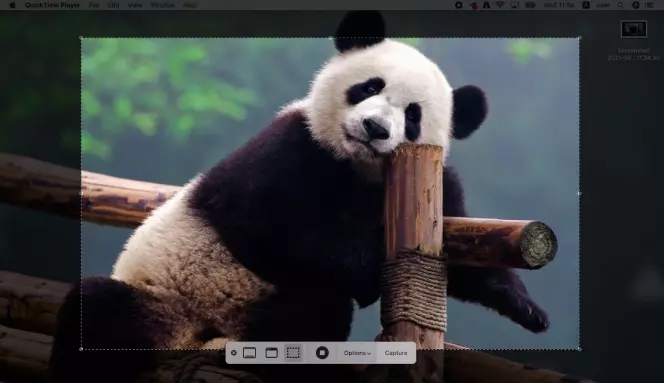 Once you're done recording your Mac screen with QuickTime, you can press the Stop button. The app will then stop the recording and save your file to your device, where you can view, edit, and share it as desired. After finishing the process, you may also want to head back into the System Preferences menus and set your audio output back to the default. Otherwise, your system sounds won't be heard.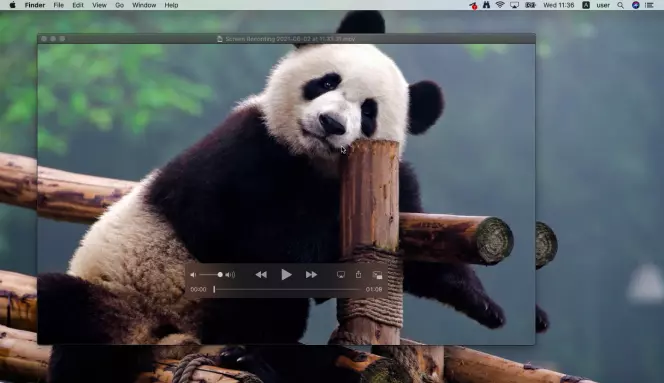 How to use Mac screen recorder with audio
Another very easy and free way to record your screen with audio on Mac is to make use of Movavi Screen Recorder. Movavi Screen Recorder is a desktop app designed with both beginner and intermediate users in mind. It can be downloaded to your Mac, installed, and then used for recording your screen whenever you like. It's useful for recording all kinds of content, including games, streams, lectures, webinars, presentations, video calls, and more.
Movavi Screen Recorder is a good choice for many Mac users due to its ease of use and the unique features it has to offer that set it apart from other options, such as QuickTime Player. For instance, it features a scheduler feature. This lets you set up a time at which screen recordings will automatically start, and you can set precise end times too, so you can use the app to record events that are due to happen at certain times, and you don't even need to actually be at your device in order to do this.
Movavi Screen Recorder is also totally free to download and use on your Mac, or you can opt for a paid version. The only difference is that the free version has a watermark. Other features included with this program include the ability to create screencasts, the option to show keystrokes and mouse clicks, webcam capture, audio-only capture, the ability to draw on your videos as you make them, and more. See the steps below to find out how it works.
Step 1. Download and install Movavi Screen Recorder
The first step to using Movavi Screen Recorder to record your screen and audio at the same time on Mac is to download the program from the official Movavi site. Once the file is downloaded, you can open it up and install it, following the on-screen instructions to guide you through the process.
Once Movavi Screen Recorder is installed on your Mac and you're ready to record, simply open it up. You should see a little widget appear on the screen. This is the Screen Recorder. It has simple Record and Screenshot buttons, as well as some options you can adjust. The program will be able to record anything on your screen, so it's wise to get whatever you want to record ready to go in a separate window.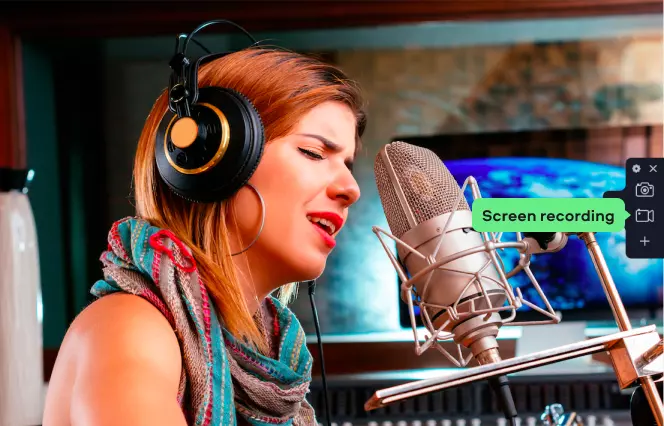 Step 3. Configure the settings
Before you start recording, it's important to get everything set up correctly to get the best results for your recording. First, press the Screen recording button, shaped like a movie camera, to access the settings. You'll first need to either click on the window you want to record or click and drag a box to cover the space you want to record, which can be either the entire screen or just part of the screen. Next, it's time to set up the audio. You should see Microphone and System Audio buttons on the menu. You can click on each one to turn them on or off for the recording. There are also other buttons that let you adjust whether or not mouseclicks and keystrokes are shown on your screen recording.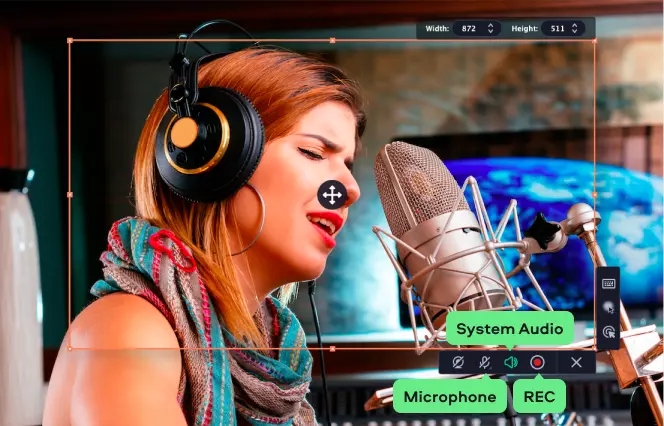 Step 4. Record your screen
Once you've got all the settings sorted out with Movavi Screen Recorder, you can click on the REC button to start recording your screen with audio. The program will give you a small countdown timer before it starts to let you know when the recording has begun, and you can then proceed to use your Mac as normal, with the screen recorder running in the background and capturing everything that appears. This will continue until you're ready to stop. You can stop with the Stop button, and then you can make some simple edits to your recording, if needed, and save it to your Mac.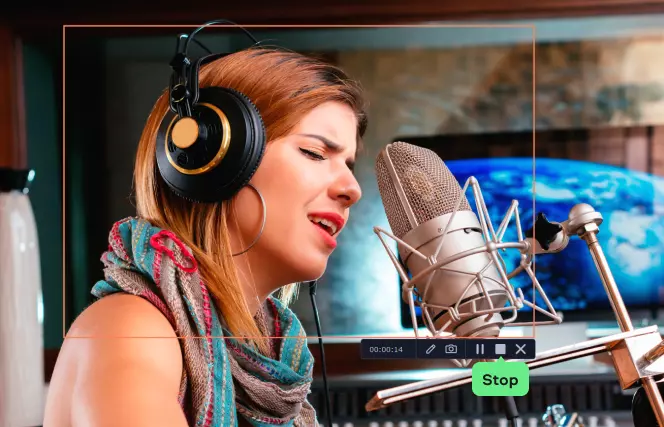 We hope this article has been helpful to you in making your choice. The following is a list of the most important aspects to consider when choosing a screen recording tool:
Features: Choosing the right software for recording your screen depends on what you aim to achieve with your recordings. For example, if you plan on recording what occurs on your screen, any screen capture software is likely to suffice. If you need editing or streaming tools, take those features into account as you select your program.
Ease of use: Some apps are easy to use, while others are more complicated and require learning. Pick a screen recorder according to your level of experience.
OS: You should select a screen recorder compatible with the operating system you will use (Windows, Mac, etc.).
Reviews: Read user reviews and articles of professional blogs or magazines to learn how well the program performs before buying it.
Customer support: To quickly deal with probable software issues during the recording, look for a program that provides easy access to customer support.
Frequently asked questions
How do I record my screen with audio on a QuickTime player?
Download and set up the SoundFlower extension.
Configure Soundflower to reroute your system audio to QuickTime.
Open QuickTime and configure the settings accordingly.
Press New Screen Recording and then the Record button to start recording.
Press Stop when you're finished and save the recording to your device.
Why doesn't my screen recording have sound on Mac?
There are many possible reasons for this. Usually, it's because the screen recording tool or software you're using to capture the screen isn't able to record system sounds or hasn't been configured correctly.
How do I record my screen with audio?
Visit the official Screen Capture site.
Configure the settings to allow audio capture and press Start Recording.
Grant permission via your browser to allow for screen capture.
Record your screen and press Stop when you're done.
Sign up for news and special offers