How to Take a Screenshot of the Whole Page on Mac
If you are using a Mac, you have probably encountered issues when the default Mac application is not able to take a screenshot of the full screen. But don't worry! There are some simple things you can do to solve the problem with taking screen captures of your web pages, documents, or whatever else you may be working on – and you won't need to install a new operating system or reconfigure your computer.
Let us tell you about 8 applications and tools that will give you a new approach to making screenshots of whole pages on Mac. You'll also get step-by-step instructions on how to screenshot the entire page on Mac.
How to Take a Screenshot of the Whole Page on Mac
We'll start our review with Movavi ScreenShot. It is an easy-to-use extension for browsers that takes screencaps at different sizes: the entire page, specific areas, or standard captures of your screen.
For the top-to-bottom screenshot, the extension will scroll the page automatically, even if it's a mile long. You don't need to lift a finger!
Here are the pros and cons of using the extension.
Advantages of Movavi ScreenShot:
Works perfectly with Google Chrome and Mozilla Firefox.
Supports high resolution images.
Requires no permissions for installation.
Works in incognito mode.
Doesn't require registration.
No charge for downloading images.
Disadvantages of the extension:
Has no editing tools like cutting, trimming, annotations, graphics, etc.
Doesn't generate a shareable link.
Has no cloud storage for storing screenshots.
Now let us guide you through Movavi ScreenShot.
Step 1. Get the Extension from the Browser Web Store
Go to your browser web store and find Movavi ScreenShot. Hit the add button and pin the screenshot icon in the top right corner of your browser.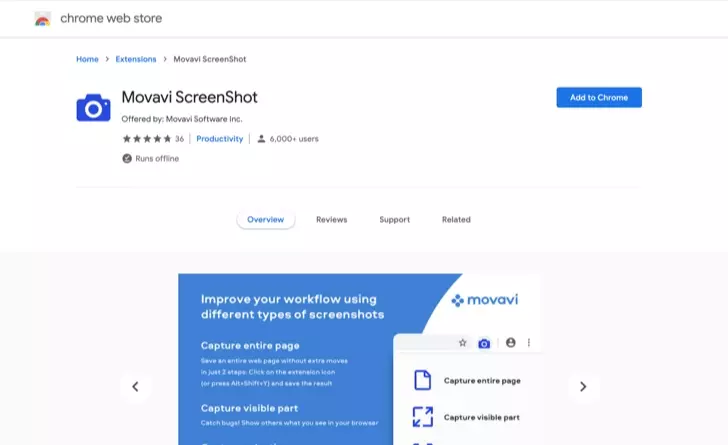 Step 2. Take a Full Page Screenshot
Open the page you want to capture. Now press the screenshot icon and choose Capture entire page.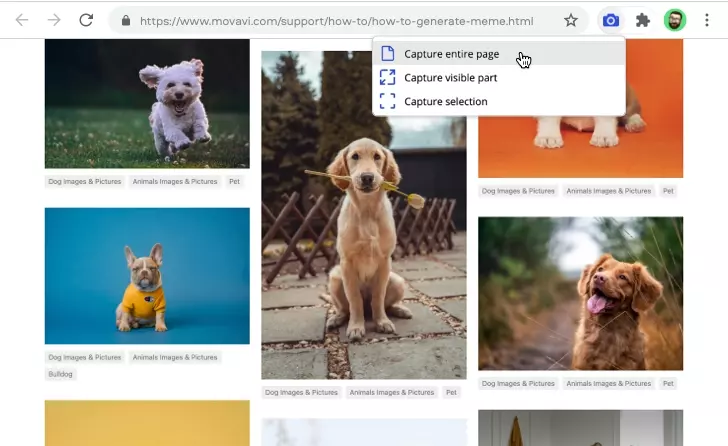 Your screenshot will appear in a new tab where you can download it to your desktop. The default format is JPG.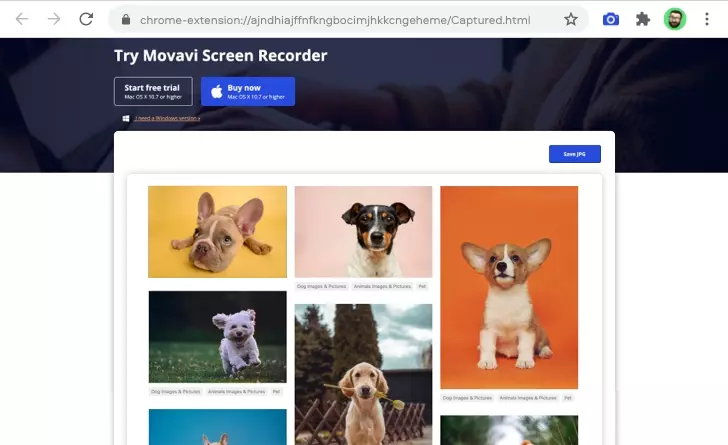 Online Screenshot of the Entire Web Page on Mac
The next tool is Full Page Screen Capture. It's an online screenshot maker that's free to use.
Advantages of Full Page Screen Capture:
Quick and easy to use
No registration or installation required
Good image quality
Disadvantages of Full Page Screen Capture:
Can't capture screens that require logins - for example, you cannot screenshot your Gmail inbox.
Must open the screen capture web page every time you need to make a screencap.
No choice of size. If you want to get a partial screenshot, you'll have to use another app.
To use the app, follow these steps.
Copy the link of the web page you want to capture. Go to Full Page Screen Capture and paste the URL into the empty field.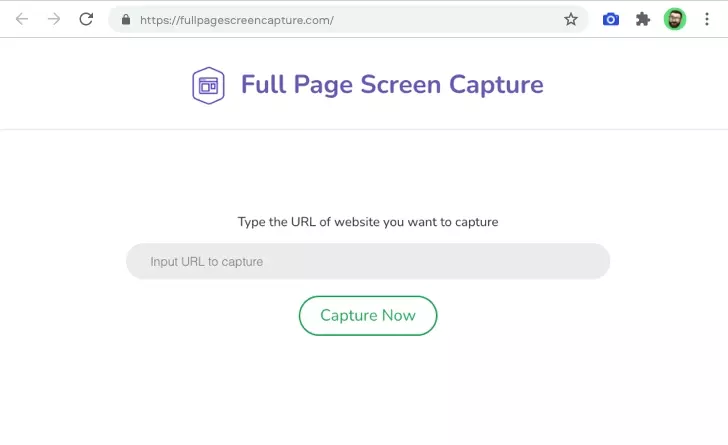 Click on the Capture button and wait while the capture is created.
Now hover your mouse over the image and click on it. You screencap will appear in a new tab. Click on it with the right mouse button and save the picture. You can also copy the link and share it with others.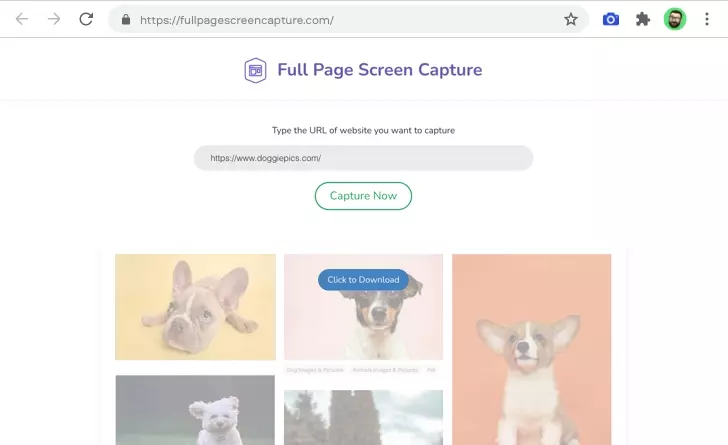 Built-In Browser Tools for Taking a Scrolling Screenshot on Mac
Can you capture a web page without using a third-party app or software? Yes! If you use Google Chrome, you should definitely try the developer tools as a screenshotting service.
This trick is well-known to developers because they're familiar with all the secrets of HTML. Now you can be one of those in the know!
But first let's check the pros and cons of using the developer tools.
Advantages of using developer tools:
No installation required.
Width and height of the screenshot can be customized.
Disadvantages of using developer tools:
You will need to spend more time on set up.
Challenging for less- technical users.
No editing tools.
You can only download the screenshot to your desktop, because there's no shareable link.
Step 1. Open Developer Tools
To open developer tools, hit the three dots in the right top corner of the browser. You can also press Alt + Command + I.
Now go to More Options and choose Developer Tools.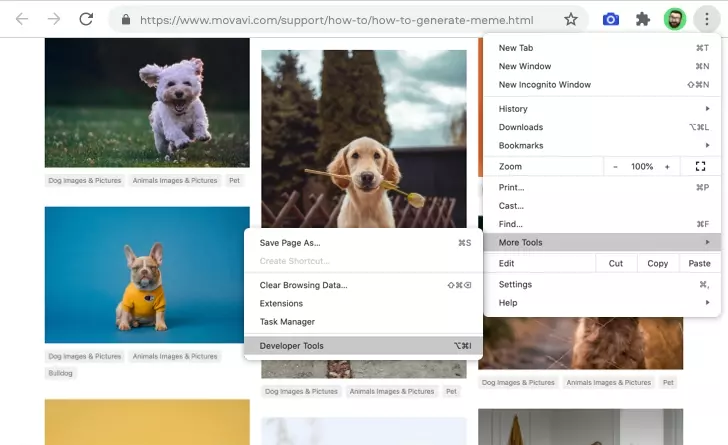 Step 2. Customize the Size
Open the Device Toolbar tab. Here you can set the size of the screenshot. If you're working on a design project, you may find it helpful to make a screenshot of the web page using different devices.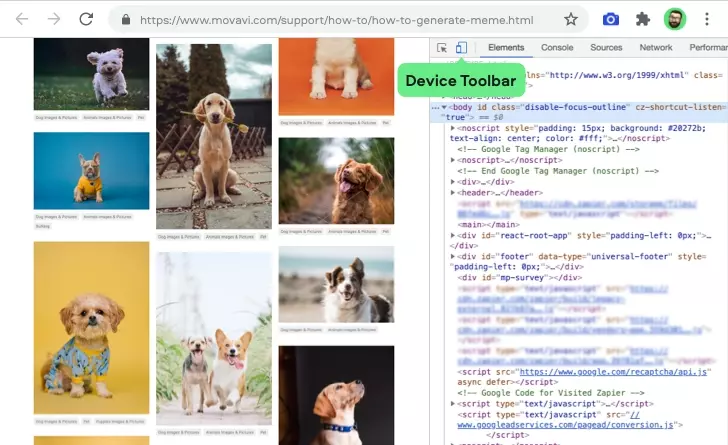 Step 3. Take a Screenshot
Close to the size settings you'll see three dots. Hit them, and the screenshot drop-down menu will appear.
Select Capture full size screenshot.
Finally, choose the folder and save the image to your computer.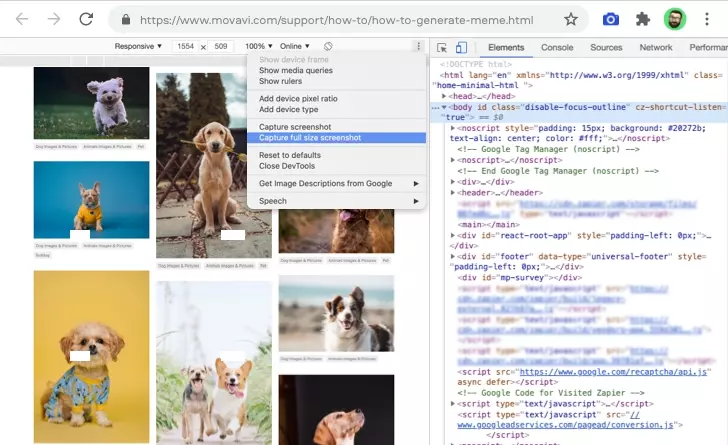 Desktop Program for Making Full-Page Screenshots on Mac
You may find it more convenient to use desktop software for making screenshots. Traditionally, such apps offer many more options than regular extensions or online capture services. The most significant advantage is the availability of image editing tools and video recording options that make the app much more flexible.
Let us introduce to Capto that is designed specifically for Mac.
Advantages of Capto:
Multi-functionality
High-quality support
Continuous updates and program improvements
Disadvantages of Capto:
Audio recording is unreliable.
You have to pay to use the program.
Note that Capto has a 7-day trial period, so you can try making screenshots with this app first by following these steps.
Step 1. Launch the Program
Install Capto on your computer and launch the program.
Step 2. Run the Screenshotting Function
In the top menu hit the Web icon. In the drop-down menu, select one of the screenshot options. If you've already opened the page you want to capture, choose the last item – Snap active browser URL.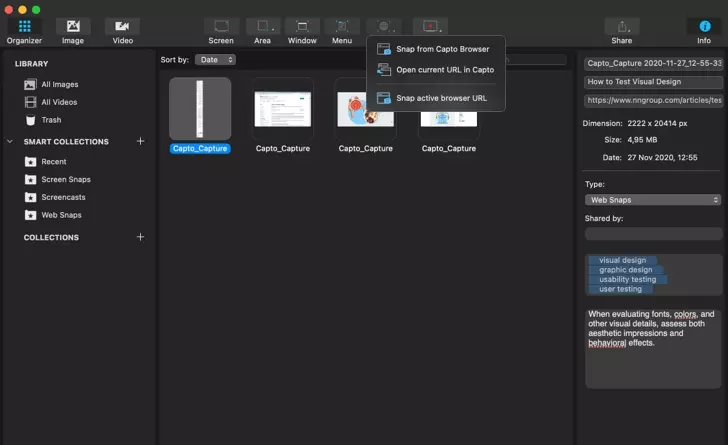 Step 3. Edit the Image and Save It
In the preview window, you can crop your screenshot and add arrows or highlights to it.
When you're done editing, save the image to your preferred folder. Note that you can choose the image format - one more argument in favor of Capto.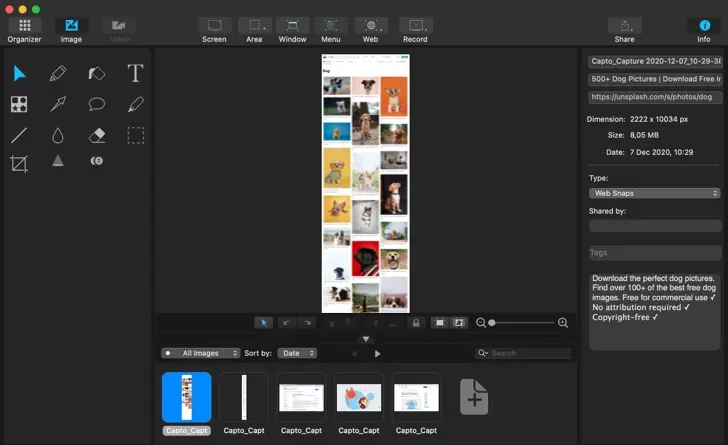 If you have macOS 10.14 or higher, you can skip all the foregoing methods and use the built-in Mojave tool. It will be the fastest and easiest way to capture the web page.
Press Shift + Command + 5 to run the screen control panel.
Step 2. Take a Full Size Screenshot
Click on the full screenshot icon and get your image.
You can also press Shift + Command + 3 to get a screencap.
There's one more way to capture a web page. You can pretend that you want to print the page but, instead of printing, you save it as a PDF file on your computer!
But it's not the most convenient method if you need an image in PNG or JPG format. After saving the screenshot, you'll need to use another app or online service to convert the file from PDF to your desired image format.
Here are the two steps to this life hack.
Open your browser and find the Print option in the settings. You can also press Command + P.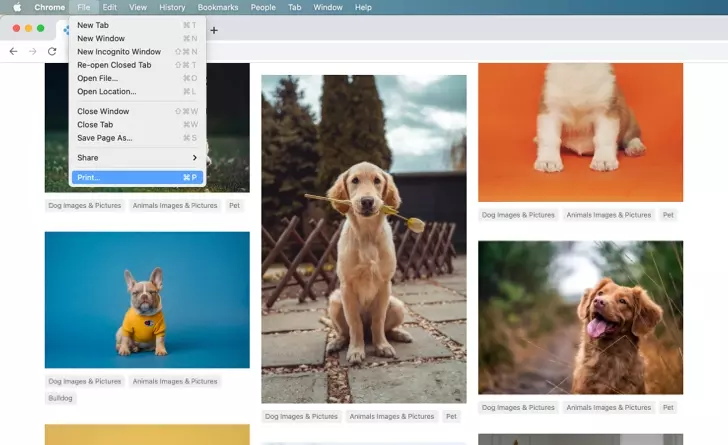 Click the Save button to download the file as PDF.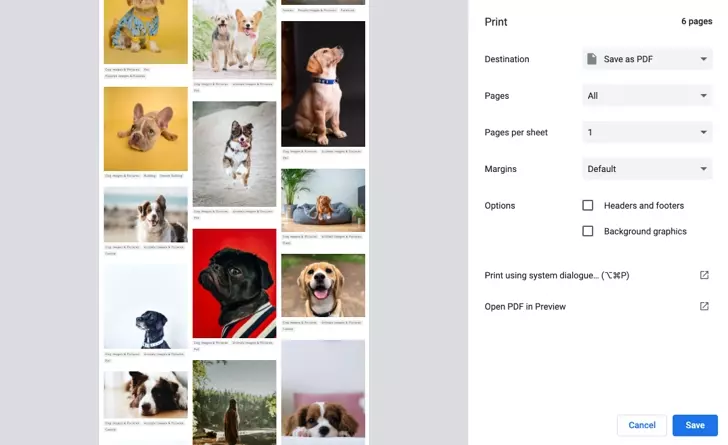 We can't ignore this crazy way of taking screenshots! You reduce the size of the web page and copy everything that fits on your screen.
It isn't the most convenient or fastest way of screenshotting, but it seems to work reliably in any browser.
Step 1. Reduce the Page Size
Open the web page you want to capture. Now press Command and "-" (minus) simultaneously. Hold the keys down until you see the whole page on your screen.
Step 2. Define the Capture Area
Press Command + Shift + 4 and frame the web page. The framed area will be your screenshot so pay attention to how you move the cursor, otherwise you'll have to crop the image later.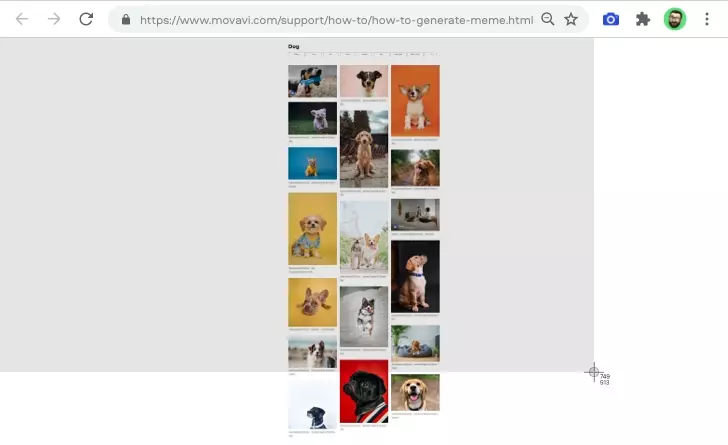 When you release the mouse button, your Mac will take a web page photo automatically. The screencap will be saved to your computer.
Don't forget to reset the web page size. To do this, press Command + 0.
Mozilla Firefox Screenshotting Tool
The Mozilla Firefox browser includes a handy tool for taking screenshots. It's very simple to use – it never seems to crash, and it provides a high-resolution image. Another advantage of this online tool is that you can get a shareable link to the image.
Follow these simple steps to use the Firefox built-in tool.
Step 1. Find the Screenshotting Function
If you look at the address bar, you'll see three dots in the right corner. This opens the Page actions menu. Click on it.
The screenshotting tool is the last item in the drop-down menu.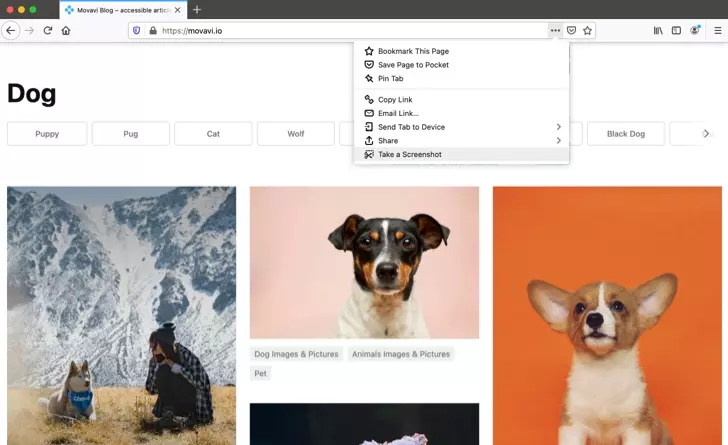 Step 2. Take a Screenshot of the Entire Page
Click on Take a Screenshot. The browser will offer you several options – capture a specific area, capture the visible part of the screen, or capture a full-page screenshot. Hit the Save full page button.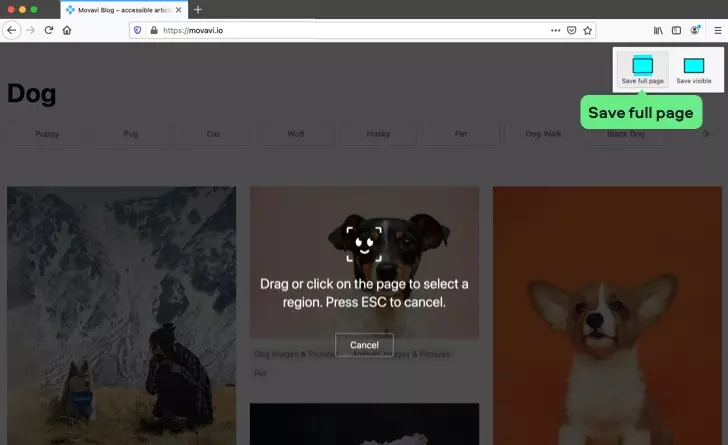 A window containing the screenshot will appear. Now you can download it to your computer or copy the link to clipboard.
And that's it for the review! If you are still confused by the variety of approaches, we highly recommend you start with built-in tools like Mojave hotkeys or developer tools. If you find them too basic for your purposes or too tedious to use, try the Movavi ScreenShot extension.
Frequently Asked Questions
How can I screenshot an entire webpage on a Mac?
The easiest way to take a whole page screenshot on Mac is to use a browser extension. It's a fast and reliable tool that provides high quality images.
Step 1. Install Movavi ScreenShot. You can search for the extension in the Google Web Store and add it to Google Chrome or Mozilla Firefox..
Step 2. Capture the web page. Click on the screenshot icon in the top right corner of your browser and choose the Capture entire screen option. Let the extension scroll the page from top to bottom. It will take just a few seconds!
Step 3. Save the image. The screenshot will appear in a new tab. Now you can download it in JPG format. You don't have to register on a website to get your images.
How can I take a scrolling screenshot on a Mac?
Here's a list of the best tools to help you capture a whole web page.
Movavi ScreenShot – a browser extension
Full Page Screen Capture – an online screen capture
Google Chrome developer tools
Capto – a desktop program for Mac
Mojave hotkeys
The print and save trick
Reduce and copy the page
Built-in screenshot tool in Mozilla Firefox
Check the guide above to learn more about how to scroll and save an entire web page.
How can I take a full page screenshot on my iPhone?
If your operating system is earlier than iOS 13, you will have to take multiple screenshots of different parts of the web page and then glue them together with an image editor. Alternatively, you can open the website on your computer, open developer tools and set the page size so it will look as it does on an iPhone. Then you can take a whole page screenshot with one of the ways described in this article.
If you're lucky enough to have iOS 13, you can take a full-page screenshot with a built-in iPhone tool. To do this, follow these four steps.
Step 1. Open the target web page. Take a screenshot the same way you would normally. Press the volume up and side buttons.
Step 2. You'll see a small screenshot preview in the bottom left corner. Hit it.
Step 3. Now you can see the screenshot in preview mode. Your iPhone will offer you two options – Screen or Full Page. Click on the Full Page button.
Step 4. Save the image as a PDF. Note that it's not possible to save it in an image format because of its length. To convert the screenshot to JPG or PNG, you'll have to download a separate app.
Be aware that the iPhone's built-in screenshotting tool is designed for Safari. It may not work with Chrome or other browsers.