Want to record your desktop? You can download a screen recorder for a desktop or use an online screen recorder. Here's a rundown of some of the best free desktop recording software.
Best desktop recording software free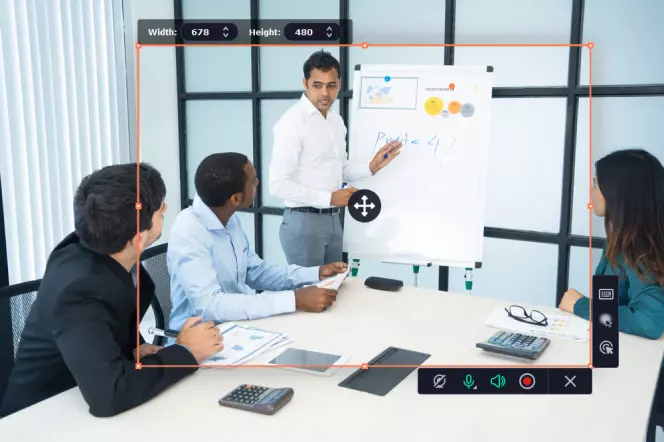 Best for: capturing scheduled events
G2 rating: 4.5 out of 5 stars, 49 reviews
OS: Windows, macOS
Setting up your recording parameter and capturing the exact content you need is super easy with Movavi Screen Recorder, a program designed to make recordings, editing, and saving your download as easy as possible. Thanks to its intuitive interface and streamlined approach, Movavi Screen Recorder is beginner-friendly and powerful desktop screen recording software for Windows 10.
Useful tools such as showing keystrokes/mouse and drawing allow you to change your videos to make your tutorials engaging and attractive. The schedule recording feature is also extremely helpful for people who need to record seminars or other regular events when not at their computer.
Pros:
Beginner-friendly
Drawing and show keystroke tools
Simple editing interface
Cons:
Watermark in the free version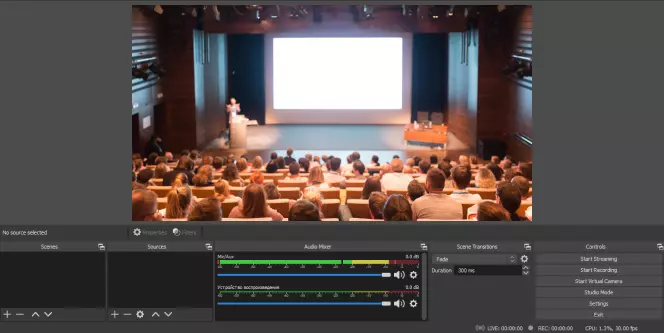 Best for: Linux users needing to screen capture content
G2 rating: 4.6 out of 5 stars, 98 reviews
OS: Windows, macOS, Linux
Available for Windows, macOS, and Linux, OBS Studio is a powerful freeware recorder/editor that can create complex video and audio arrangements. An excellent selection of features includes custom transitions, an in-depth audio mixer, and an adjustable recording area tool. You can even rearrange the modular UI to make it feel exactly how you want.
The interface can be a little confusing before you rearrange it, with some features hidden away in long menus. Additionally, as this is an open-source project, there's no customer support team to help you out if you run into difficulties.
Pros:
Available on Linux
Complex editing capabilities
Modular UI
Desktop recorder free to download
Cons:
There is a learning curve due to the interface being muddled
No customer support team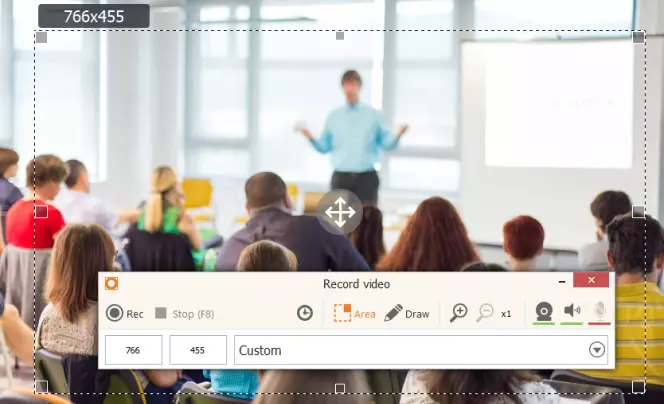 Best for: adding watermarks to your original content
G2 rating: 4 out of 5 stars, 24 reviews
OS: Windows, macOS
Icecream apps' desktop recorder comes as a free download or as a PRO subscription. Both versions have useful features like annotation and logo/watermark inclusion for brands wanting to lock down their content. This means that you can easily create content that you want to share that is informative and protected!
For people wanting to make tutorial recordings, you can display keystrokes and hotkeys used in the video to show your viewers exactly what you're doing without lengthy editing sessions.
If you expect to be editing often and with large files, you may find that Icecream Screen Recorder's premium version serves your needs better. You can access additional formats and some lossless codecs for high-quality images and videos.
Pros:
Annotation tools
Custom watermark features
Cons:
The PRO version offers some of the best features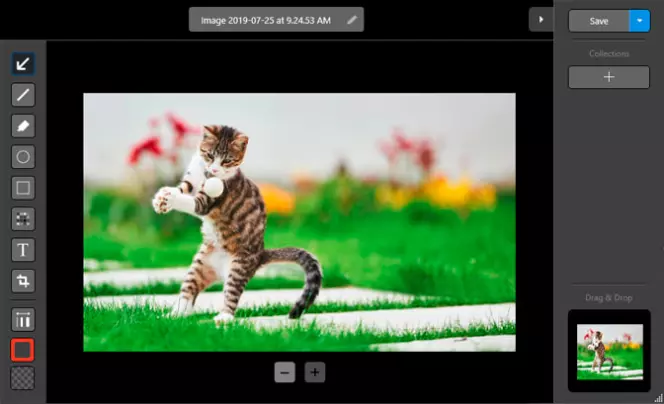 Best for: quickly sharing videos, annotated images, or GIFs
G2 rating: 4.7 out of 5 stars, 1,108 reviews
OS: Windows, macOS, iOS
If you're working in a busy industry, long meetings can be difficult. CloudApp was designed to help professionals quickly put together videos and send them to their colleagues. Some helpful design tools like arrows and drawing functions make getting your point across easy. CloudApp also has a range of useful walkthroughs and guides to help you get the most out of their platform.
When using the editing tools, you will find that CloudApp forces continuous saves as you work on your project. This can mean that you have multiple files all related to one editing job. This can be frustrating at the time, but it is a known glitch to the support team. This can be tidied up by deleting unwanted copies after the process, however.
Pros:
Designed for professionals
Quick and easy design features
Cons:
Continuous saving
Support can send a lot of emails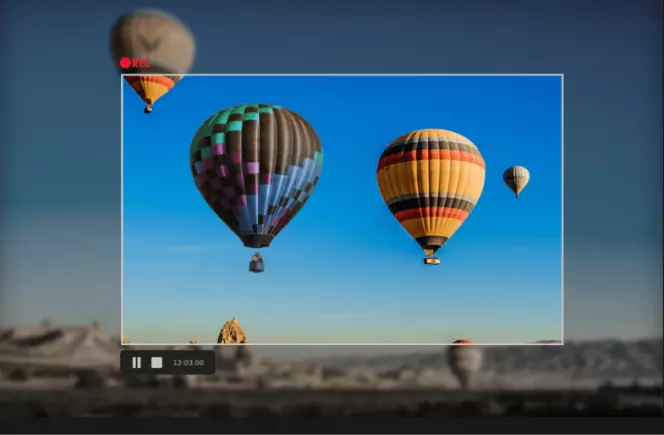 Best for: creating large video files
TechRadar rating: 5 out of 5 stars
OS: Windows
Learning how to record desktop video with FlashBack Express is very easy, thanks to the intuitive interface. Simple editing tools to trim, enhance, and add commentary to your videos are all included in the standard package. And no limits on movie length mean that you make large files easily. You can also turn on sharing settings to enable uploads to YouTube.
Sadly, this is another desktop video recording software that offers many features only in the paid full version. But the interface is extremely easy-to-use, and there are plenty of useful features included in the free version to deliver high-quality screen captures. The program is supported on Windows, including older versions like Windows 7, Vista, and XP.
Pros:
Simple editing tools
Capable of handling large video and audio files
Can auto-share to YouTube
Cons:
Some features are locked behind a paywall
Free desktop screen recorders: online apps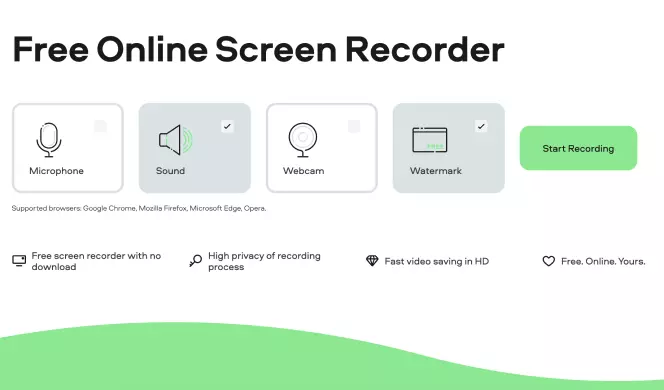 Best for: easy to move screen recorder area
Trustpilot rating: 4.7 out of 5 stars, 402 good reviews
OS: any, works online
Screencapture.com's easy-to-use tool allows you to simply select what you want to record in addition to the screen (from the microphone, the system, or with the webcam), and then the desktop screen recorder does the rest. Then you can download your file straight away. The simple functionality of Screencapture.com makes it a useful capture and editing online screen recording tool.
The desktop video recorder has an intuitive interface that makes recording a variety of videos with audio easy, even if you're not especially technical. Turn on your PC or Mac and let the online tool do the rest of the work. But if you want to remove the watermark, you will have to sign up for the premium version.
Pros:
Intuitive interface
Easy to record the computer screen, a window, a tab, or from a webcam
Cons:
Removing a watermark requires payment
Apowersoft Free Online Screen Recorder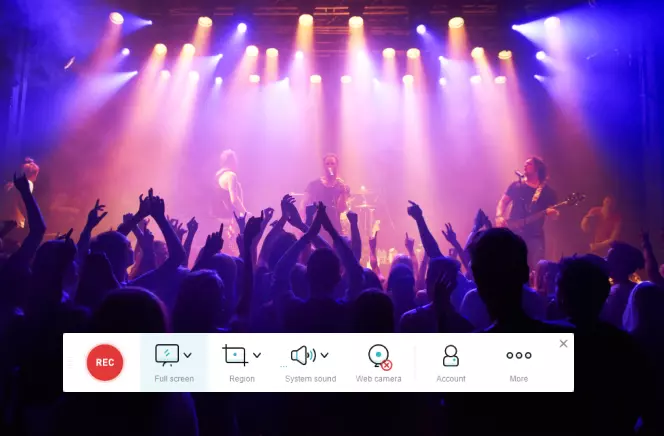 Best for: storing videos online
TechRadar rating: 4.5 out of 5 stars
OS: any, works online
Apowersoft Free Online Screen Recorder has all the features you'd expect from an online desktop recorder with audio, but one very interesting addition – you can save videos online. Now you can record desktop videos to send to your friends and family even if you're not at your own computer. Apowersoft also offers a range of built-in extras to edit your videos, such as adding text, shapes, and arrows to your videos.
In-recording editing is also a great feature – you can add arrows, colors, and touch-ups without having to stop the recording. This makes it easier for people to follow the content of your video as they watch, and you will have better engagement.
Pros:
No watermarks
Online saving and sharing
Cons:
AceThinker Free Online Screen Recorder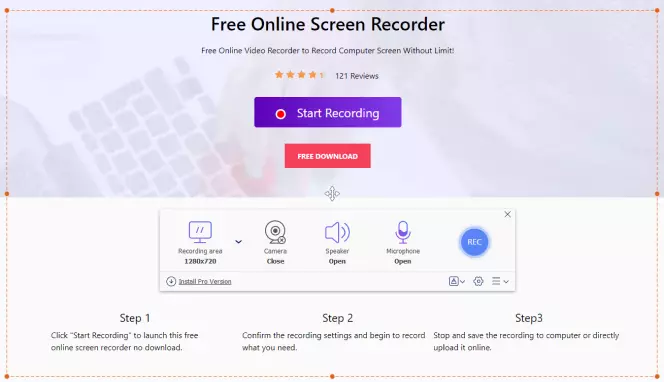 Best for: uploading directly to cloud storage
AceThinker rating: 4.6 out of 5 stars, 121 reviews
OS: any, works online
Simple and straightforward, AceThinker's desktop recorder software is an excellent choice for beginners. Tools for changing the recording area so that you only capture exactly what you want are very handy, as are the multiple output types. Save the exact recording you want in the file type you need.
If you don't like installing plugins before using an online tool, AceThinker Free Online Screen Recorder might not be for you. A downloadable launcher is necessary to get the best out of this reliable tool, but this one-time download is safe and helps you get the best out of this freeware.
Pros:
Easy to change recording area tools
Multiple download file types
Cons:
Requires a launcher install
Some delays with online gaming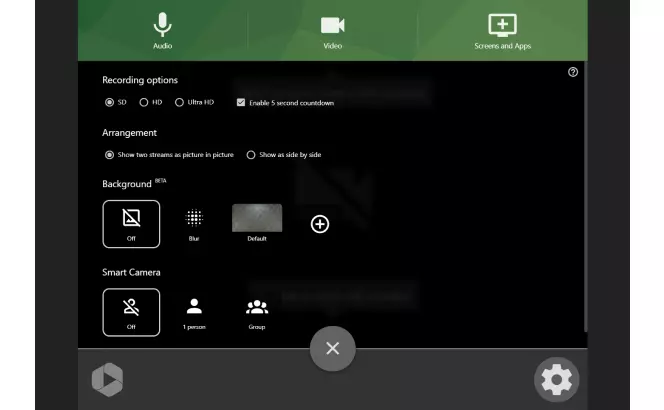 Best for: recording multiple sources at the same time
G2 rating: 4 out of 5 stars, 83 reviews
OS: any, works online
Designed for educators, Panopto comes with tools to record everything you need to build valuable learning resources. Multiple webcam support and Smart Camera technologies help you get interactive and interesting videos ready for students. Even better, you can instantly upload to Google Classroom and other platforms for easy sharing.
Panopto is a very interesting tool that can help teachers improve their lessons, but the editing process is a little fiddly. It will take time to learn how to get the most out of Panopto, especially if you want to trim, loop, or add graphics to your videos.
Pros:
Multiple webcam support
Smart Camera technology
Easy to upload to learning platforms
Cons:
The editing process can be unintuitive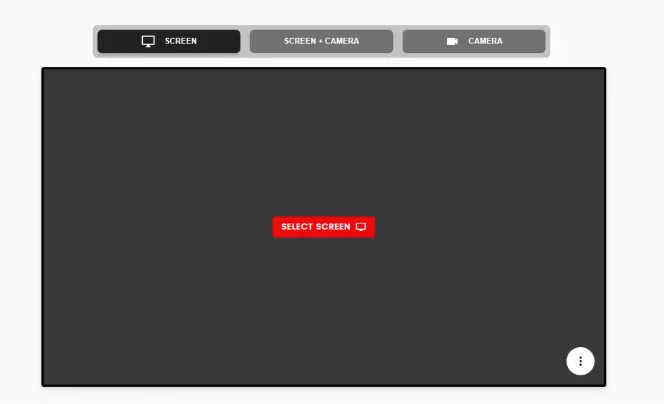 Best for: incredible simplicity
OS: any, works online
If you just want to capture a desktop video with sound and don't care about fancy features, screenrecorderapp.com is about as efficient as you will find. Loading the website will give you one choice – choose the screen you want to record. No chance of getting confused with this online desktop capture tool!
Of course, simplicity means that you can basically only record and trim. If you don't need anything else, this is a fine online desktop video capture tool. If you need something more like graphics, text, or complex editing, you will need a different piece of software.
Pros:
Super simple interface that is foolproof
Cons:
Built-in desktop video recorders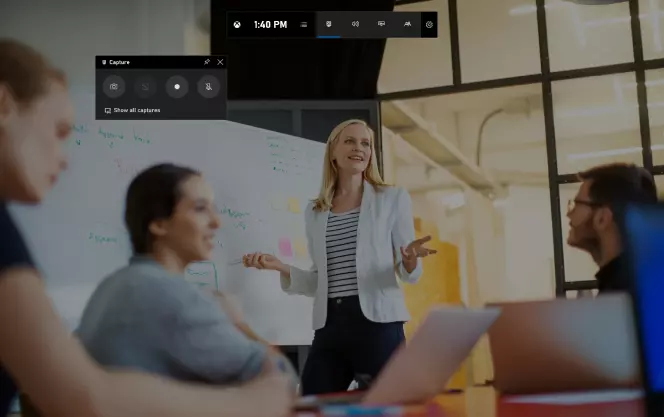 Best for: capturing gameplay videos while you play
PC World rating: 3.5 out of 5 stars
OS: Windows
Built into the Windows 10 chassis as standard, Xbox Game Bar can be activated with one keystroke during gameplay and allows gamers to capture any video and audio content they want to share. Its easy-to-use hotkey functionality means that the free desktop recorder for Windows 10 is excellent at its primary function – quickly capturing video game content.
Fantastic at what it does, the Game Bar is responsive, comes with basic features to edit videos in the app, and doesn't cause jitter or lag. It's an excellent free Windows desktop recorder that comes packaged with, but you will need extra software to do more complicated editing.
Pros:
Hotkey functionality
High-quality screen captures of video games
Cons:
Not designed for complex editing tasks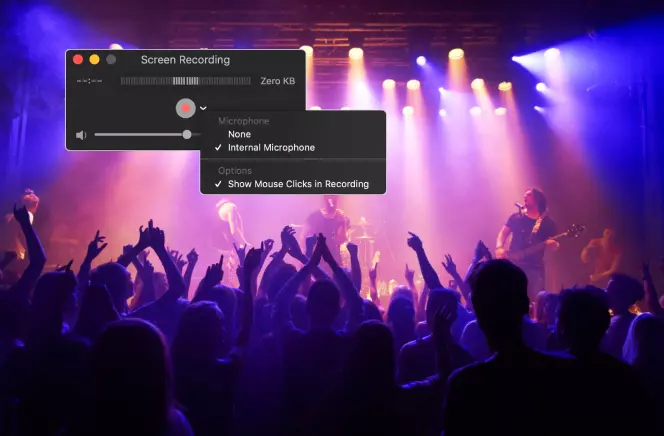 Best for: quick screen captures on Mac
OS: macOS
For Mac Users, QuickTime Player serves a similar function. Although many will know QuickTime as a tool for playing videos, it also works as a desktop video recorder with a hotkey. Whether you need to create a whole screen recording or only to capture a portion of it, QuickTime supports your screen capture needs.
You will need extra software to edit it, however. QuickTime wasn't designed to function as an all-in-one capture and editing tool, so it lacks most editing features we would expect. Combined with other tools native to Mac, however, you can still get the best quality video easily.
Pros:
Intuitive screen selection and recording area tools
Hotkey functionality
Cons:
Not designed for complex editing tasks
Desktop video capture: browser extensions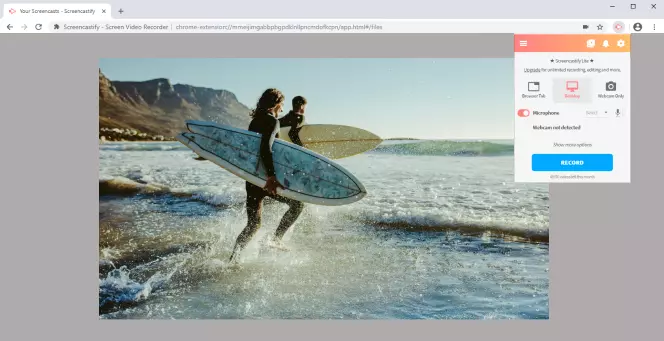 Best for: quickly capturing videos on Chrome
Chrome Web Store rating: 4 out of 5 stars, 11,708 reviews
OS: works in the Chrome browser
Screencastify is a simple extension that allows a wide range of functions, including full HD capturing. Despite only being an extension, it also accommodates a range of features like trimming, drawing, and resizing tools, as well as auto-saving to Google Drive. Screencastify also supports MP3, MP4, and GIF downloads, allowing quick sharing for users.
Don't plan to use this with large recording projects, however. It is designed for small tasks, and you can run into long processing times with large (30 minutes+) projects. If you use it for what it is designed for, it will be responsive and allow easy editing.
Pros:
Range of editing tools
Multiple download types
Fast to deal with small projects
Cons:
Large files can have long processing times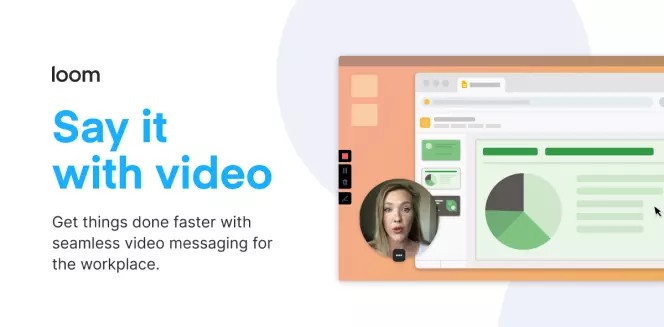 Best for: sending instant video messages
Chrome Web Store rating: 4.7 out of 5 stars, 10,047 reviews
OS: works in the Chrome browser
Promising to speed up enterprise messaging by sending quick video messages, Loom is an enterprise tool that is also a free desktop screen recorder. Very simple and made for instant messaging purposes, there aren't many editing tools included. But you can use editing, CTA, and "who's watching?" features to make sure your videos engage your target audience and get your message out there.
Long videos weren't really what Loom was designed for, so keep it to short messages, and you will be fine. As with most extensions, you will find that they're not designed for big projects. You can use your CTAs and other additional features to get your message across.
Pros:
Designed for professionals
Instant video messaging capabilities
Cons:
Doesn't offer long video recording capabilities
Download Loom
Nimbus Screenshot & Screen Recorder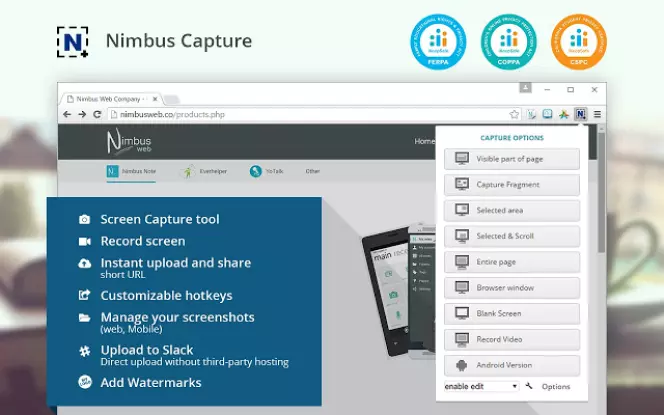 Best for: recording web pages in full or partially
Chrome Web Store rating: 4.6 out of 5 stars, 16,014 reviews
OS: works in the Chrome browser
If you need to screen capture or take a screenshot of a webpage, Nimbus Screenshot & Screen Recorder provides multiple editing tools to convert your content to video and then downloadable as a GIF or MP4. In addition to working as a recording tool, Nimbus can also function as a screencast tool. And to increase engagement with your captures, you can add graphics, text, and highlight content.
Sadly, Nimbus does have some glitches which cause lock-up when working with big files. There seem to be glitches in the software, which causes the extension to hang if the video you are working on is too large. For small projects, this can be a powerful freeware tool.
Pros:
A range of editing tools
Download as GIF or MP4
Cons:
Small bugs and glitches in the system can make it frustrating to use
So, there are different types of screen recorders. But how to choose the right one? Here are some factors that will help you decide which screen recorder to use.
Features: When choosing a screen-recording app, think about the features you will need. Some tools can only record the screen, others also have editing functions. You might also need to save your streaming video in a certain format, so figure out whether the program offers different export options.
Ease of use: You don't want to spend much time learning to use the app, so make sure the interface is simple and intuitive.
OS: It can happen that a program is not supported on your platform, so check out the system requirements before installing the app.
Support: You may face some troubles using the software. So it can be really helpful if the company provides technical support for users.
Reviews: It's always a good idea to read user reviews before buying software. Check out the reviews and see what problems other users had with this app.
Frequently asked questions
What are the best desktop recorders?
There are lots of excellent desktop records around, but here are 15 of the best available right now:
Movavi Screen Recorder
Screencapture.com
Apowersoft Free Online Screen Recorder
OBS Studio
Windows 10 Game Bar
QuickTime Player
Screencastify
Loom
Read about these and other tools in the article:
How do you record your desktop?
Recording your desktop with Screencapture.com is a straightforward, 5 step process.
Load up the website in your favorite browser.

Select the types of media you want to record (microphone, webcam, and sound).
Click Start recording.
Select what you want to record (entire screen, window, or a tab).
Let Screencapture.com record your content and click Stop recording when you're finished. Then you can download the video or start up a new recording.
How do you record your desktop on Windows 10?
Windows 10 Game Bar (also called Xbox Game Bar) is an easy-to-use tool designed to let users record their gameplay. Using an overlay that is already built into Windows 10, it is extremely easy to start. Pressing Windows + G opens an overlay bar full of features for recording in great quality.
Another option is to use Movavi Screen Recorder, a powerful tool that offers a simple interface with multifunctional features. For a full overview of Movavi Screen Recorder's functionality, check out this review.
Sign up for news and special offers