There are many situations in which you might want to record your screen, and a screen recorder for Windows 7 can help. You might want to record a lecture or tutorial, for example, or some gameplay videos or social media clips to share with friends.
Either way, if you've ever wondered how to record a screen on Windows 7, our guide will tell you all you need to know. We'll cover 15 different methods to capture video on Windows 7, including some of the best Windows 7 screen recorder apps, online tools, and browser extensions too.
Online platforms to record screen on Windows 7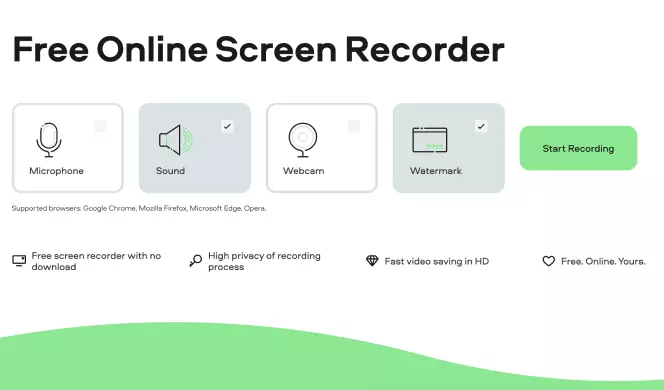 Best for: no-download screen recording and sharing
Rating: 4.6/5 stars, 107 good reviews
Screencapture.com, also known as Screen Capture, is a free online Windows 7 video recorder you can load up in your favorite browser, like Chrome, Opera, Edge, or Firebox, and use to record your various windows and screen activities in a matter of minutes. It's completely free to use, without any downloads required, and has strong security and privacy policies to protect your files. It saves all videos in HD, and you can use mic and webcam recording too.
Pros:
Completely free to use
No downloads or installations
Very simple
Works on all major browsers
Cons:
Watermark on your recordings when using the free version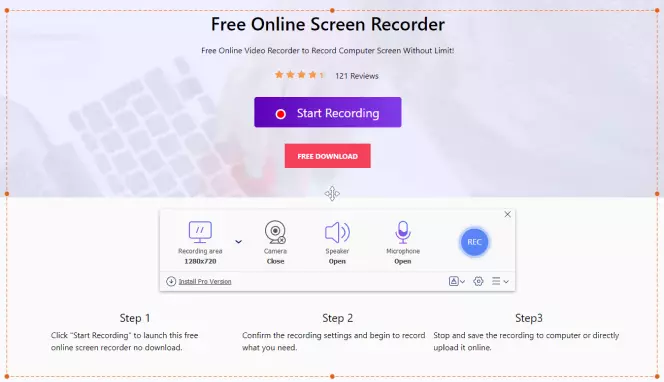 Best for: sharing recordings
Rating: 4.1/5 stars, 121 reviews
Acethinker Free Online Screen Recorder is another easy-to-use online tool you can use to record video on Windows 7. It comes with no limits whatsoever, so you don't have to worry about video length or file size, and it works with the click of a button. You can record anything you see on your screen, but you do have to download a launcher first. Once that's done, you can use this tool to capture your screen and also record audio, as desired, with various settings to let you capture webcam, system, and mic sounds.
Pros:
Save files in many popular formats like AVI, MOV, MP4, and WMV
Instant uploading to YouTube, Google Drive, and Dropbox
Capture whole or partial screen
Easy to use
Cons:
Launcher download required
Best for: editing while recording
Rating: 4.5/5 stars
Apowersoft Free Online Screen Recorder is another web tool you can turn to when you want to find out how to screen record on Windows 7. It works with any kind of content, allowing you to record videos, lectures, video games, and more, and it has the unique advantage of allowing on-the-fly editing and annotating, so you can change and enhance your clips as you make them. This is great for creating tutorials or social media content, but you will need to download a launcher before you begin.
Pros:
Works with many file formats like MP4 and WMV
Useful on-the-fly editing tools
Easy uploads to sites such as YouTube
Cons:
Requires launcher download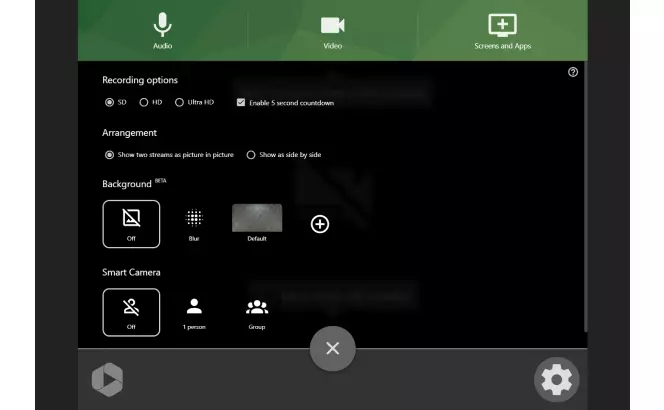 Best for: making easy educational videos
Rating: 4.1/5 stars, 75 reviews
Panopto Express is a free online tool to record your computer screen. It requires no downloads, no launchers, and no accounts so that you can get up and running in a matter of seconds, and it's very beginner-friendly. It works excellent with webcam recordings too, so it's popular with educators and tutors who want to make lectures, presentations, and guides that can be shared straight away via services like Panopto and Google Classroom.
Pros:
No downloads or installations needed
Works well with webcam
Useful for educators
No time or size limitations, and no watermarks
Cons:
It doesn't allow partial screen recording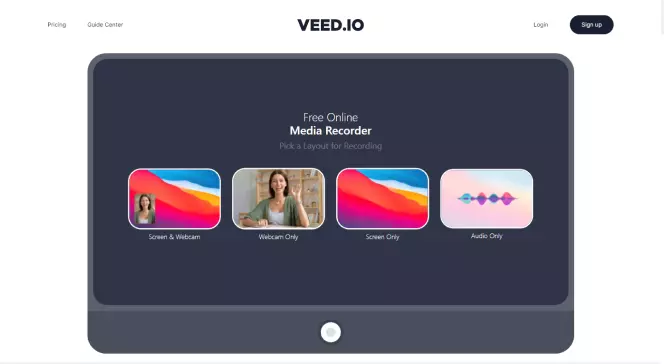 Best for: total beginners
Rating: 4.4/5 stars, 16 reviews
Another top tool to record video on PC and other devices, too, VEED.IO is well-known for its simplicity. It offers a really simple set-up, asking the user to choose what layout or type of recording they want and then pressing a single button to start the process. You can restart and retry whenever you like, without limits, and the tool even has some simple built-in editing options to let you cut out unwanted content before exporting and saving your recordings to your device.
Pros:
Very beginner-friendly
Multiple layouts to choose from
Simple editing features too
Cons:
Desktop Windows 7 screen recorders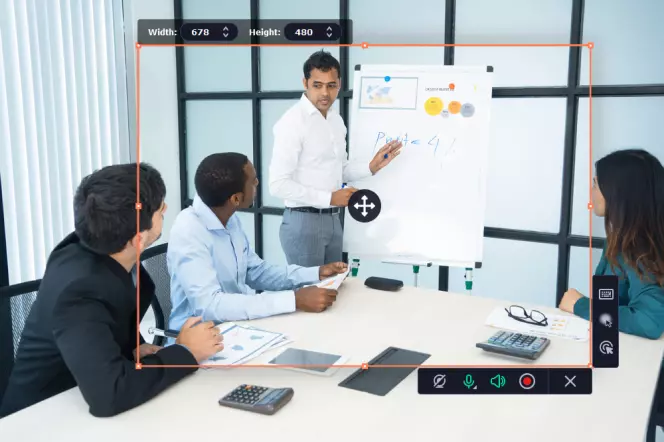 Best for: screen recording and editing
Rating: 4.5/5 stars, 41 good reviews
Movavi Screen Recorder is a fully-featured screen capture software you can download to your Windows 7 computer to use for making screen recordings without limits. It can be used to capture screen and audio from your device, useful for recording webinars, calls, lectures, guides, gameplay, and more, offering simple editing, a seamless user interface, a good range of configurable options to suit every kind of user, and full HD or 4K quality recordings too.
Pros:
Full or partial screen recordings
Lots of advanced features to make your videos unique
Scheduling feature to prepare recordings in advance
Simple editing tools for trimming and annotating
Cons:
Watermark when using the free version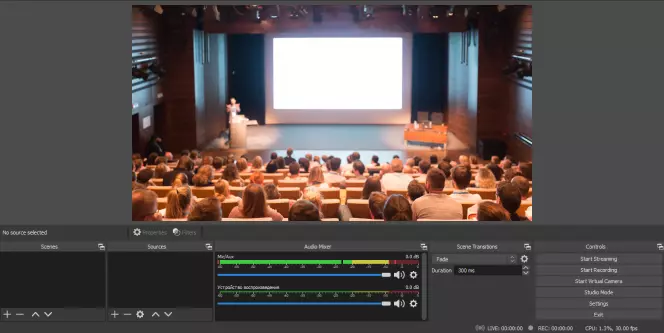 Best for: professional screen recording
Rating: 4.5/5 stars, 45 reviews
OBS Studio is a pro-level desktop recorder you can use to create high-quality, detailed screen recordings on your Windows 7 devices. It offers a fully customizable interface that will appeal to advanced or intermediate users but may confuse beginners. It comes with a lot of advanced editing features and functions, too, giving you many ways to create genuinely unique clips with advanced audio mixing, exciting transitions, and more.
Pros:
Professional level clips and features
Lots of advanced editing options
Great for audio mixing too
Cons:
Beginners may struggle with the user interface and advanced features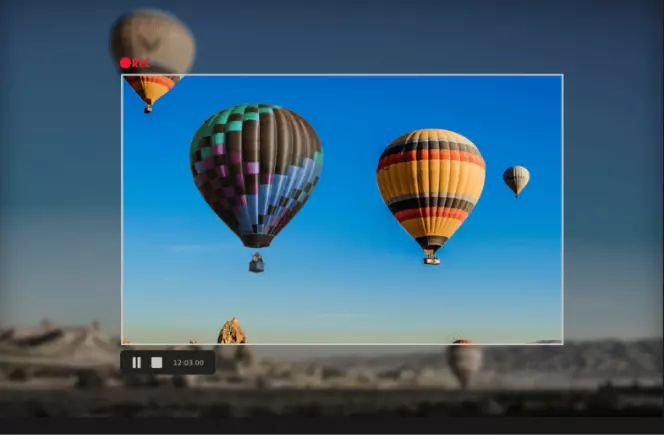 Best for: making tutorials
Rating: 5/5 stars
FlashBack Express is an easy-to-use video recording software you can download and use on any Windows 7 laptop or computer. It doesn't take up too much space or too many system resources, and it's very popular with people who like to make tutorials and guides, thanks to its impressive array of editing features. You can use it not only for screen video capture but also to trim, enhance, annotate, and adjust your video however you like.
Pros:
No limits or watermarks
Advanced editing
Easy sharing to YouTube
A full or partial recording
Cons:
Many features are only available in a premium version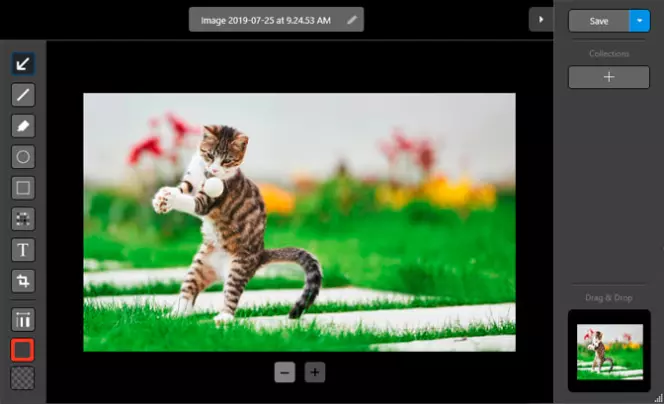 Best for: business use
Rating: 4.5/5 stars, 1,076 reviews
CloudApp is a screen recording desktop app designed with busy business professionals in mind. It lets you make short, simple videos quickly and easily. It is excellent for keeping in touch with your business partners and colleagues and sharing information without the need to schedule and set aside time for official meetings and conferences. It's really easy to use, and you can alter your videos as you make them with annotations and other simple edits.
Pros:
Easy to use
Perfect for busy people
Simple edits and annotations
Cons:
90-second limit when using the free version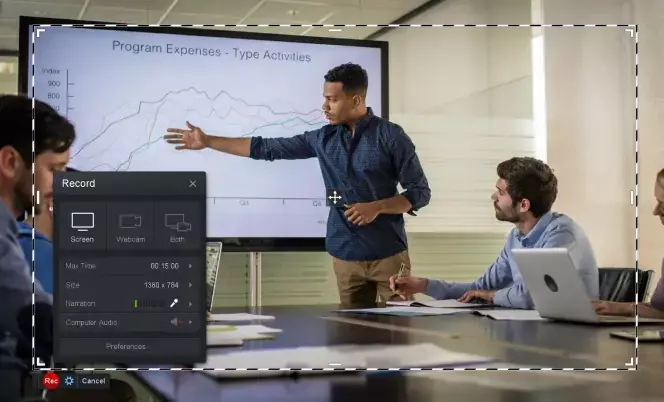 Best for: collaboration with colleagues
Rating: 4/5 stars, 41 reviews
Screencast-o-Matic is a top-rated screen recording app that is trusted and used by millions of people worldwide. It's also a video editor, so once you finish recording your screen and making your clips, you can then use the built-in tools to add text, customize your clips, and much more. It's also fully compatible with various collaboration and sharing platforms, ideal for business teams. However, a lot of those advanced editing features and other functions are only available to premium users, so you'll have to pay extra to get the full Screencast-o-Matic experience.
Pros:
Great for business use
User-friendly interface
Ideal for sharing your recordings with others
Cons:
Many features locked behind a paywall
Google Chrome extensions to capture video on Windows 7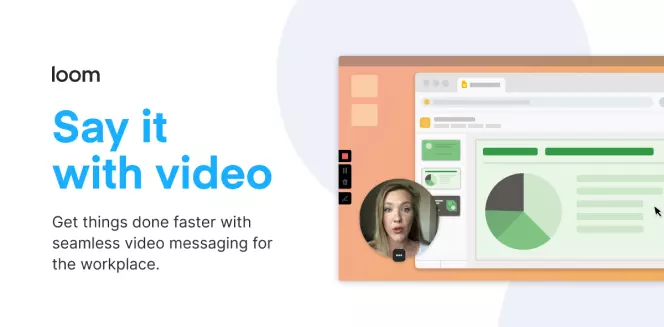 Best for: education and businesses
Rating: 4.7/5 stars, 10K reviews, 5M users
Loom is a Chrome browser extension you can set up and start using in more seconds. It's really flexible and configurable, with lots of settings to help you make the ideal recording with mic support, hidden or visible webcam feed, and more. It's only 6MB in size too, so it's a very lightweight tool that won't interfere with your usual browser usage, and it's a good fit for people who need something simple, reliable, and compatible with other tools like Slack and Gmail.
Pros:
Beginner-friendly
Lightweight extension that won't slow you down
Simple editing features
Works well with other tools like Gmail and Slack
Cons:
5-minute video limit for free users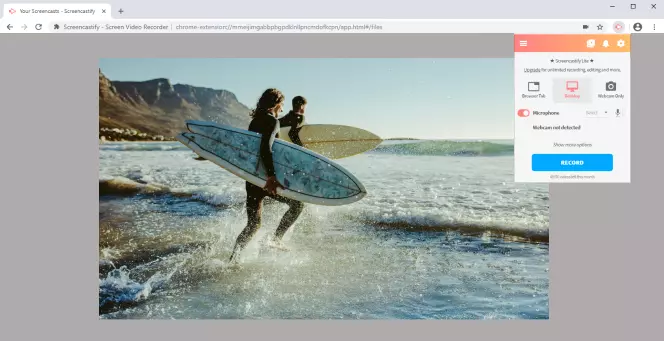 Best for: drawing while recording
Rating: 4/5 stars, 11K reviews, 10M users
Screencastify is another valid browser extension you can set up on Chrome and other popular web browsers. It's popular with content creators, especially people who make educational content like guides and tutorials because it allows you to quickly draw on your recordings as you make them, adding arrows, text, and annotations as desired. You can also add voice commentary to your clips via a mic, as well as a webcam feed, and then immediately upload your created clips to Google Drive or YouTube.
Pros:
Useful drawing feature
Highly versatile for educational videos and other kinds of content
Easy sharing via YouTube and Google Drive
Cons: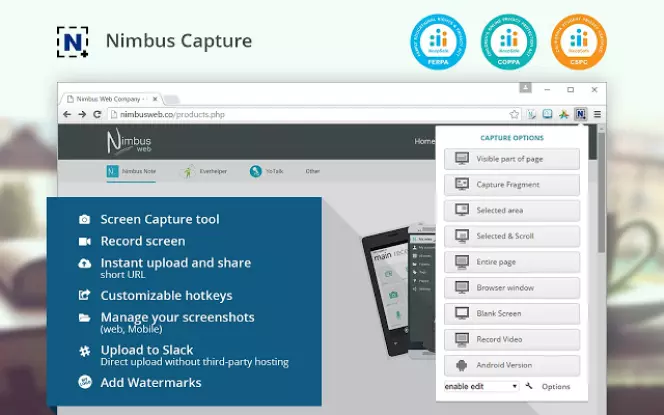 Best for: making screenshots
Rating: 4.7/5 stars, 15K reviews, 1M users
Nimbus Screenshot & Screen Video Recorder is a popular browser extension that is great for taking screenshots and making short recordings of your screen. You have to pay for the premium version to really get the most out of this extension, but the free version is good enough for screenshots and simple clips. If you're willing to pay extra, you get additional editing features, YouTube publishing, custom watermarks, and file conversion too.
Pros:
Great for taking screenshots
Basic editing and file conversion
Built-in YouTube publishing
Cons:
Many features locked behind a paywall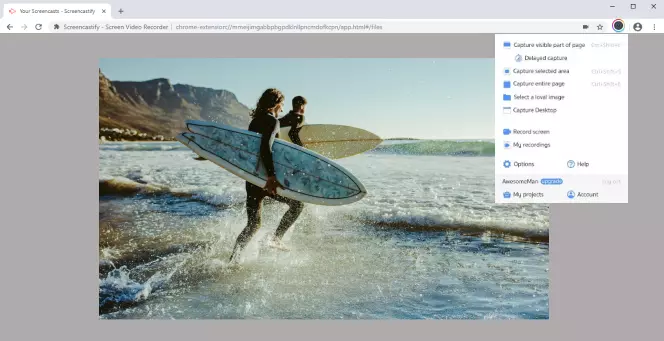 Best for: most lightweight app
Rating: 4.6/5 stars, 23K reviews, 2M users
Awesome Screenshot & Screen Recorder is a Google Chrome extension with a simple user interface that you can use for taking screenshots or making screen recordings. You can record the full desktop, individual windows, or just your webcam. It's very easy to use and good for making simple videos, and it's only 4MB in size, making it one of the most lightweight options out there, but it lacks any kind of advanced features or editing options.
Pros:
Simple to use
Very lightweight at just 4MB in size
Multiple recording modes
Cons: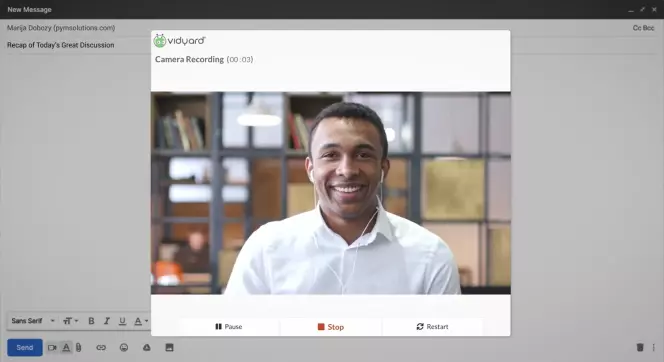 Best for: making GIFs
Rating: 4.3/5 stars, 1K reviews, 400K users
Vidyard is a nicely designed, user-friendly extension for recording screens, webcams, or both. You can record up to 1 hour of HD videos, draw on your videos as you make them, send your recordings directly via Gmail or onto social media, publish straight to YouTube, and use simple editing to trim your clips and make GIF files too.
Pros:
Simple editing tools and GIF creation
Easy sharing via Gmail and YouTube
HD quality
Cons:
Comparing Windows 7 video recorders
Apowersoft Free Online Screen Recorder
Editing while recording

Many formats

Easy editing

Simple uploads

Requires launcher
Panopto Express
Easy educational videos

No downloads

No watermarks

Great with webcam

No partial recording
VEED.IO
Total beginners

Beginner-friendly

Useful editing tools

Multiple layouts

Long processing times
Movavi Screen Recorder
Screen recording and editing

Full/Partial capture

Editing options

Advanced features

Watermarks
OBS Studio
Professional screen recording

Professional quality

Good audio mixing

Great editing

Not beginner-friendly
Flashback Express
Making tutorials

No limits

No watermarks

Great editing

The free version lacks features
CloudApp
Business use

Easy to use

Good for professionals

Edits and annotations

90-second limit (free version)
Screencast-o-Matic
Collaboration

Good for business

User-friendly

Easy sharing

The free version is limited
Loom
Education and businesses

Beginner-friendly

Lightweight

Simple editing

5-minute limit (free version)
Screencastify
Drawing while recording

Useful drawing feature

Versatile extension

Easy sharing

Full window capture only
Nimbus Screenshot & Screen Recorder
Screenshots

Good for screenshots

Basic editing features

Instant YouTube publishing

The free version is limited
Awesome Screenshot & Screen Recorder
Most lightweight app

Easy to use

Lightweight

Multiple recording modes

Lacks editing features
Vidyard
Making GIFs

GIF creation

Easy sharing

HD quality

1-hour limit
Frequently asked questions
How to record the screen on Windows 7?
Visit Screencapture.com to get started.
Adjust the settings to suit your preferences, and click Start Recording to begin.
Your browser will ask for permission to access your webcam and mic – allow this permission to continue.
Press Stop when you're finished recording to save your file.
Does Windows 7 have a screen recorder?
Windows 7 does not have any kind of default or built-in screen recorder. However, there are many ways to record your screen for free on Windows 7 devices, such as using the Screen Capture online tool or the Movavi Screen Recorder desktop app.
What is the best free screen recorder for Windows 7?
There are many different free screen recorders, and the best one for you will depend on your precise needs.
Screencapture.com
Acethinker Free Online Screen Recorder
Apowersoft Free Online Screen Recorder
Panopto Express
VEED.IO
Movavi Screen Recorder
OBS Studio
Flashback Express
CloudApp
Screencast-o-Matic
Loom
Screencastify
Nimbus Screenshot & Screen Recorder
Awesome Screenshot & Screen Recorder
Vidyard
Sign up for news and special offers