If you're looking for the best free music recording software to get started making voiceovers, creating your own songs, or recording your vocals, there are a lot of options on the market.
Best music recording software for your PC and Mac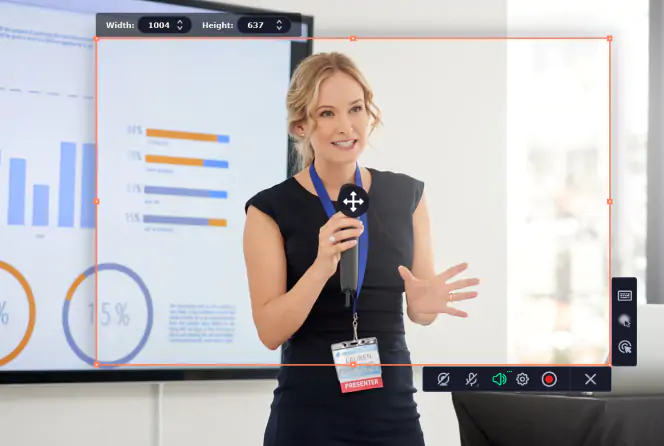 Best for: Easy voiceover recording
OS: Windows, Mac
Price: Free trial, $59.95 for a lifetime version
Supported formats: MP3
G2 rating: 4.5 out of 5, 50 reviews
Movavi Screen Recorder is a great piece of software for those who want to record anything to go along with visuals. It is used primarily for screenshot recording, but you can easily use this to your advantage to make some professional audio recordings.
It's so simple and user-friendly that you can pick it up quickly, something that can't be said for every option on the list, as a lot of the mainstream music recording software is tricky to learn. It isn't cut out to record full bands from multiple microphones, but for simple voice recordings and working with images or even commentating on videos, Movavi Screen Recorder has plenty to offer.
Key features:
Take screen recordings from webcams, browsers, and other sources
Set the input microphone
Work with up to 4K video
Pros:
Easy user interface
Lightweight program that works on multiple operating systems
Great for working with visuals
Cons: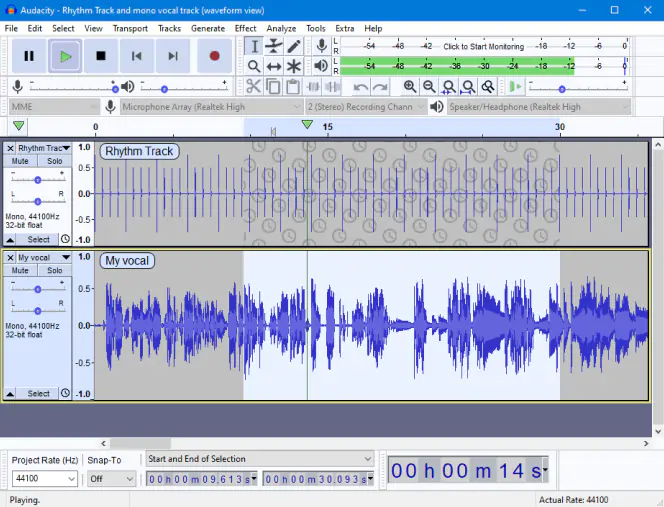 Best for: Free audio editing
OS: Windows, Mac, and Linux
Price: Free
Supported formats: MP3, WAV, AIFF, AU, Ogg
PCMag rating: 4 out of 5
If you are looking for the best software for recording music that provides a free download and is easy for your home studio then Audacity could be a good choice. It's been a solid free option for over a decade now and there is a good community around the software if you need to get some advice on recording or mixing using the software. The interface hasn't changed much in the time Audacity has been available, and it has a bit of an "old school" look to it, but don't let that fool you, there are still plenty of functions on offer.
Key features:
16-bit, 24-bit, and 32-bit sample rates
Comes with inbuilt effects
Plugin compatible
Record using a mixer or USB mic easily
Pros:
One of the best programs for recording music
Totally free music recording software with no paid upgrades
High sample rates for recording voiceovers and songs
Some simple editing features
Cons:
Not the most user-friendly layout
Not as easy for multi-tracking instruments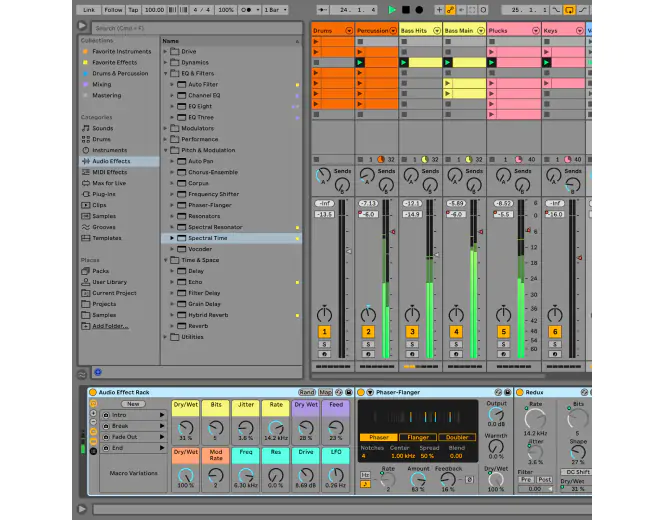 Best for: Professional editing
OS: Windows, Mac
Price: $99 – 199
Supported formats: WAV, AIFF
PCMag rating: 4 out of 5
Ableton Live is the sort of software used by a lot of industry professionals, especially as it is great for working in a live environment. This is arguably the best music recording software for a PC or Mac if you want to take your songs and turn them into live performances using samples and live looping. It also has the functionality to record, as you would expect.
Ableton Live lets you choose from different layouts whether you are working with loops and samples or whether you want to record audio directly. It can be a lot to learn, but if you want to edit and record to a high standard, it is a time investment.
Key features:
Includes a large sample library
Use up to 256 mono audio input channels
Warp modes and slicing
Unlimited audio and MIDI tracks
Pros:
Easy to create live performances
Capable of performing full-band performances and more simple digital recordings
Free trial to see if you like the interface
Cons:
Demanding. This music recording software needs a powerful system
Not the easiest to learn how to use, especially with multiple layouts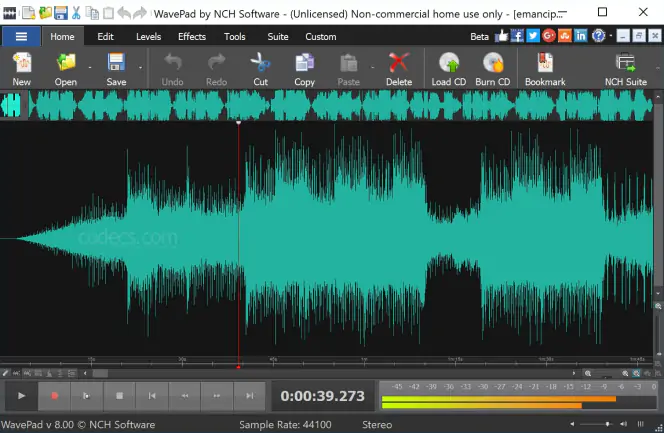 Best for: Affordable Mac software
OS: Mac
Price: $80
Supported formats: AAC, AIFF, AMR, AU, CAF, FLAC, M4A, M4R, MOV, MP3, Ogg, WAV, WMA
G2 rating: 4.4 out of 5, 33 reviews
A lot of the Mac software is quite pricey, but if you want to find an affordable solution then the WavePad software can give you plenty of features for a good price, especially if you just need some basic functionality. That doesn't mean this isn't professional enough to run your home studio.
It can recognize 50+ file types and lets you record multiple tracks, edit, and apply multiple audio effects, so while you probably won't hear the next hit single recorded on WavePad, it is definitely capable of recording voices, and can even remove pops, clicks, and unwanted noise in the background.
Key features:
Preset noise reduction and click/pop removal, great for vocals
Compatible with MP3, WAV, VOX, GSM, WMA, AU, AIF, FLAC, OGG, AAC, and more
Batch processing
Includes effects such as reverb and normalization
Pros:
You get a lot of features for the money
Record multiple tracks and use a mixing desk or multiple inputs if you like
Reduces pop and click noises on vocal editing
iPad/iPhone version
Cons:
Only works with Mac, not PC computers
Takes some time to get used to the layout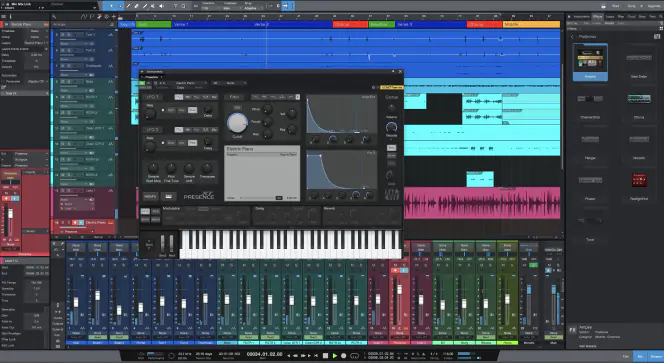 Best for: PreSonus mixing desks
OS: Windows, Mac
Price: $99.95 – $399.95
Supported formats: WAV (BWF and RF64), AIFF, REX, Apple Loops (CAF only in macOS), Ogg, FLAC, MP3
PCMag rating: 4 out of 5
PreSonus is a brand that has really made waves in the world of audio, and they make some excellent speakers, mixing desks, and software solutions, too. The Studio One software has become really popular among professional studio engineers, with some impressive reviews.
If you are looking for high-end software, PreSonus has created something to rival the likes of Logic Pro and ProTools. The full version even includes 38 Native FX plug-ins so that you can create songs from scratch. It's not easy to get to grips with, so expect to take some time learning the software.
Key features:
38 Native FX Plug-ins
Works natively with PreSonus mixing desks
Unlimited tracks, plus third-party plugin support
40 GB of samples and loops included
Pros:
Let your creativity run wild. No limits to the creative potential
Professional level music recording software for Windows or Mac
Good for live applications as well as studio recording
Cons:
Quite expensive for beginners
The $99.95 version has limited functions
Steep learning curve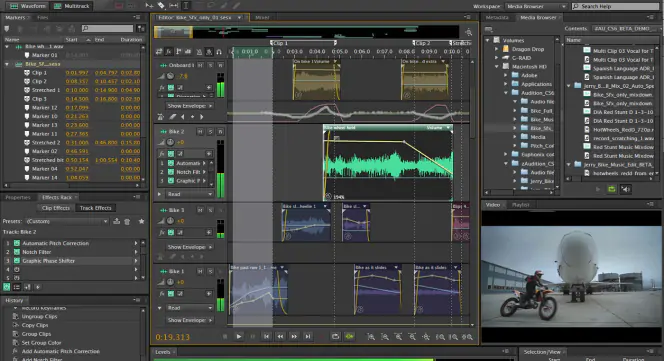 Best for: Advanced sound wave editing
OS: Windows, Mac
Price: $20.99/month
Supported formats: AAC (including HE-AAC) AIF, AIFF, AIFC
PCMag rating: 3.5 out of 5
When it comes to audio software, it's no surprise that Adobe has created an option for pro use. The makers describe this as the "best audio cleanup, restoration, and precision editing tool for video, podcasting, and sound effect design".
It is not as good for audio sequencing or working with MIDI or other songwriting tools, but it is great for capturing high-quality audio. It's about considering what is the best for your own needs, and if you are working with a lot of high-quality audio, Adobe® Audition® is one of the top options.
Key features:
Precise audio cleanup
Adobe's "Essential Sound panel" gives you all the basic tools to clean up your audio
Regular updates and support
Can be bundled with the other Adobe® Suite options
Pros:
Allows you to tweak to precise details
A spectral frequency display lets you analyze and "repair" the audio
Great for podcasts and voiceovers
Fantastic for editing sound effects in immense detail
Cons:
Works out expensive with a monthly payment option
Not great for beginners, you need a decent level of audio knowledge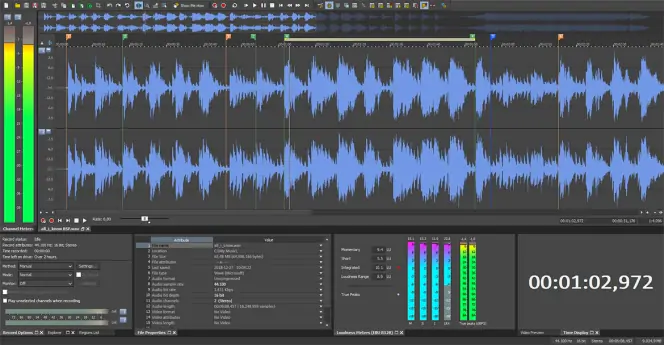 Best for: Simple workflow
OS: Windows, Mac
Price: Up to $678.98
Supported formats: AIFF, MP4, CDA, VOX, FLAC, AAC, AVC, MP3, AU, SND, Ogg, MXF
G2 rating: 4.3 out of 5, 47 reviews
This software has been around in some form or another for over 30 years. Sound Forge Pro 16 is powerful for recording and editing audio, and in spite of having quite a lot of excellent features, the workflow manages to stay pretty flexible and simple. It isn't too intimidating.
There are plenty of effects to use both creatively or just to perfect your audio, for instance, you can easily EQ and cut audio to the length you want it, plus record from multiple sources. It's also great for mastering audio and ensuring loudness. DSP algorithms optimize the sound of your recordings without degrading the quality too much. For the full version, it is a bit on the pricey side, but there is a monthly payment option.
Key features:
Advanced DSP algorithms to optimize loudness
Recording on up to 32 channels and resolutions up to 64-bit/768 kHz
Spectral and loudness analyzers inbuilt
Dynamic EQ gives full control over the frequencies
Pros:
Excellent workflow even for relative beginners
Lots of inbuilt effects
Good for writing songs with inbuilt virtual instruments
Cons:
Doesn't offer unlimited channels like many of the others (capped at 32)
Expensive for the features it offers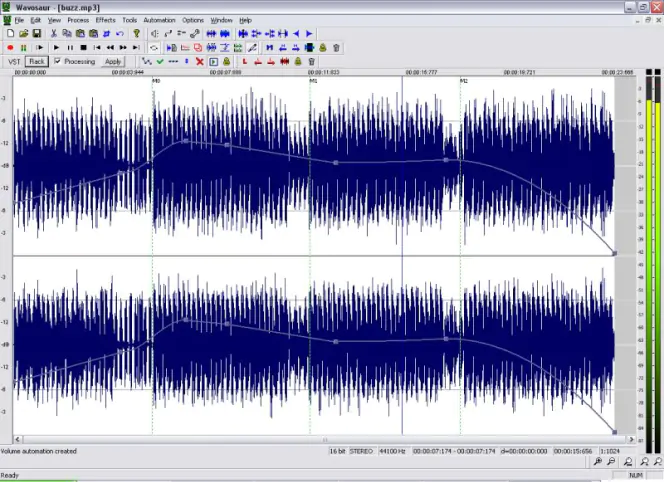 Best for: Free batch editing
OS: Windows
Price: Free
Supported formats: WAV, MP3, AIFF, Ogg, AU, SND
G2 rating: 3.5 out of 5, 1 review
Okay, Wavosaur is not an impressive piece of software when you compare it to some of the top software out there. For PC music recording software that's free, it is fine, without being spectacular, and the interface has a feeling of 1998 about it. It does work on modern Windows computers though, and the fact that it costs nothing is a huge bonus.
Wavosaur offers batch editing, so if you need to compress, EQ, or convert a lot of different files, you can set up a batch and let it do its thing in the background.
Key features:
Totally free music recording software
32-bit and 64-bit versions available
Supports VST plugins, ASIO drivers and multi-tracking
Lightweight software
Pros:
Takes up very little space on your computer (lightweight software)
A quick start guide makes it simple to get started
You can install third-party addons such as VST plugins
Allows you to record from multiple inputs
Cons:
Only works on Windows devices
Quite limited features, especially if you don't install plugins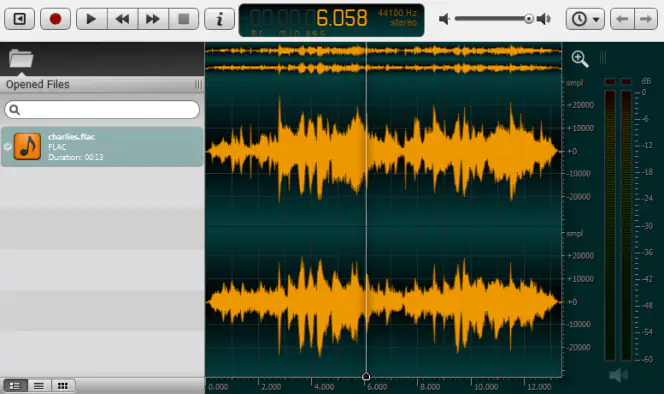 Best for: Linux support
OS: Windows, Mac, and Linux
Price: Free
Supported formats: WAV, MP3, OGG, CAF
TechRadar rating: 4 out of 5
This is another free music recording software. It's very basic in some of the functionality it offers, but the fact that Ocenaudio can be downloaded and used on Mac, Windows, or even Linux makes it a widely-compatible option that doesn't cost a thing.
It also allows batch processing and much of the functionality can run in the background. The software doesn't demand too much of your system, so you can enjoy simple functions while letting Ocenaudio run quickly in the background.
Key features:
Compatible with Windows, Mac, and Linux
An "advanced memory management system" keeps it running quickly
Full spectrogram included
Basic effects included
VST support
Pros:
You can expand and enhance functionality with VSTs
Supports many different file types
Totally free music recording software
Cons:
The effects that are inbuilt leave a little to be desired
Workflow is not great for multi-channel recording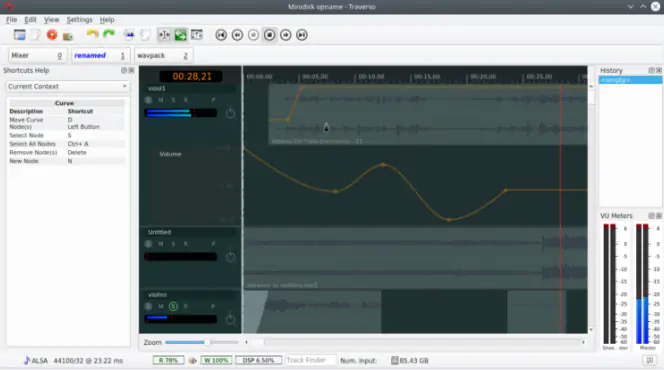 Best for: Speed editing
OS: Windows and Mac
Price: Free
Supported formats: MP3, WAV, AIFF, FLAC, OGC Compact, ALAC
Traverso is all about speed. This lightweight and simple software means that you can quickly learn a few shortcuts, set up a microphone, and make some quality recordings for your YouTube channel. Unlike some of the top music recording programs out there, it doesn't have overly complex controls, which makes it a simple choice. It doesn't do much other than recording, cuttting, and editing, but it is great for those who just want quick and easy functions.
Key features:
Completely free music recording software
32-bit and 64-bit versions
Supports WAV, Ogg, FLAC, MP3, or WavPack files
Fast and intuitive shortcuts
Pros:
Simple to get used to the layout
Intuitive yet customizable shortcut commands
Cons:
Very limited editing options
No VST support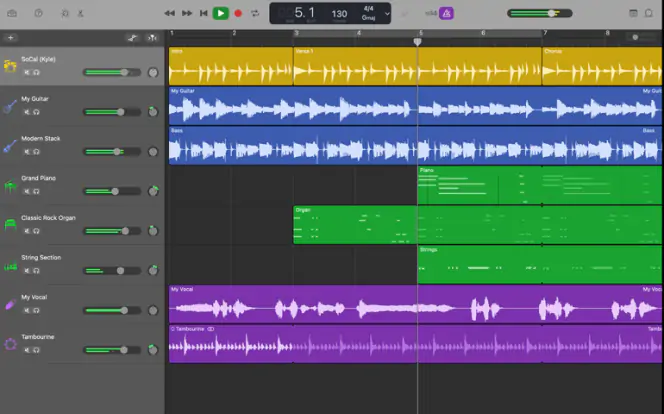 Best for: iOS and Mac users
OS: Mac, iOS
Price: Free
Supported formats: AIFF, CAF, WAV, AAC (except protected AAC files), ALAC, MP3, MIDI
PCMag rating: 4.5 out of 5
GarageBand has become the starting point for a lot of musicians to create their very first song. It's free music recording software that comes with Apple devices including Mac computers. With lots of included loops and samplers, it's also really easy to start putting new ideas together and experimenting with songs.
On top of that, it has the capacity to record from multiple inputs, you could record a full band if you wanted to. While it is seen as a bit of a stepping stone into the more professional Logic Pro, this still has enough functionality to make songs, podcasts, and more to a high standard.
Key features:
Lots of loops and samples included
Virtual instruments
Drummer function allows you to add a 'virtual' drummer
Lots of presets for instruments and recording setups, as well as effects
Pros:
Great for writing songs with plenty of functions for composing
Easy to connect a microphone and record using presets
Works on iPhone and iPad
Cons:
No Windows version
Doesn't offer unlimited recording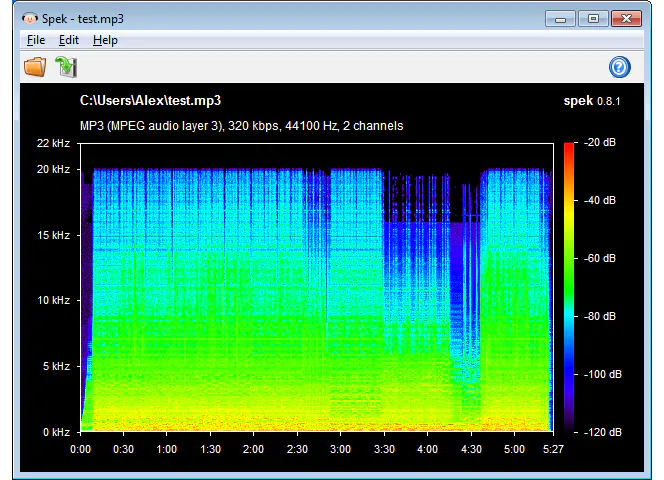 Best for: Spectrum analyzer
OS: Windows, Mac, and Linux
Price: Free
Supported formats: Opus, MP3, Vorbis, AAC, WAV, AIFF, AU, WMA
If you want a free and easy spectrum analyzer then Spek could be for you. It works on all major operating systems and is compatible with virtually all main lossy and lossless file types.
Spek also has the advantage of being lightweight and simple to use and has a great function to let you save your file as an image to analyze spectral data.
Key features:
Supports most lossy and lossless files
Free music recording software
Works on Linux as well as Windows and Mac
Save spectral analysis as an image
Pros:
Reliable spectrum analyzer
Free and simple to use
Cons:
No recording functionality
What is a music recording program?
A music recording program, often referred to as a Digital Audio Workstation (DAW) is a piece of software that can record audio directly or work with existing audio, allowing you to edit, multitrack, and even compose within one simple workflow.
There are other music recording programs that have other functions. Some standalone software such as spectrum analyzers can be used in the workflow. People also tend to build up the functionality of their DAW, as many allow you to install third-party plugins in the VST or VSTi format.
With a good program installed on your device (and there are options for many devices, and both paid and free choices) then you can use the program to make podcasts, songs, voiceover recording, sound effects, and much more. A good DAW should support you while you use audio in a creative way.
What can you do with free music recording software?
Record live and virtual instruments: music recording software can record live voices as well as live and virtual instruments. Some programs also offer audio-editing tools for further refinement and clarity. To capture HD-quality live sounds you'll also need a good microphone.
Apply audio effects: music recorders allow its users to add various audio effects to recordings. This enables you to add and create reverbs, delays, chorus and even autotune.
Edit and mix audio tracks: you can edit and mix audio tracks for your video projects with music recorders. Slice, move, and crossfade audio elements to achieve the desired result.
Add and create audio loops: a good music recorder includes a library of audio loops to add to your music tracks. You can also use music recording software for creating your own audio loops.
How to choose music recording software for Windows and Mac
Choosing the best music recording software is different for everyone, and it will depend on your own specific needs.
Usability: Some of the music software out there can be a little bit difficult to learn if you are a beginner in the world of audio, make sure you've got something with simple usability that still provides the functionality you require.
Features: You should ensure that the software has plenty of features to support your needs. For instance, supporting multiple inputs if you are using more than one microphone or instrument. Do you need to edit the audio heavily or just record and export it? These are all things to consider.
Price: There are some good options out there at many different price tags. At the top end of the market, you can spend many hundreds of dollars getting good software which might even be overkill, you might not use even 10% of its functionality. Try to match your needs with a reasonable budget.
Operating system: Of course, you need to be sure that the software you are buying is going to work with the operating system you are using. Some software is Mac-specific and some is Windows-specific.
Support: Going to be using the software a lot? It helps if you have support, and can email the company or watch YouTube videos to understand what is happening when there is an error. Usually, if you spend more on software it is likely that you'll have more support available.
There are more recording options than ever before, so whether you want to just record your voice for a voiceover or audiobook, or you're looking to compose a full piece of music with instruments and multiple tracks, there's something for you.
Be sure to pay close attention to the features you're looking for and match this up to the software you buy or download. There are also plenty of free trials so you can check that a DAW is for you before you part with your money.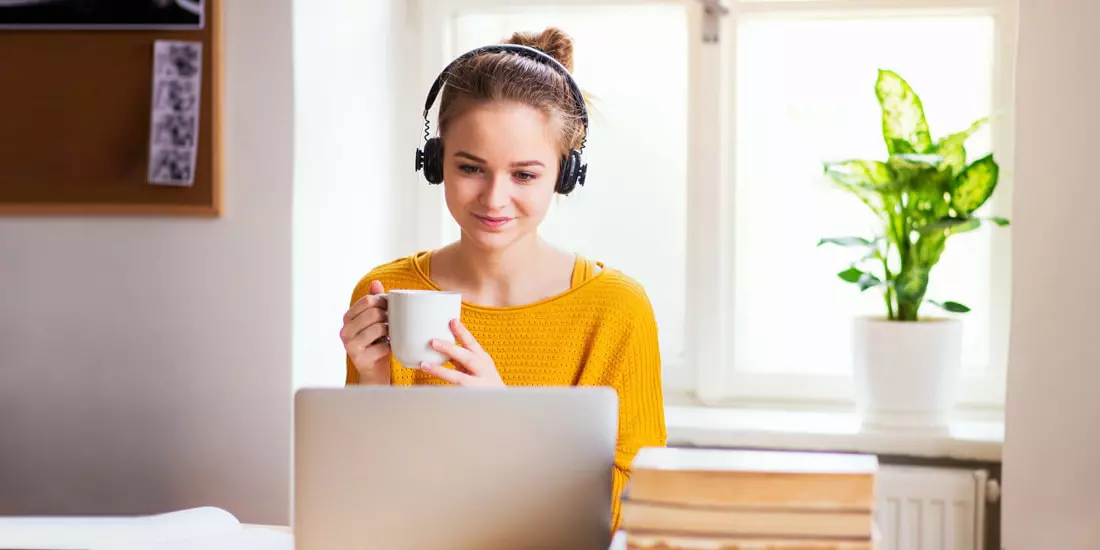 Movavi Screen Recorder
The perfect way to record anything from your screen
Disclaimer: Please be aware that Movavi Screen Recorder does not allow capture of copy-protected video and audio streams. Learn more
Frequently asked questions
What to look for when choosing a music recorder?
Simply recording system sounds and microphone is not enough for a sound recorder. Some of the important features for a music recorder include the ability to edit and cut the audio, add filters and effects. All of these editing tools can enhance the quality of your recorded audio.
What is the best free music recording software?
Check out some of the best programs:
Movavi Screen Recorder
Audacity
Ableton Live
WavePad
PreSonus Studio One
For more music recording options, read this article.
How do I record music on my computer?
Follow these steps to capture audio using Movavi Screen Recorder:
Download and install the program on your computer.
Use the sidebar to select the recording source.
Select the screen recording area by clicking and dragging your cursor.
Record system audio, microphone audio, or both by clicking the correct icon.
Hit the REC button to start, and the Stop button at the end of your recording.
What is digital audio editing?
Audio editing is the process of making changes to sound recordings. The list of changes includes but isn't limited to: improving the recording's quality, removing unwanted background noise or sounds, changing the length or pitch of a particular audio clip.
Sign up for news and special offers