We've reviewed 15 programs for downloading and recording videos including a free online screen recorder. Take a look at the pros and cons of online, desktop, and mobile software and choose the best video grabber yourself.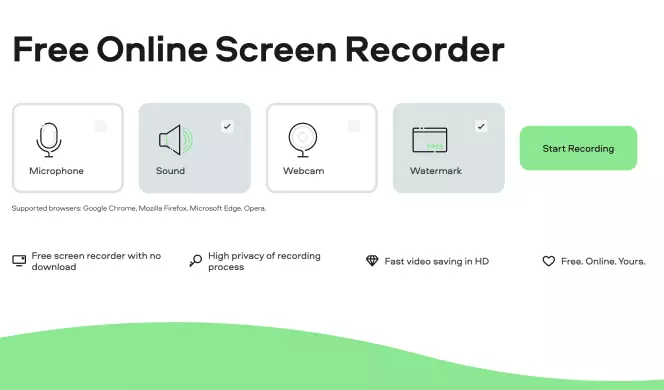 Best for downloading HD videos quickly with high-quality audio
Rating: 4.6/5 stars, 125 reviews
Screencapture.com is one of the best video grabbers available right now that you can use online. You can simply load up the video you want to grab, select the window you want to record (entire screen recording, window, or on a single tab), and then let the online tool perform the "grab video from website" function precisely as it was designed to do.
Unlike a lot of other video grabbers, Screencapture.com allows you to live record the content that you want to share. This means that you can interact with the content as you work and don't have to rely on someone else's work to deliver what you need. This is perfect for people creating tutorials, walkthroughs, or sharing projects.
Capable of video grabbing from your screen or your webcam, Screencapture.com is extremely easy to use and lets you capture videos with only one click. It's beginner-friendly, secured so no one can steal your recordings and can record microphones, webcams, sound files and deliver a watermark-free download for a small price.
Pros
Super easy to use thanks to a foolproof guide
The utterly secure recording process
Capable of saving HD videos
Fast saving to get you videos quickly
Cons
Paywall for watermark removal
Is this video grabber safe to use? Yes, Screen Capture can be recommended as one of the safest online grabbers.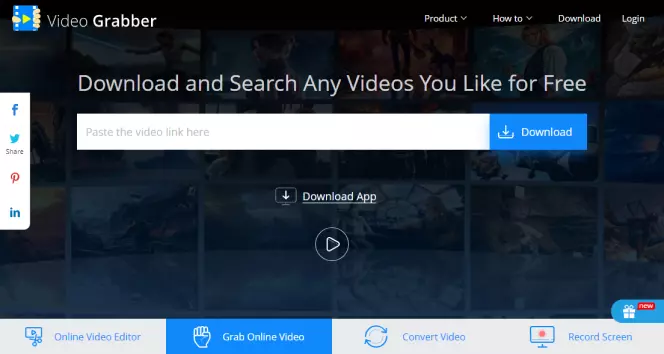 Best for HD video grabbing from sites like YouTube
Unlike Screencapture.com, VideoGrabber.net works by video grabbing from links. Paste any video link into the box on the site, and your video download with be available in minutes. If you need to, an online video grabber which can screen grab video online from sites like YouTube and Vimeo, VideoGrabber.net is a great free option.
Although you can't download via streaming, you can capture both audio and video from a variety of sites. An excellent online video grabber (as the name suggests), VideoGrabber.net is an excellent choice for people wanting to rip videos from YouTube. Copy the URL and put it into the text box on the website, and the content will be yours in no time.
Another question you might ask is: is VideoGrabber safe? The developers of the tool claim that the grabber is absolutely safe.
Pros
Easy YouTube video download process
Can capture video and audio at the same time
Supports conversions to 60 fps
Cons
A number of the best features are only on the app version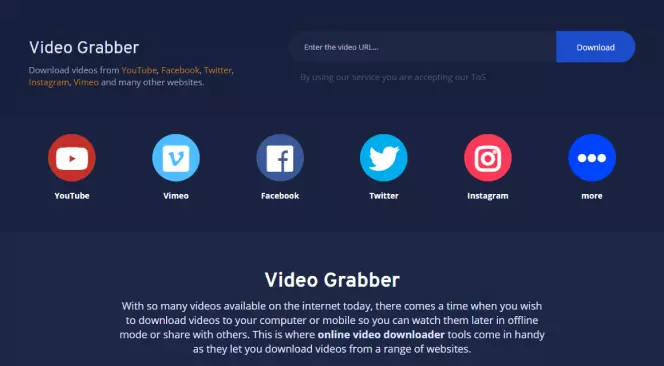 Best for beginners needing to grab a video quickly
Another online video grabber, VideoGrabber.cc, is easy to use and offers a surprising range of features too. Downloading videos from YouTube, Facebook, Instagram, and Vimeo is accessible through the paste box, and you can download for offline use or share straight from the browser. Thanks to the easy-to-use interface, VideoGrabber.cc can also be used by people without technical knowledge without becoming too confusing.
Promising a safe downloading process, the program is easy and secure. Being able to take the videos off a platform easily is VideoGrabber.cc's main aim – they want people who aren't very techy to be able to do it too without headaches. Sadly, you can't share from the website, but you can download any file and then share it in your favored way.
Pros
Wide range of supported services
Easy to use interface
Easy to contact the support team
Cons
No online saving
No sharing from the website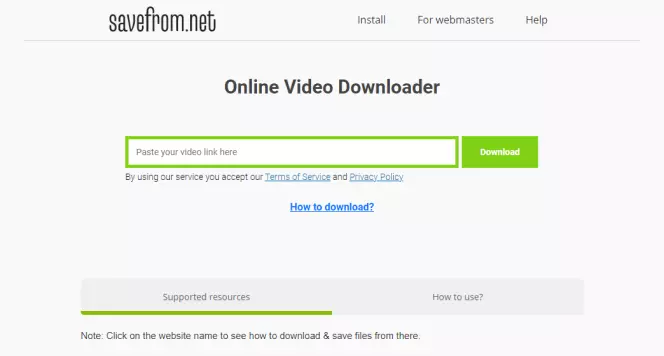 Best for downloading HD MP4 videos
This video grabber online service is another easy-to-use downloader that can download content from a wide range of sources. As well as full HD, SaveFrom.net also supports SD, standard HD, 2K, and 4K. This makes it perfect for the videophile who needs to have high-quality content without forcing them to use complicated software.
Coming with a guide to download videos, the video grabbing process is as easy as typing in the URL, adding the savefrom.net URL, and converting the domain names to the short form. If you can do this, you can get videos in 1 click. And all that with a wide range of supported sites means you can get your content from all over the web.
Pros
Wide range of supported resources
Can download in up to 4K quality
Works on a wide range of browsers
Cons
The download process might be confusing to non-techy users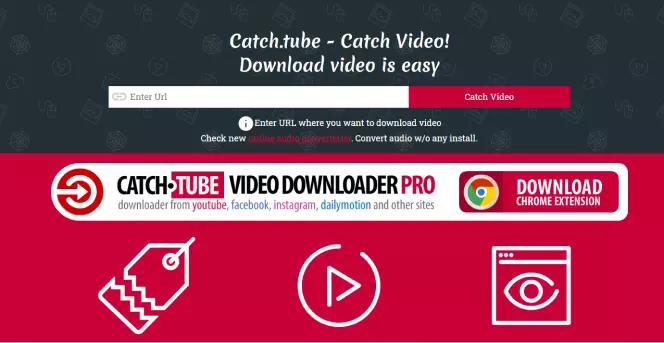 Best for downloading video or audio
Supporting a wide range of resources is one of Catch.Tube's real strengths, as well as simply converting video and audio file types through the browser. It's a simple process that promises to be free forever, which is friendly for users who just need to grab a video from YouTube or Vimeo.
Although this is another website that doesn't have social media sharing capabilities, the simple interface makes up for it. You can navigate the site easily and download the file straight to your computer.
Pros
Wide range of supported resources
Easy to navigate interface
"Always free" promise
Cons
Installable video grabber software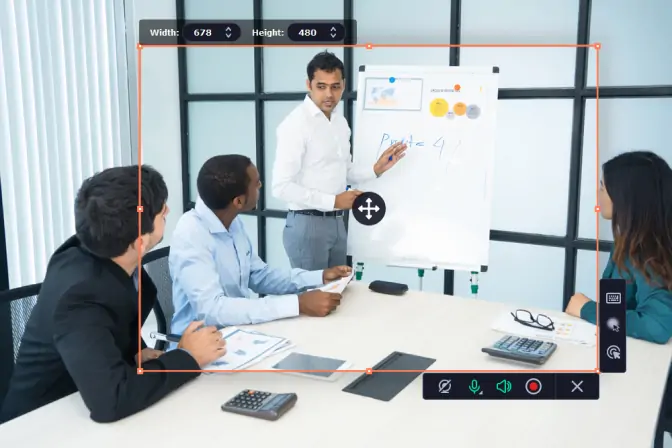 Best for downloading and editing videos quickly
Rating: 4.5/5 stars, 41 good reviews
This sophisticated video grabber software has plenty of tools to make sure you get the best video you can from any online source. Load up the clip you want, start Movavi Screen Recorder software, set up the recording parameters, and let the software do its thing. There is even a scheduled recording feature which means you don't even need to set off the recording – just set up a timer, and you will be able to grab videos whenever you need.
Providing video and audio recording, you can also edit and save the file as soon as it is captured. All the processes are extremely easy to use, and the user interface is designed so that even a non-techy can use Movavi Screen Recorder easily. Additionally, if you're a bit more comfortable with computers, Movavi Screen Recorder also offers a wide range of sharing tools that you won't see from other providers.
Pros
Excess range of features for Mac and Windows users
Schedule recording features to record when you're not there
A wide range of editing tools to help you get the video you want
Cons
You need to run the video on the screen to record it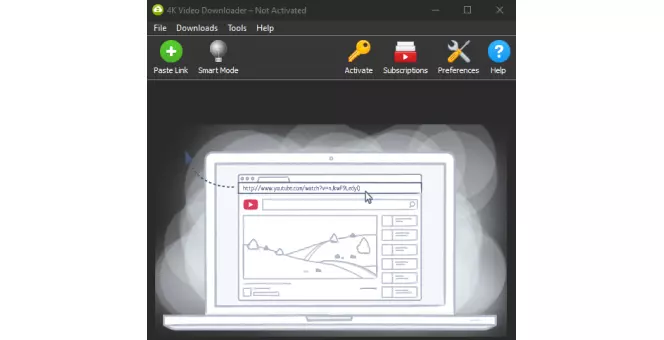 Best for easily downloading 3D and 360° videos
Rating: 4.7/5 stars, 253 good reviews
This piece of freeware for PC is an excellent choice for people who want to type in a URL and let the video grabber software work. It can download single videos or entire playlists from sites like YouTube, all in HD or better quality. If you find that you don't like the product that you receive, there is also a 14-day money-back guarantee that is perfect for curious experimenters.
Downloading any video is easy – even in 3D or 360°. When you've set your preferences, you can also configure the 4K Video Downloader always to use those settings whenever you start grabbing a video in the future. Easy to use, friendly to users, and with a range of pricing plans.
Pros
Can download a range of video types and in various qualities
Options for playing the videos in-app
14-day money-back guarantee
Cons
Some of the best features are locked into the premium package
You can download 4K Video Downloader by following the link below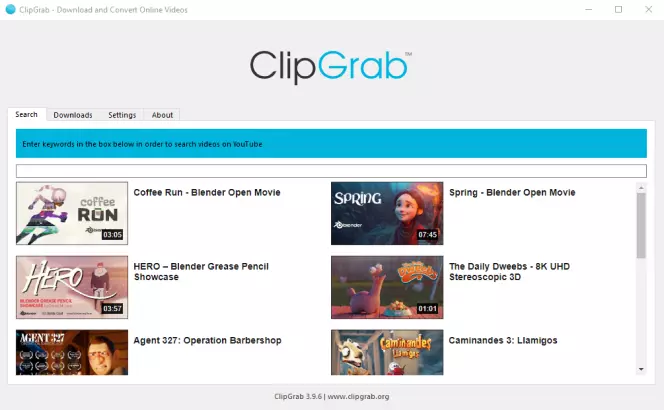 Best for downloading high-quality files
Rating: 4.5/5 stars
ClipGrab is an interesting video grabber software that is streamlined so that downloading any video (including any HD clip) is easy. You can use the "grab video from website" feature to quickly download a file and convert it to a wide range of file types. Whether you're downloading from YouTube or Facebook, ClipGrab has the tools to get your content.
If you need to download files in high-quality file types, MPEG4, FLV, and WebM are all supported. You can also use the video grabber software to rip videos from Facebook, something that isn't supported by a lot of software.
Pros
Download from YouTube, Facebook, and other sites
Good selection of file types to convert your download to
HD download options
Cons
Some HD file types can only be created from certain downloaded ones
Only runs on Windows and Mac
You can download ClipGrab by following the link below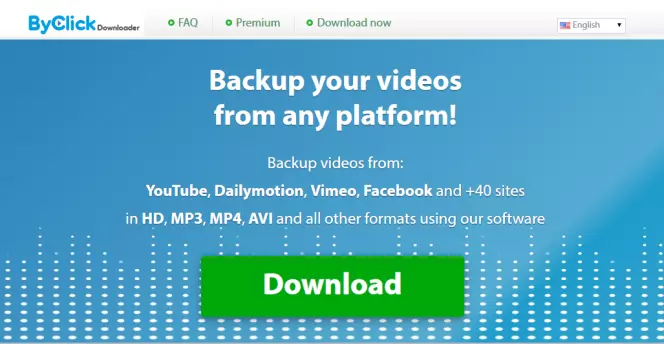 Best for downloading and creating unusual file types
Rating: 4.3/5 stars, 19 reviews
Some video grabber software doesn't come with great user support. By Click Downloader has an excellent team that is on call 24 hours a day – if you ever need any support, a team member will be there to help you as soon as possible. And that team knows everything about the downloader, including the range of quality and file type options that are available to the user.
And the quality of the downloads is excellent – as well as supporting up to 8K quality, rarer file types such as AAC and M4A are also offered. This means you can make a file that will run on anything. Once you understand how the UI works, you'll be able to download, change, and modify the tracks you download easily.
Pros
Excellent quality options
Wide range of file types to choose from
Excellent support team
Cons
New users will need time to learn how the UI works
Some features are locked away in By Click Downloader Premium
You can download By Click Downloader by following the link below
Google Chrome extensions to grab video from websites
Video Downloader professional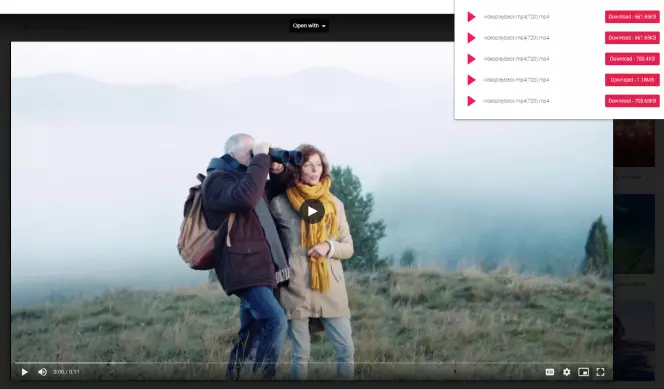 Best for ad-free downloads whenever you need
Rating: 4.7/5 stars, 3.3K reviews, 300K users
No ads on a free video grabber online version? Video Downloader professional is an app that is free, safe to use, and can capture video and audio easily without throwing hundreds of advertisements at you. HD and SD downloads are as easy as one click. And you can get all that on a wide range of different file types, meaning you will download and convert anything you need.
Supporting many file types, you can download multiple videos at the same time from almost "99% of video hosting websites". That makes this a versatile and powerful tool that will power through any video-grabbing task you set it.
Pros
Wide range of supported file types
Support multiple video downloads
No ads
Cons
Struggles to download from smaller sites
Downloaded files can be tricky to manage when saved locally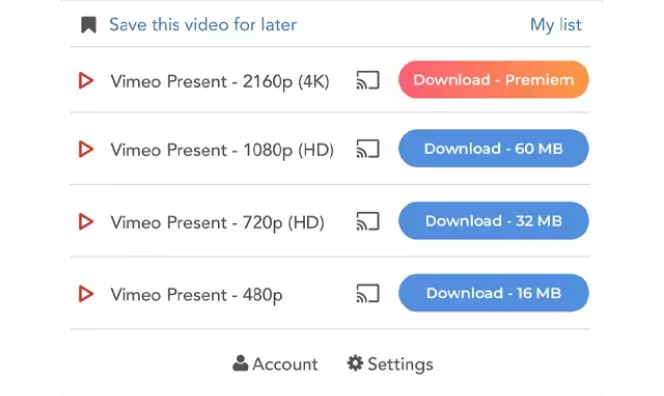 Best for a cheap downloader that works on a variety of sources
Rating: 4.5/5 stars, 6K reviews, 500K users
This straightforward downloader is easy to install and easy to use. You can download and save videos from a wide range of sources, all of which can be accessed through the app any time you need them in the future. All that included with reasonable payment plans make this an excellent premium option for people needing to start their journey with video-grabbing software.
The simple user interface that has a few extra features included (such as offline download) makes this perfect for beginners and people who are in the know but need something that will download content quickly.
Pros
Super simple installation process
Can recognize and download videos from a variety of sources
Excellent payment plans for people working on a budget
Cons
The program doesn't work with YouTube at all
Some payment plans are a lot more expensive than others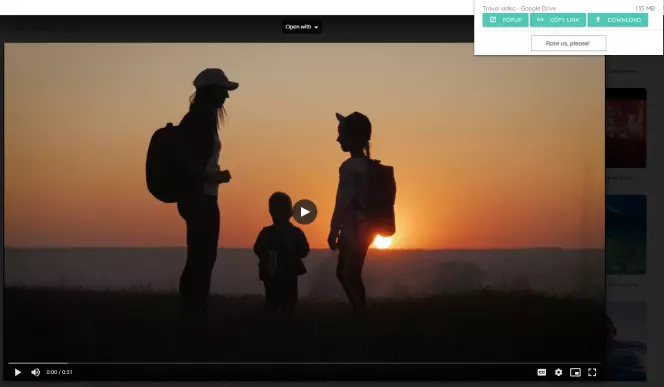 Best for sharing HD videos on social networks
Rating: 3.7/5 stars, 1.9K reviews, 300K users
With a wide range of download types from many of the more prominent names on the intern right now, Video Downloader for Web is fast and offers a built-in player to let you watch videos as soon as they are downloaded. The team behind the app also promises no internet buffering at all. Whether that's true or not, Video Downloader for Web is excellent because of the number of file types you can download or convert to.
Something for the influencers – there are plenty of sharing options for social media, meaning that you can download and send it to your friends straightaway. And it's simple! Simply press the download button, and you can get any file you need whenever you need it.
Pros
Wide range of popular file types
Can share HD videos to social networks
Built-in browser to organize and play videos
Cons
Struggles with downloading files from Facebook
Can't download hidden or private videos from YouTube
Online video grabbers for smartphones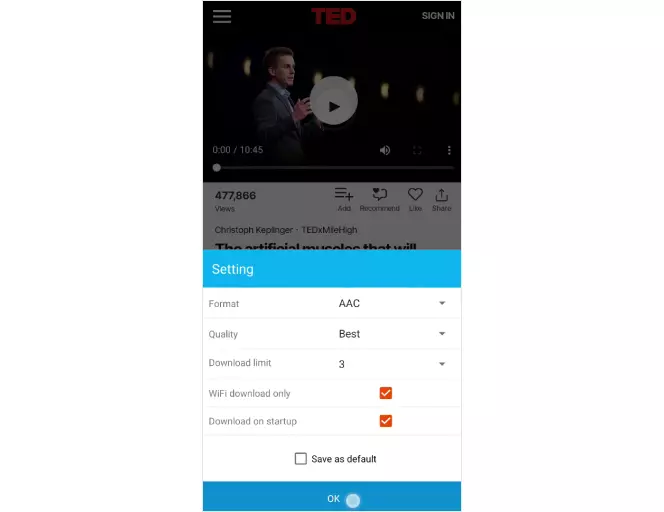 Best for high-quality downloads on Android
OS: Android 7,8,9,10,11,12
Rating: 4.8/5 stars, 77 reviews
Experts in audio and visual downloads, iTubeGo's Android app has plenty to offer. A simple user interface makes downloading and converting files on your Android device straightforward. It can support quality of up to 8K and will easily rip playlists, podcasts, and even subtitle files. And if any of that confuses you, you can contact the 24/7 customer support team, who will guide you through the process.
With a 100% security guarantee, there is greater peace of mind for users. You know it's safe, so you can download files without needing to perform any confusing actions. It is also backed by an extensive knowledge base, perfect for the user wanting to learn more.
Pros
24/7 customers support for people in need of help
Extensive knowledge base
Straightforward to use and easy to navigate saved files
Cons
Not many extra features in the basic download
The built-in player can be slow to respond
You can download iTubeGo for Android by following the link below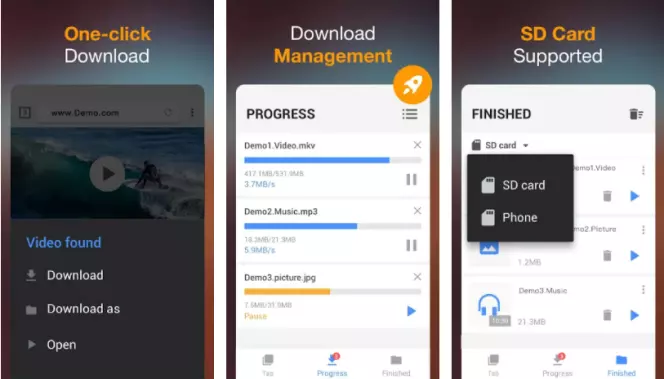 Best for video management and file sorting
OS: Android 6.0 or later
Rating: 4.7/5 stars, 700K reviews, 100M users
Intending to cut down on painstaking download management, Video Downloader for Android offers effective file sorting capabilities, including SD card support. You can also download videos to store in your private collection under password protection. But that's not all – you can take advantage of the auto-detect feature to download videos without wrestling with URLs.
The UI is aesthetically pleasing and easy to navigate, making this an easy option for people new to video-grabbing software. It will even auto-detect a video and prompt you to download it on opening, saving time grabbing and pasting URLs. It's a really powerful and popular app that is perfect for a wide range of file types.
Pros
Auto-detects videos on opening
Excellent space management
Easy to manage the interface
Cons
Adverts fund the project, so be prepared to watch a few
Can be slow when managing multiple projects
You can download Video Downloader by following the link below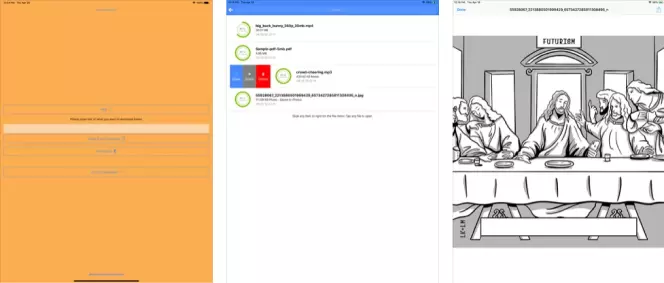 Best for an easy to navigate user interface
OS: iOS 9.0 or later
Rating: 4.4/5 stars, 8.7K reviews
Paste a link in, switch to a new window, and Any Downloader for iOS will handle the job for you. It's a real plug-in and play option for video grabbers around the world – you need to interact with the UI very little in order to get the best downloads. And as you would expect from a simple downloader tool, the interface and process are easy to follow, meaning you don't have to spend a long time understanding how to use the app.
Intelligent software will autodetect the URL you have in your clipboard and automatically paste it into the app. And the team behind the app for iOS is constantly improving and adding new features to Any Downloader, meaning your experience will only improve. Thanks to them, you can get around some of the bugs which haunt this platform and will no doubt be corrected soon.
Pros
The team is constantly working on improving the app
Easy to use, autodetect software
Easy to navigate user interface
Cons
Some bugs are in the app relating to finding videos
Adverts fund the project, so expect to close some windows
You can download Any Downloader by following the link below
We hope this article has been useful in helping you choose the right screen recorder. The following list has the most important aspects to consider when choosing a screen grabber:
Features: Choose recording software according to the result you want to achieve with your screen recordings. If you simply want to record what happens on your screen, any screen capture software will probably meet your needs. If you're going to do advanced editing or stream live on YouTube, take those features into account as you choose your program.
Ease of use: Some programs are user-friendly and simple. Others are more complicated and have a steeper learning curve. Consider the amount of experience you possess and choose a screen recorder accordingly.
OS: This is an important one. The app has to be compatible with the operating system you are going to use for the recording.
Support: Try to find a program that offers easily accessible user support if you run into problems during the screen recording process.
Reviews: You need a stable and reliable app that will keep recording no matter what and won't let your data slip through to anyone malicious. To determine this, check out honest user reviews.
Frequently asked questions
What is the best video grabber?
There are a lot of factors that come into play when finding the best video grabber for your needs, whether you want to work in your browser, through downloaded software, with an extension, or on your mobile device. Depending on your needs, take a look at the examples below. You can learn more about other screen grabbers by reading the article.
Screencapture.com
Movavi Screen Recorder
Video Downloader professional
iTubeGo for Android
Any Downloader for iOS
How to grab a video from a website?
Screen Capture is a fantastic way to grab a video from a website, achieved in these five easy steps:
Open screencapture.com on your favorite browser.

Select all the types of recording you want to make (microphone, sound, webcam, and if you want to remove the watermark).
Click Start Recording.
Select what you want to record (entire screen, window, or tab).
Grab the video and enjoy your video whenever you need it.
Follow those steps, and you will have downloaded your favorite videos exactly how you want them. If you found any of these steps confusing, refer to the video grabber page on screecapure.com and follow the instructions for the best-grabbed content.
Which is the best video downloader website?
There isn't one best way to use a video downloader. In fact, there are two: by recording it and by downloading through the use of a link. Depending on your needs, you might want to choose one of these options over the other.
If you are watching to record a video, you need to use a website like Screen Capture or a program like Movavi Screen Recorder to get the very best results. Both of these tools work by creating a window for you to record content as it plays. By simply selecting what you want to record and clicking capture, you can live-record your screen and capture anything you want.
If you want to download a video via a link, you can use any of the programs listed below:
VideoGrabber.net
VideoGrabber.cc
SaveFrom.net
Catch.Tube
Is VideoGrabber.net safe?
Yes, this online tool is safe to use. No one is going to scan your browser data or steal your records.
Sign up for news and special offers