If you're a streamer, you might want to save your streaming video. Check out our list of streaming video capture software. The list includes an online screen recorder that lets you record a streaming video for free.
Best desktop apps to capture streaming video
The next category is desktop programs that help record live streams on PC.
Why would you install a recording program on your computer? First, desktop recorders are much more reliable than online tools, with fewer bugs and decent customer support. Second, these programs have many additional features that can expand your recording options. For example, before saving your recording, you can rip streaming videos or use a special audio ripper to save a podcast. The cons for desktop tools are a long launch process and fees for full versions.
Here are some of the best streaming video recorders for your PC.
Best for: recording separate streams
OS: Windows, macOS
Price: free trial; $42.95 /year; $59.95/lifetime
G2 rating: 4.5 out of 5 stars, 49 reviews
Movavi Screen Recorder is convenient to use if you're recording separate streams. It captures screen and audio simultaneously or separately and offers a wide choice of exporting formats.
In addition to the basic recording features, you can also schedule recording sessions, highlight the cursor, add effects to mouse clicks, and much more. Though there are plenty of settings, they are designed in a user-friendly way, so you can understand how the program works.
Movavi Screen Recorder has two versions – free and paid. There are almost no limitations in the free version, except for a watermark on the recording. To remove the watermark, you can purchase the program, and it's not expensive.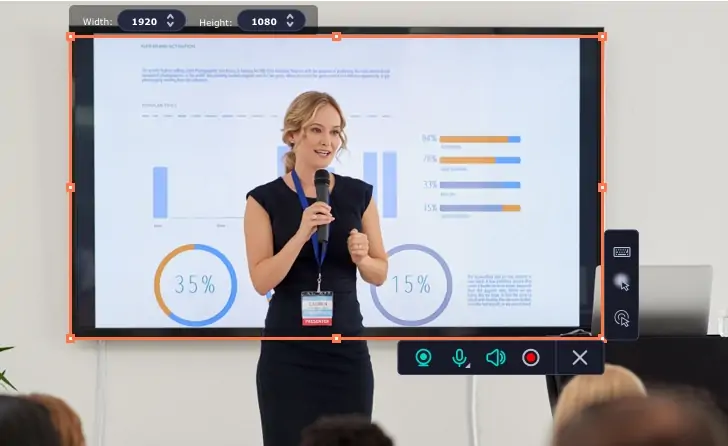 Features:
Drawing tools
Option to show keystrokes and mouse
Editing tools
Several export formats
Advantages:
User-friendly interface
Advanced recording settings
High-quality output video and audio
Disadvantages:
Watermark in the free version
Best for: recording for video clip creation
OS: Windows, macOS, Linux
Price: free
TechRadar rating: 4 out of 5 stars
OBS is a well-known program among professional video makers. It offers many video-editing tools so that you can create films from your recordings. You can compose scenes from different media formats, edit sound with advanced audio mixing, add transitions, and much more.
The program is free to use, but it has a challenging interface. Get ready to spend some time searching for the appropriate settings. If you're not an experienced user, you may get lost in all the functions.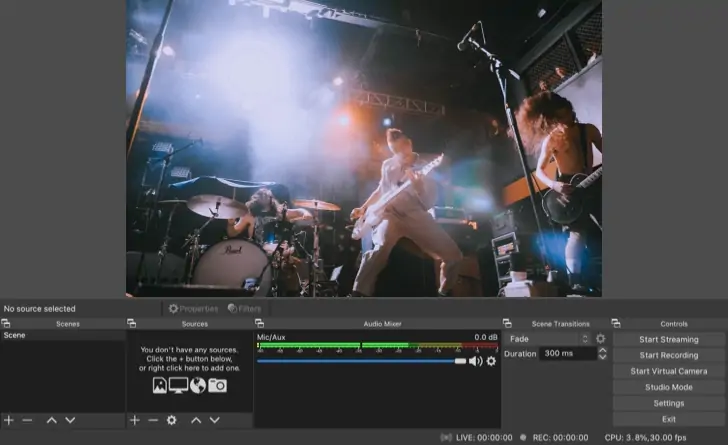 Features:
Capture from several sources
An unlimited number of scenes
Audio mixer
Advantages:
Advanced editing tools for creating professional video
Customizable settings
Disadvantages:
Complicated interface
Overloaded with settings
Best streaming video recorders online
We'll start by explaining how to capture a streaming video online because it's one of the quickest ways. You don't need to install anything – just open the web page, set up recording parameters, and grab the live stream. No wasting time on pre-recording procedures.
Best for: recording in Incognito mode
OS: any, works online
Price: free with a watermark; $9.95/month; $39.95/year
Trustpilot rating: 4.7 out of 5 stars, 522 reviews
Screen Capture is an online tool with a simple interface and clear settings. No need to spend time learning how to use it.
The service doesn't limit recording time. You can record non-stop streams and save them at high quality. The best part is that you can do this even in Incognito mode if you don't trust your browser's privacy.
But there are some disadvantages. First, if you use the free app, a watermark will be embedded in all videos. The second disadvantage is the lack of choice in output formats. You can't choose the format for your output file, so you have to convert it with a third-party app.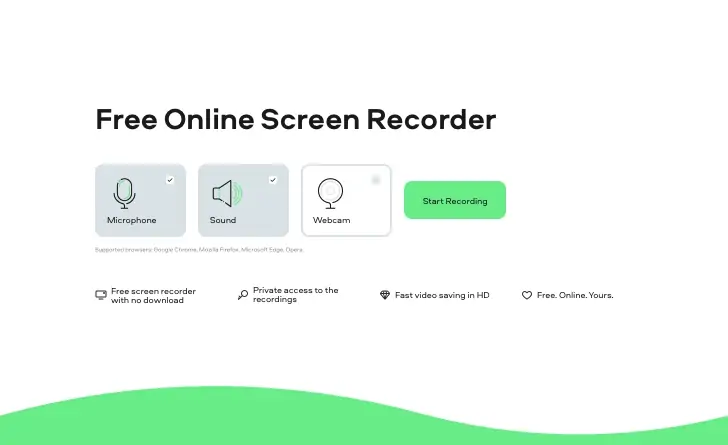 Features:
Capture of webcam, system sounds, and microphone
Option to record a selected browser tab
Fast video saving in HD
Advantages:
Clear settings
Can be used in Incognito mode
Disadvantages:
No choice of export options
Watermark in the free version
2. Apowersoft Free Online Screen Recorder
Best for: editing videos during online recording
OS: any, works online
Price: free
TechRadar rating: 4.5 out of 5 stars
Apowersoft Free Online Screen Recorder is one of the best tools for recording screencasts in real time. The best feature is the option to edit videos during the recording. You can highlight the most interesting parts of the stream and add annotations.
Apowersoft supports many formats for exporting files that even desktop programs don't always have. After you're done with recording, you can upload the video to Vimeo, YouTube, Dropbox, or Google Drive. Considering all these options, we'd say it's one of the best online solutions you can find.
The only potential downside is that you have to install a special launcher to activate the recorder. But you only need to do this once – when you use the stream recorder for the first time.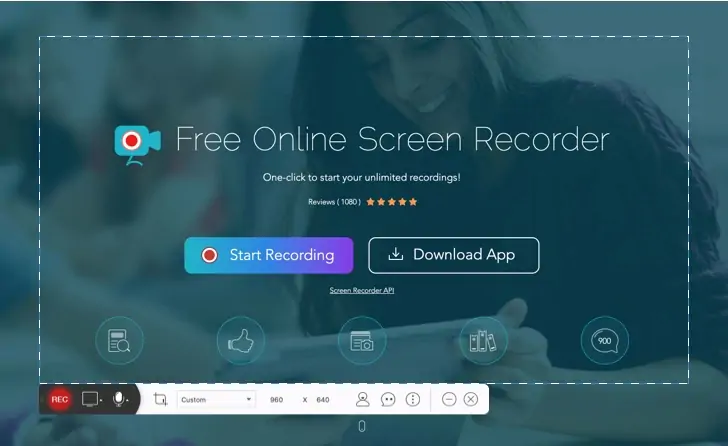 Features:
No time limit for recording
Customized capture area
Editing during recording
Advantages:
Wide choice of online video-editing tools
Many output formats
Simple interface
Disadvantages:
Requires installation of a special launcher
No audio-editing tools
Best browser extensions to record live streams on PC
One more approach you can try is to record an online video using browser extensions. The main advantage of extensions is that you can launch them in one click. You don't need to open a web page or launch stream-recording software on the desktop. The extension icon is always in your browser wherever you go on the Internet.
On the other hand, they are even less reliable than online tools. Users complain that browser extensions have many more crashes during recording than other types of recording software.
Note, too, that each browser has specific requirements for using extensions. If you have a favorite extension in one browser, it may not work in another.
We can recommend three extensions that have high ratings and good reviews.
Best streaming video capture software for iOS
There's a chance you might want to record your stream on a smartphone. If so, do you know how to record streaming videos on your device?
Many of us get stuck answering this question. That's why we're going to tell you about the best streaming video recorders for mobile operating systems. Let's start with iOS.
We should warn you that iOS apps are often laggy and glitchy. So even if the app works perfectly at first, it doesn't mean it will always be like this. That's why we recommend you install several apps and switch between them in case one stops working correctly.
Best tools to save streaming video on Android
The last thing we'd like to talk about is how to screen-record streaming services on Android. You'll be pleased to learn that Android recording apps have far fewer crashes and bugs than iOS programs. That's why you don't need to download multiple apps – just choose one and enjoy!
Here are the two apps with the best reviews and most installations.
Step-by-step guide to how to record streaming video for free
If you want to record your streaming video for free, we recommend you start with an online screen recorder. It's one of the best ways to capture streaming video online because you don't need to install any software to grab a live stream on your PC.
Follow this guide to capture your video stream.
Step 1. Run the online recording tool
Step 2. Activate the appropriate settings
To capture the video stream, enable the Sound and Screen icons. To exclude your face and voice from the recording, don't forget to disable the Microphone and Webcam icons.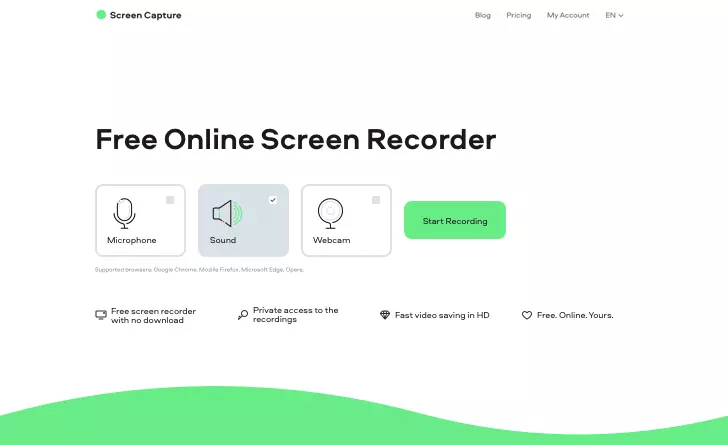 To start recording, click on the Start Recording button. Allow access to your microphone and webcam.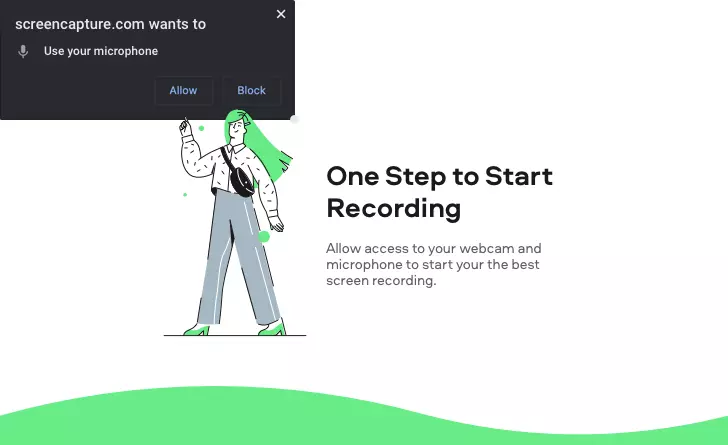 Step 3. Record the video and save the file
Open the tab that you need to capture and record the video.
When the stream is finished, stop recording and save the streaming video to your computer. You can rip streaming videos after saving.
Using the online recorder is secure. Your recordings are for your private use – no one else can access your files.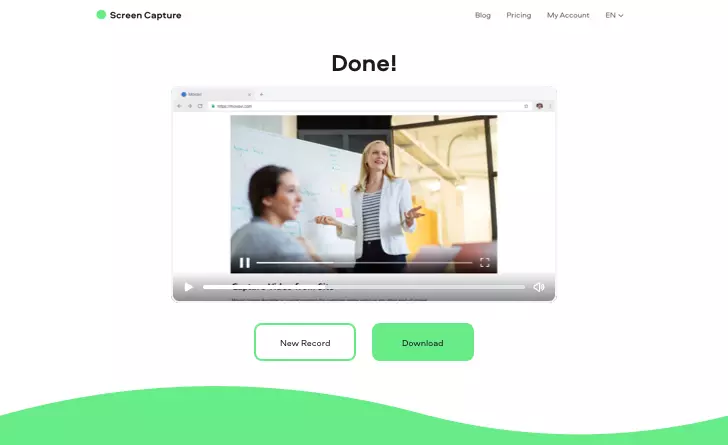 How to choose a screen recorder
If you're not sure which screen-recording tool to choose, consider the following factors.
Features: you might need an option to record a browser tab or a certain part of your screen, so check if the app has these features. If you also want to edit the recorded video, make sure your screen recorder includes editing tools.
Ease of use: you don't want to spend much time learning to navigate the app, so choose the tool that is simple for you.
OS: it's important to check if a screen recorder is compatible with the OS of your device.
Support: it's better to use software that offers technical support. It'll be very helpful in case you encounter some problems with the app.
Reviews: it's always a good idea to read user reviews before buying a copy of software. This way you can learn about potential bugs and disadvantages of the program.
As you can see, there are different types of screen recorders. We hope our reviews and tips will help you find the best screen-recording option for your needs.
Frequently asked questions
How can I record streaming video for free?
To record streaming video for free, you can choose any of the following tools:
Online services that don't require installation
Desktop programs with high reliability
Browser extensions that launch quickly
Apps for iOS
Apps for Android
Here's a short guide to how to record a live stream on PC using online capture.
Step 1. Run Screen Capture. It's a free online screen recorder. You don't need to install any software on your computer.
Step 2. Choose the recording parameters: screen and internal sound recording.
Step 3. Hit the REC button to start recording.
Step 4. Save the video to your computer at high resolution.
What is the best streaming video recorder?
Here's our list of 10 great streaming video recorders:
Screen Capture
Apowersoft Free Online Screen Recorder
Movavi Screen Recorder
OBS
Screencastify
Loom
Record it!
Go Record
AZ Screen Recorder
Mobizen
Can I record streaming video?
Yes, you can record a streaming video via an online recorder or desktop program. Both are free to use. But the desktop version has more advanced recording features.