If you are looking for a way to grab some audio playing on your device and keep it as an MP3 file, then read this guide. Here we explore some of the best MP3 grabbers for PC, online services, and browser extensions. You can also try our online screen recorder right away.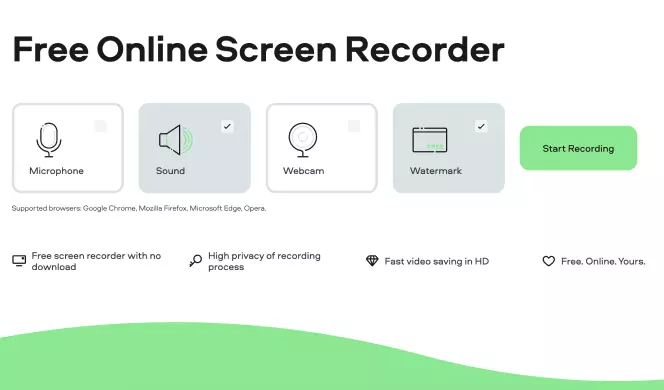 Best for: capturing audio and integrating microphone sound
Rating: 4.7 stars, 418 reviews
Screencapture.com is a Movavi sound grabber designed to capture both video and audio, but there's no reason why you can't use it to record that song you want. It's free to use, and you can start testing it immediately since it requires no installation.
Just know if you're looking for audio that sounds professional, the same as the music you purchase and download, it may need some editing.
Pros
Easy to work
No installation required
Free
Can integrate video too
Cons
The sound quality isn't perfect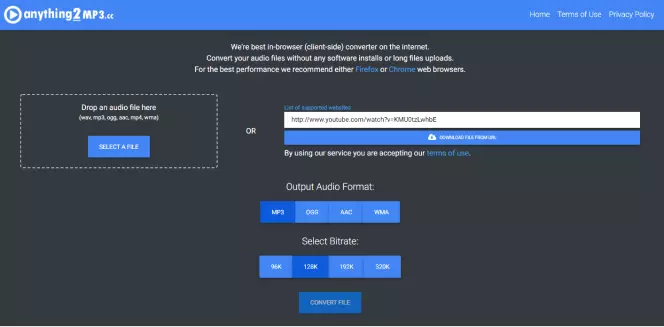 Best for: audio grabbing from websites
We appreciate the simple layout of this user interface. Buttons help you quickly pick an output format. Clear guidelines are also listed on the site. To use the tool, simply select a file or paste a URL.
Pros
Multiple formats and bitrates
Easy to understand
Cons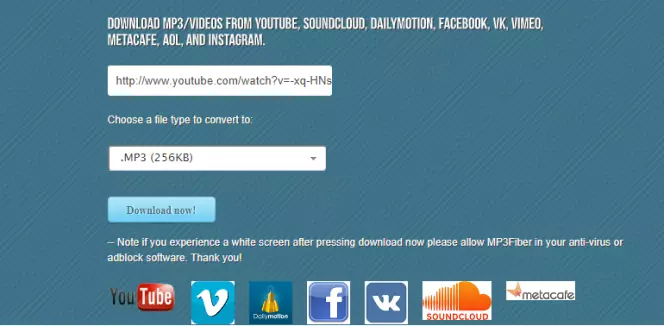 Best for: extracting Vimeo, YouTube, and Facebook audio
Here's another tool specifically meant for grabbing tracks from YouTube videos. It's a simple process of pasting a YouTube URL into the appropriate field on MP3Fiber and letting the tool do the work.
You can pick an output type and for MP3s, also a bit rate. You can use it for other platforms like Vimeo, Metacafe, and Facebook videos too.
Note that the service needed to shut down conversions due to a complaint. This could be regarding some legal issues, but hopefully, it will be up and running again soon.
Pros
Works for multiple platforms, including Vimeo
Free to use
Unlimited downloads per user
Different output formats
Cons
Lots of ads
Not active all the time
Not mobile-friendly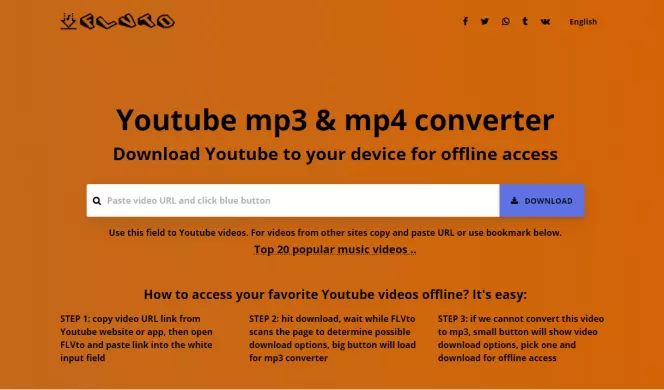 Best for: grabbing MP3s from TikTok or Instagram
FLVto exists to download audio from YouTube videos, but also try it for the tracks you like on TikTok or Instagram. The colorful interface is easy to use. You simply paste in a link, pick a format and download it.
For a free service, we're impressed with the range of tutorials available. Just note you'll see a lot of ads.
FLVto also offers a download that works on Windows, Android, and Mac.
Pros
5 different export formats
User-friendly interface
Free service
Cons
Many ads
Slower than some other tools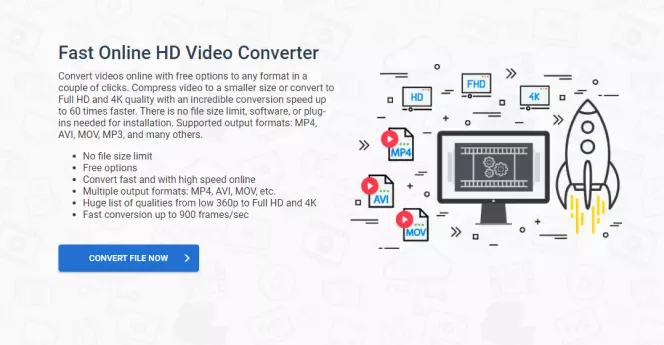 Best for: converting audio files you own that are on your PC
If you have audio files on your PC already, try HD Convert to transform them into MP3s. The platform also has additional output options such as WMA and OGG, AIFF, and FLAC.
You don't have to install any software. Just know that this platform uses a cloud storage system. It sends all files to the cloud, then converts, and then you can download. It will stay in the cloud for around 24 hours only, so make sure you can download the file before it disappears. The benefit is that it uses the cloud system for fast conversion rather than your PC's resources.
Pros
Can convert to OGG, WMA and AIFF
Works quickly
Additional video conversion features are available
Cons
Audio is lost if not downloaded from the cloud in time
Only works with files you already have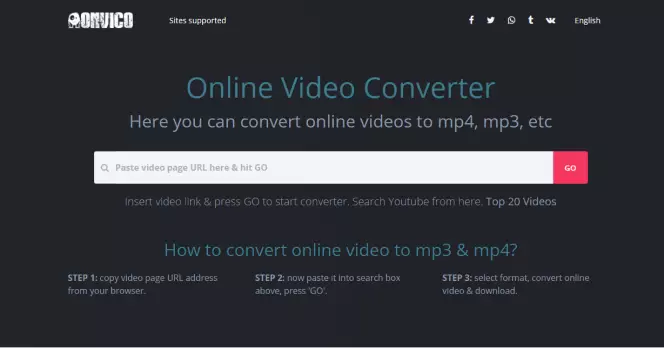 Best for: grabbing audio or video from well-known websites
It couldn't be simpler: paste in the URL of the page your desired track is on and hit the red Go button. The website even supports multiple languages. There's a long list of sites this tool can convert tracks from, but only a few are marked for MP3 conversions.
Pros
Can grab MP3 from Instagram and other social media platforms
Supports multiple languages
Shortcut to YouTube's Top 20 videos
Online playlist converter
Cons
Only MP3 and MP4 formats supported
Apowersoft Free Online Audio Recorder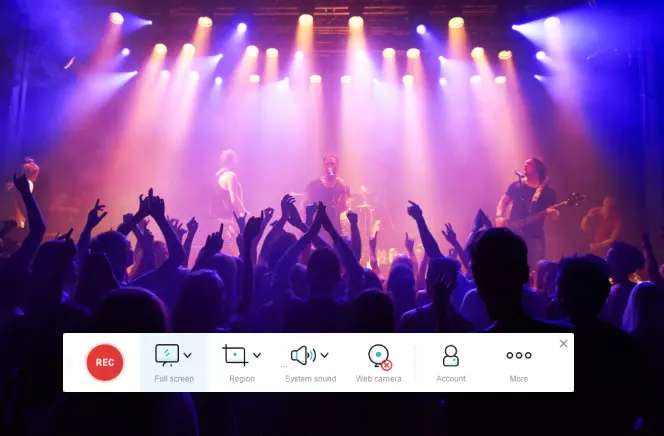 Best for: sharing recordings with others
This MP3 grabber downloads Apowersoft's launcher to work but still functions online. It's quick and easy to use. We also appreciate that Apowersoft provides a tutorial to get newbies going.
This online recorder works for both Mac and Windows, providing good quality. Occasionally, if recording mic audio as well, the sound may disappear, possibly when you don't speak close enough to your microphone.
Pros
Multiple output formats
Built-in library
Easy sharing
User friendly
Cons
Some audio may not get recorded
Doesn't work well for gaming recordings
Can't pick which tab's audio you want to record
Free MP3 grabbers for desktop
OS: Windows, Mac
Best for: recording screen audio
Rating: 4.5 stars, 49 good reviews
Although not an audio grabber only, the tool is effective to grab and convert your audio from any source on your PC, such as the system sound. You can also mix in your voice via the microphone. This is helpful if you're compiling commentary or tutorials using audio you find online.
Movavi Screen Recorder allows you to pick a certain screen, window, or tab to record from.
Pros
Versatile – can be used for many other tasks too
Quality audio
Downloadable app for Mac and Windows
Cons
You need the paid version to get full benefits
Freemake Video Downloader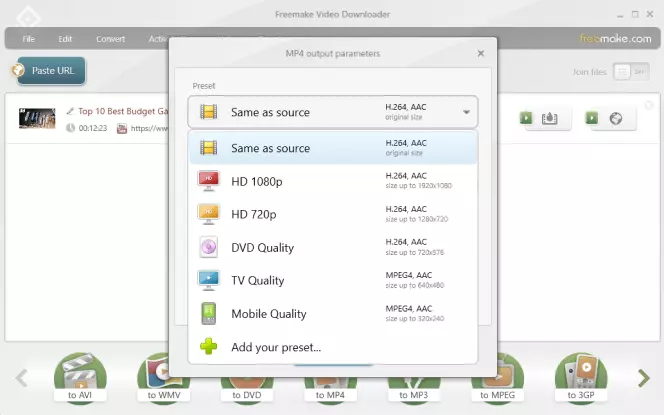 OS: Windows, Mac
Best for: MP3 grabber with parental controls
With over 90 million users, it's clear this is a handy tool. Download it for free and then use it to grab audio from as many as 10 000 different sites, including popular platforms like Vimeo.
It does give access to adult sites, but you can switch on parental controls for kids' protection. You can use this one for video as well.
Pros
Download multiple files simultaneously
Adjust bandwidth and download speed
Default destinations like DropBox
Cons
Some features require time to be unlocked
Risk of children accessing adult sites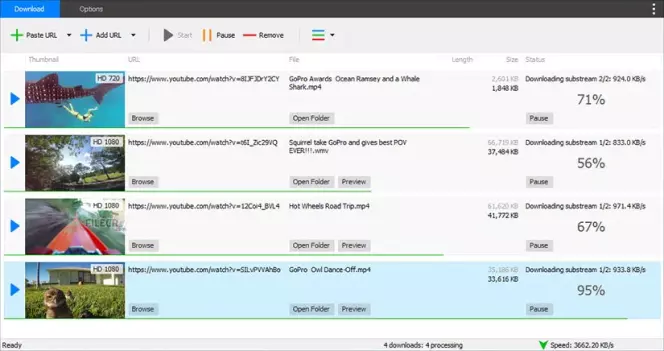 OS: Windows
Best for: MP3 grabbing with a bad connection
Impressively, the brand provided more than ten updates in as little as six months. So, you know you're working with an up-to-date tool. It can effectively extract audio from a video found on YouTube and some other platforms. You can even download multiple ones at a time, and pausing the download won't affect the final result. That's great if you have a connection issue.
Pros
Regular software updates
Pause features
Can download a playlist
Drag and drop URL
Automatically add downloads to the music library
Cons
Not available for Mac or Android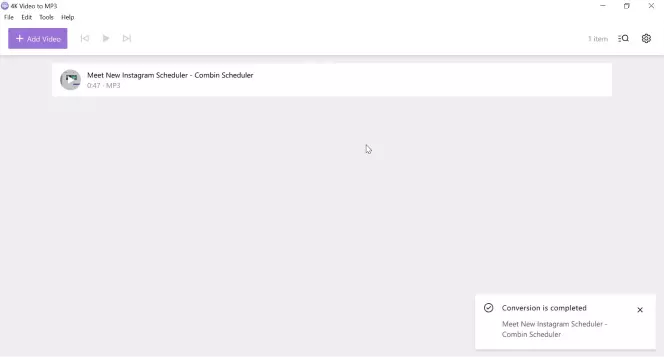 OS: Windows, Mac, Ubuntu
Best for: queuing multiple tracks
Rating: 4.6 stars, 479 reviews
With this MP3 grabber, you'll be able to extract audio from any video. You can save time by doing multiple videos at a time. There's an option of creating a queue, so set it up and leave your PC to do the work for you.
The application allows MP3 but also MP4 and OGG formats. It already has 2 million users, proving its value.
Pros
The program supports Mac, Ubuntu, and Windows
Queue multiple videos for conversion
Different output formats are available
Cons
Not available for Android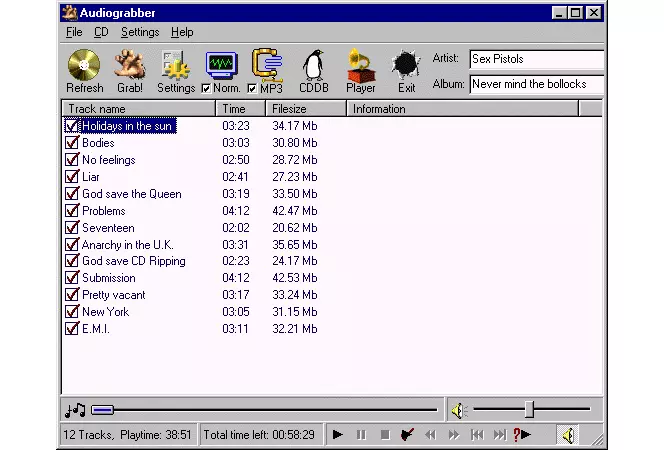 OS: Windows
Best for: converting vinyl to MP3
Rating: 3.9 stars, 214 reviews
This software is to help you transform your CDs, vinyl, or cassettes to a more modern version, such as MP3s. Most users experience it as an easy tool to use.
Pros
Works with copy-protected CDs
Tips karaoke discs
Free to use
Cons
Not designed to grab audio online
Windows only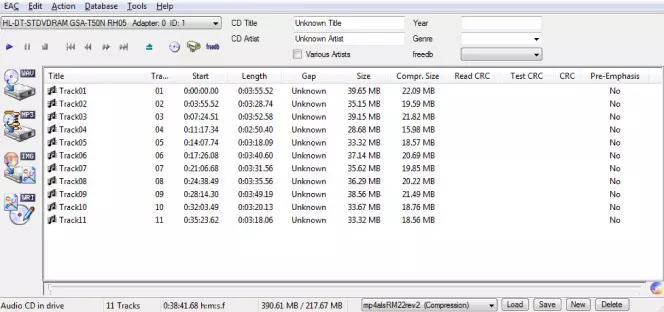 OS: Windows
Best for: ripping CDs
Rating: 3.6 stars, 30 reviews
Here's an effective tool for capturing audio from CDs. You'll appreciate that the tool tells you where there's distortion on the track, so you don't have to listen through each one to pick it up yourself. Now you can manipulate the sound via a media player to get a more impressive result.
Pros
Effective error correction
Free tool
Cons
Only for CD and DVD ripping
Calibration may be tricky
Slower than some other tools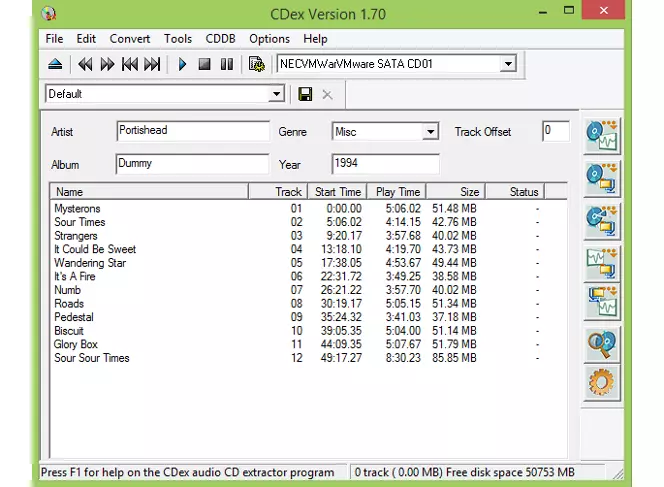 OS: Windows
Best for: ripping CDs in Windows
This is exclusively a Windows software tool, and it's for extracting audio from CDs, not tracks available online. You can decide between various formats, such as WMA and OGG, if you don't want MP3.
CDex is more advanced than some CD ripping tools since it retains album information and allows you to use file tags.
Pros
Free tool
Multiple languages supported
Supports many encoders
Cons
Not available for Mac
Can't grab audio from an online source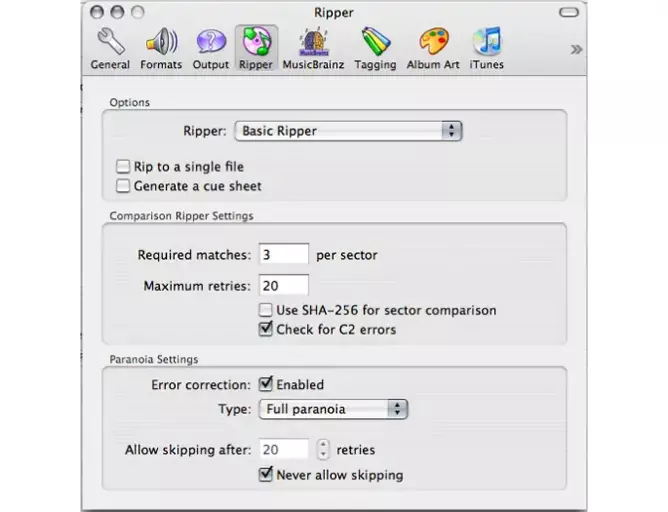 OS: Mac
Best for: Creating high-quality audio tracks
Max is a desktop app for Mac that allows users to create music files in multiple popular audio formats. The program supports over 20 compressed and uncompressed formats for input and output.
Pros
iTunes compatibility for easy addition to the library
Error correction
Support for multiple audio formats
Cons
Cannot convert WMA or Real Audio files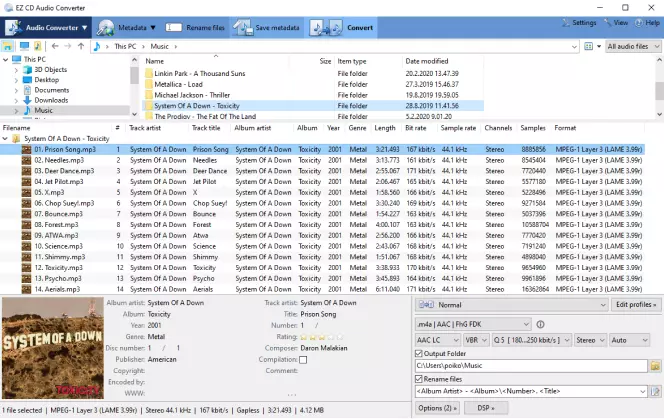 OS: Windows
Best for: ripping CDs on Windows devices
Rating: 4.5 stars, 1215 reviews
This tool will help you rip and burn CDs. It's for Windows only, and you can download a 64-bit or 32-bit version. EZ CD can handle over 60 different audio file formats. Your process is simplified and less time-consuming since you can grab a batch of files at a time.
To help you create stunning tracks, fade tracks in or out for a better effect. Other features include digital silence removal.
Pros
Features include fading in or out
Batch conversion
Mono and stereo channels
Cons
Not for online audio grabbing
Mac not supported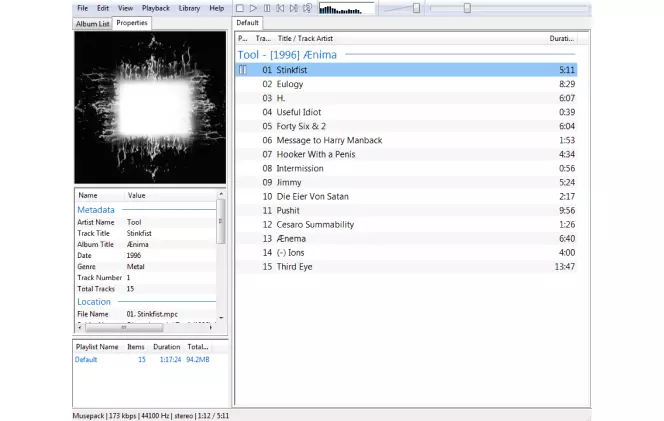 OS: Windows, Mac, Android
Best for: ripping CDs on Mac
Rating: 4.2 stars, 146 reviews
foobar2000 is for Windows, but refreshingly there's also a Mac version, and you can try their mobile apps too. Just know that the Mac version isn't 100% complete. If you're looking for a specific component of the ripping software, for example, to decode audio from a Nintendo DS console, they're available on the website. That makes this tool very versatile.
It has a simple interface and workflow, so you should master it quickly.
Pros
Regular updates
Add album art to your library
Versatile thanks to many components
Cons
Google Chrome extensions to grab MP3s from websites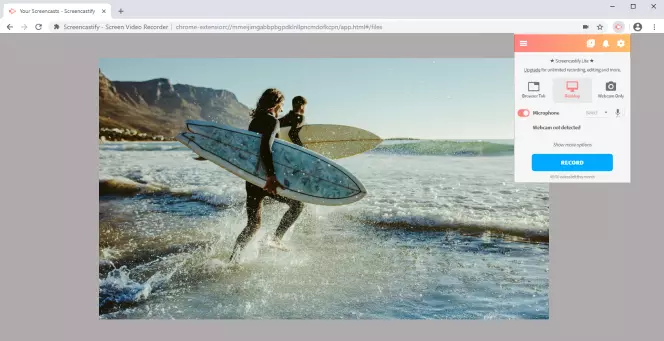 Browser: Chrome
Best for: capturing audio from webcam
Rating: 4.5 stars, 11K reviews, 10M users
As the Chrome screen recorder that has been installed the most, it's clear that this is a winning option for capturing audio. You can grab audio from a specific tab or your desktop.
Users find it easy to master, and even the free version has enough features to satisfy most users.
Note it's mostly designed for video, but you can use it to capture audio too.
Pros
Can add microphone audio
Easy to use
Free tool
Cons
Can't extract audio from YouTube videos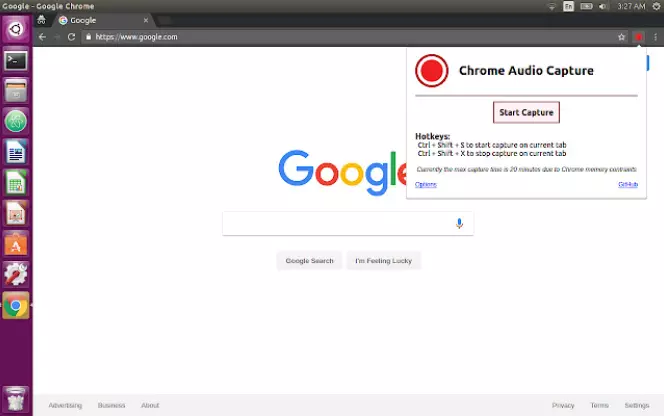 Browser: Chrome
Best for: capturing audio from a certain tab
Rating: 4.5 stars, 1.4K reviews, 300K users
Chrome Audio Capture is a user-friendly browser extension that captures ongoing audio. It is easy to control with hotkeys. Grabbed audio can be saved in MP3 and WAV.
Pros
Hotkeys for easy control
Grabbing sound from multiple tabs
Cons
Max recording duration is 20 minutes
Occasional glitches
A limited list of output formats
We hope this article will help you find the best solution to your problem. In any case, we recommend looking at the following things while choosing an MP3 grabber:
OS: Make sure that the app you are interested in supports your OS.
Audio quality: It depends on what you are going to record. For speech alone, medium quality is enough. For more complex audio, you need an app that provides better quality.
Reviews: Users can tell you things that developers can't. It is always a good idea to check what people think about the product you are about to use.
Support: Make sure you can contact the support team of your app in case of trouble.
Frequently asked questions
What is the best audio grabber?
The best audio grabber depends on your needs, and as you can see in our list, each one is appropriate for a different type of user. The best to pick from include:
Online
Screencapture.com
Anything2MP3
Desktop
Movavi Screen Recorder
Freemake Video Downloader
Browser extension
Screencastify
Audio Capture
You can learn more about these and other options from the article above.
Is Audiograbber still available?
If you've visited Audiograbber in the past, you can't use that shortcut you used to use. This brand moved to a different domain, so from now on, use the following link:
How can I download audio from a browser?
You can pick one of two ways to get that much-wanted audio from a website. Firstly, you can record it, or you can opt to download it. For the latter, use an online program or an extension along with a link.
Sign up for news and special offers