Where are Teams recordings stored? It isn't always obvious where to find the Microsoft Teams recording location to retrieve the recording for editing, sharing, or further reference.
Movavi Screen Recorder is a desktop recorder for people who want to save Microsoft Teams meetings and don't want to have to worry about where to find Teams recordings on the cloud, as they can be saved locally.
This software can be used on Mac or Windows 10 and 11 (plus earlier versions) and you can record a file on Windows, saving it to your device or hard drive to recall recorded Teams meetings whenever you want. There are also editing features and functions and the option to add annotations, and more.
Where are Teams recordings stored?
Where do Teams recordings go when you have finished recording? By default, Microsoft Teams store recordings automatically to OneDrive for Business or to SharePoint. Channel recordings are always stored in SharePoint, but non-channel meetings go to OneDrive by default.
Channel meetings | Where do Teams recordings go?
Teams recordings are saved in SharePoint and are easy to access. If you are making a recording via one of your Teams Channels, then follow these steps to locate the file:
Search for your Team and Channel in Microsoft Teams.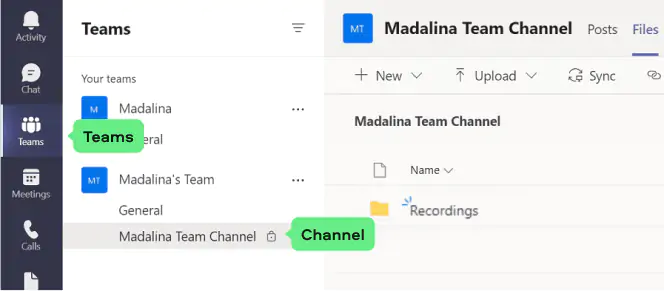 Open your channel and, from the top navigation bar, select the Files folder.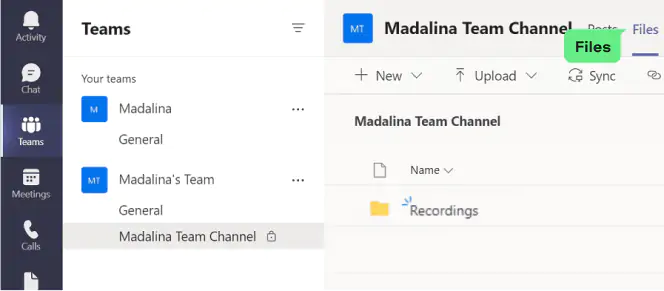 You will see the Recordings folder, as shown above.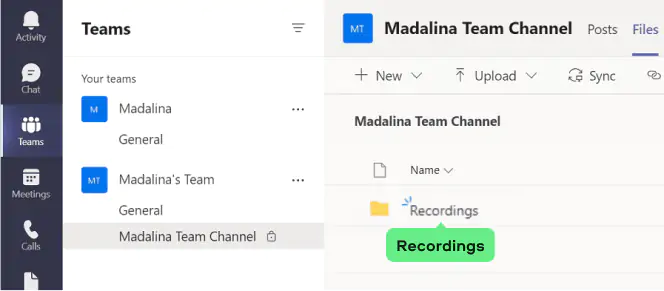 Open the folder and locate your recording.
Hit the Show Actions command next to the file. From a pop-up dialogue, you can download your file, share it with your teammates, or upload it to a cloud storage.
Non-channel meetings | Where does Teams save recordings?
Recordings of one-to-one meetings or team meetings outside certain teams or channels usually go to OneDrive.
When the meeting has concluded, you will be notified that the recording has finished and the audio file is available.
To access the file, follow these steps:
Open the File Explorer. You can press Windows key + E or type File Explorer in your taskbar search box.
Go to your OneDrive location.
Go to the Recordings folder and find your audio.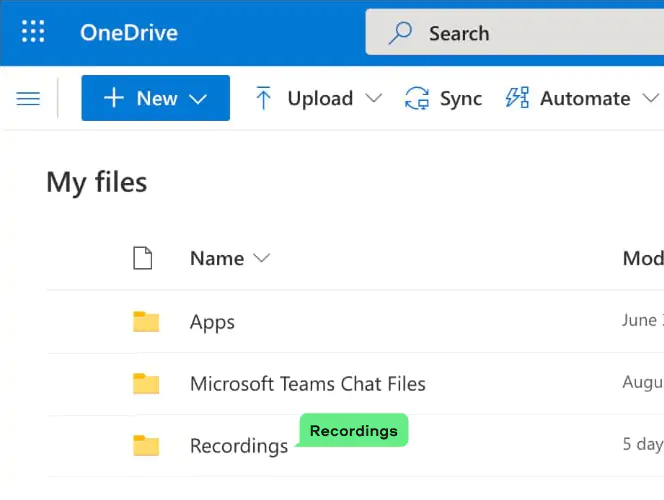 Where are Microsoft Teams recordings stored locally?
So, where are Microsoft Teams recordings stored locally? Unfortunately, if you're trying to find a Microsoft Teams meeting recording location on your computer you will be disappointed, as they aren't saved locally on your hard drive automatically. You can record straight to your computer by using simple and effective screen-recording software Movavi Screen Recorder, where you have more control over the destination.
Once you know where Teams saves recordings, you can easily find, retrieve, check, edit, and distribute them. This is made a little more complex by the fact that Teams stores the files differently depending on the type of meeting.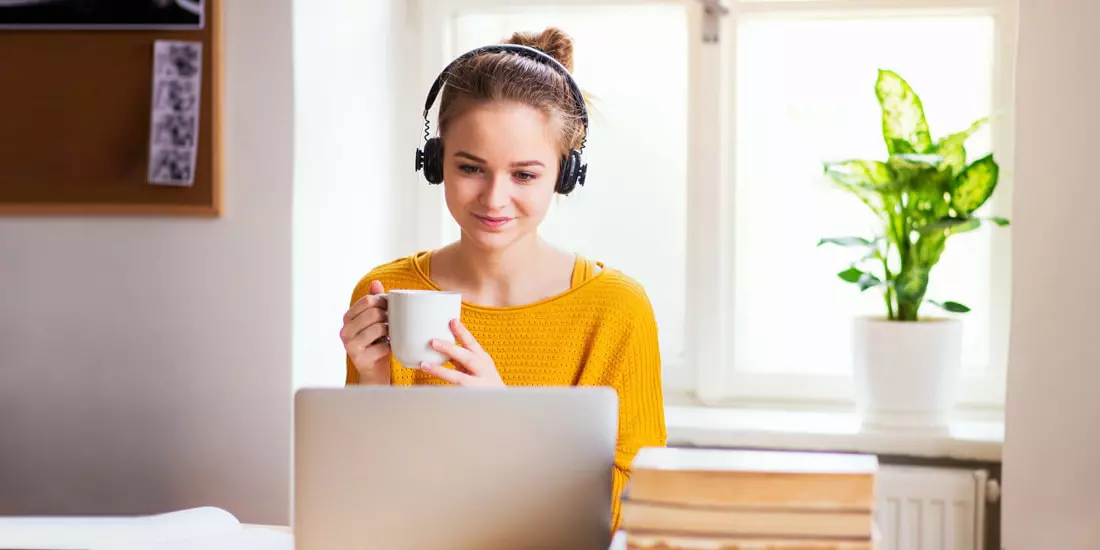 Movavi Screen Recorder
The perfect way to record anything from your screen
Frequently asked questions
How long does it take for a Teams recording to be available?
By default, meeting recordings are available to navigate to from the meeting's chat for the next three weeks after the meeting. After this, you can no longer download the files.
Does Teams capture whiteboards and shared notes?
No, the Teams built-in recording tool doesn't include whiteboards and shared notes in the recording. To record a meeting with whiteboards and annotations, try Movavi Screen Recorder.
Where is Microsoft Teams recording stored?
So, where does Teams save recordings? Teams meetings are recorded and stored in either OneDrive or SharePoint depending on the meeting type. They are only stored for a set period (this can be changed by an admin) but eventually, the files will expire if not downloaded or stored elsewhere.
How do I find recorded meetings in Microsoft Teams on mobile?
Follow these steps to find your recording:
Open Microsoft Teams on your mobile device.
Click on the Teams button located at the bottom of the screen.
Find the team where the meeting was recorded.
Click on Files at the top of the screen
Click on the Recordings folder.
Navigate to the recording in question.
Do Teams recordings automatically save?
Yes, if a Teams meeting is set to record, the files automatically save on the cloud for you to retrieve, but they do not save on your hard drive.
Are Microsoft Teams calls recorded automatically?
You can set a meeting such as a repeat meeting to be recorded automatically. In Meeting Options when setting up an invitation, you can enable meeting recording with a simple toggle control. This will make it save recordings automatically when the meeting completes.
Sign up for news and special offers